A Healthy Start To Your Day - Pineapple Mango Green Smoothie
The sweetness of pineapple and mango with all the health benefits of kale, a splash of coconut water and you have the perfect start to a healthy day.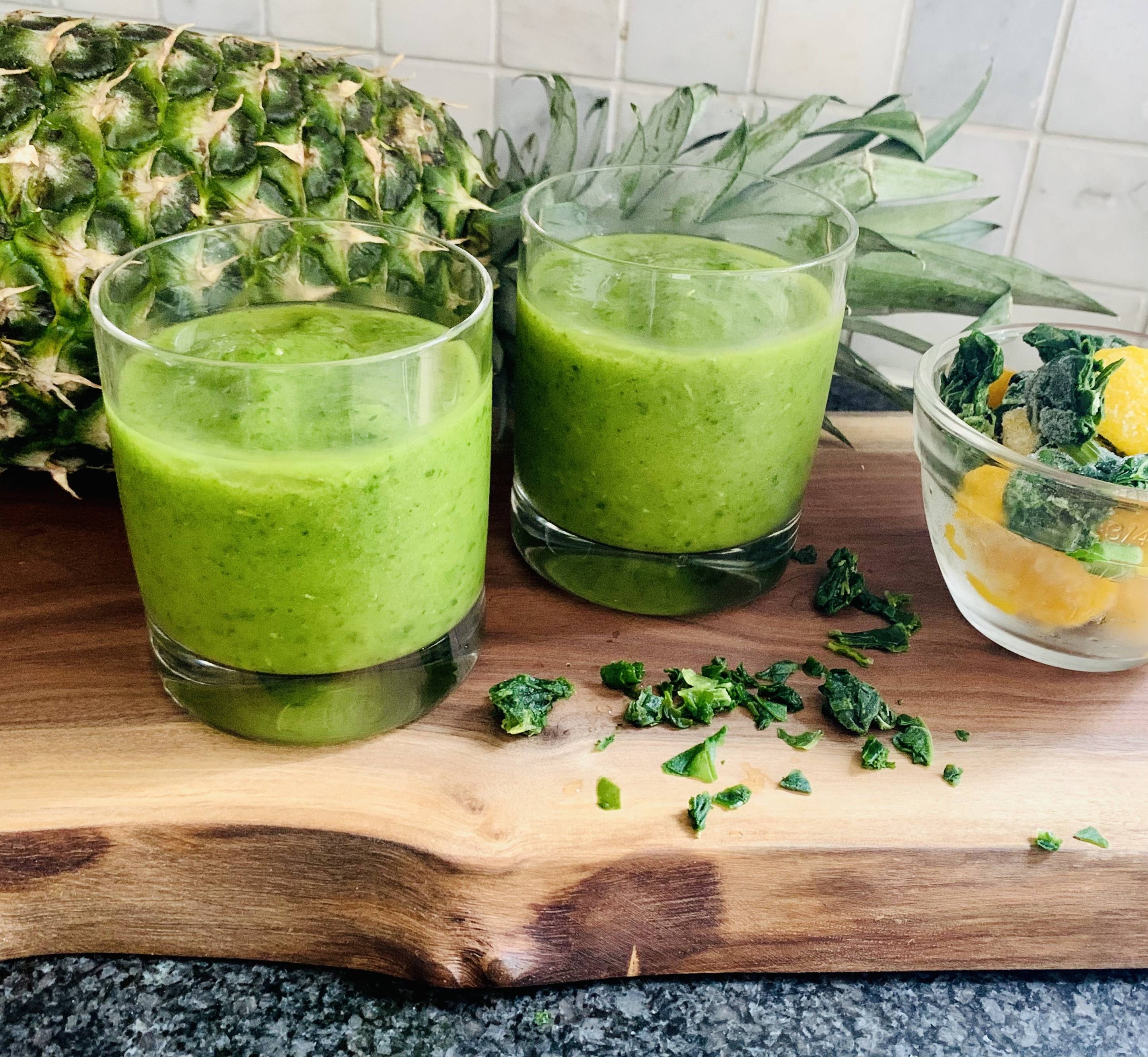 Looking for ways to start your morning off right? As the warmer temperatures approach the taste of pineapple and mango make you feel like you are on vacation. These days focusing on a healthy start to the day is important.
There are a few foods that I do eat every day, one is my Pineapple Mango Green Smoothie I have every morning, or almost every morning ;). It's fruity, full of kale which is known as one of the most "nutrient-dense foods" that exists. When you taste it you will feel like you are on vacation in the Caribbean, I love it and it's perfect to enjoy throughout the spring and summer months. It's low in calories, full of nutrients, and because it's a smoothie your body can easily digest it.
Pair this beautiful Pineapple Mango Green Smooth with one of Urban Baker Co.'s Gluten-Free Breakfast Cookies and you have a morning meal for champions!
If you make this Pineapple Mango Green Smoothie recipe, please tag me on social media. Don't forget to check out our healthy breakfast cookies in the shop that will go perfectly with that green smoothie. I will do my best to answer any questions and would love to get your comments.

For more ideas like this follow me at @urbanbakerco on #instagram or #facebook to get updates on my blog and don't forget to sign up for my personal e-mail list below.
#breakfastcookies #healthybreakfastcookies #haltonfoodie #oakvillefoodie #burlingtonfoodie #torontofoodie #blogger #haltonblogger #burlingtonblogger #oakvilleblogger #torontoblogger #blogger #urbanrecipepost #newrecipepost #CleanEating #HealthyFood #JustEatRealFood #VeganFood #HealthyFoodRecipes #HealthyFoodLover #HealthyFoodEating #HealthyFoodSharing #HealthyFoodChoices #HealthyFoodPost #HealthyFoodies #FoodHealthy #HealthyFoodBlogger #HealthyFoodLove #HealthyFoodWithMe #HealthyFoodTips #HealthyFoodPrep #HealthyFoodie #HealthyFoodGuide #HealthyFoodInspo #HealthyFoodRecipe #HealthyFoodForLife #HealthyFoodDelivery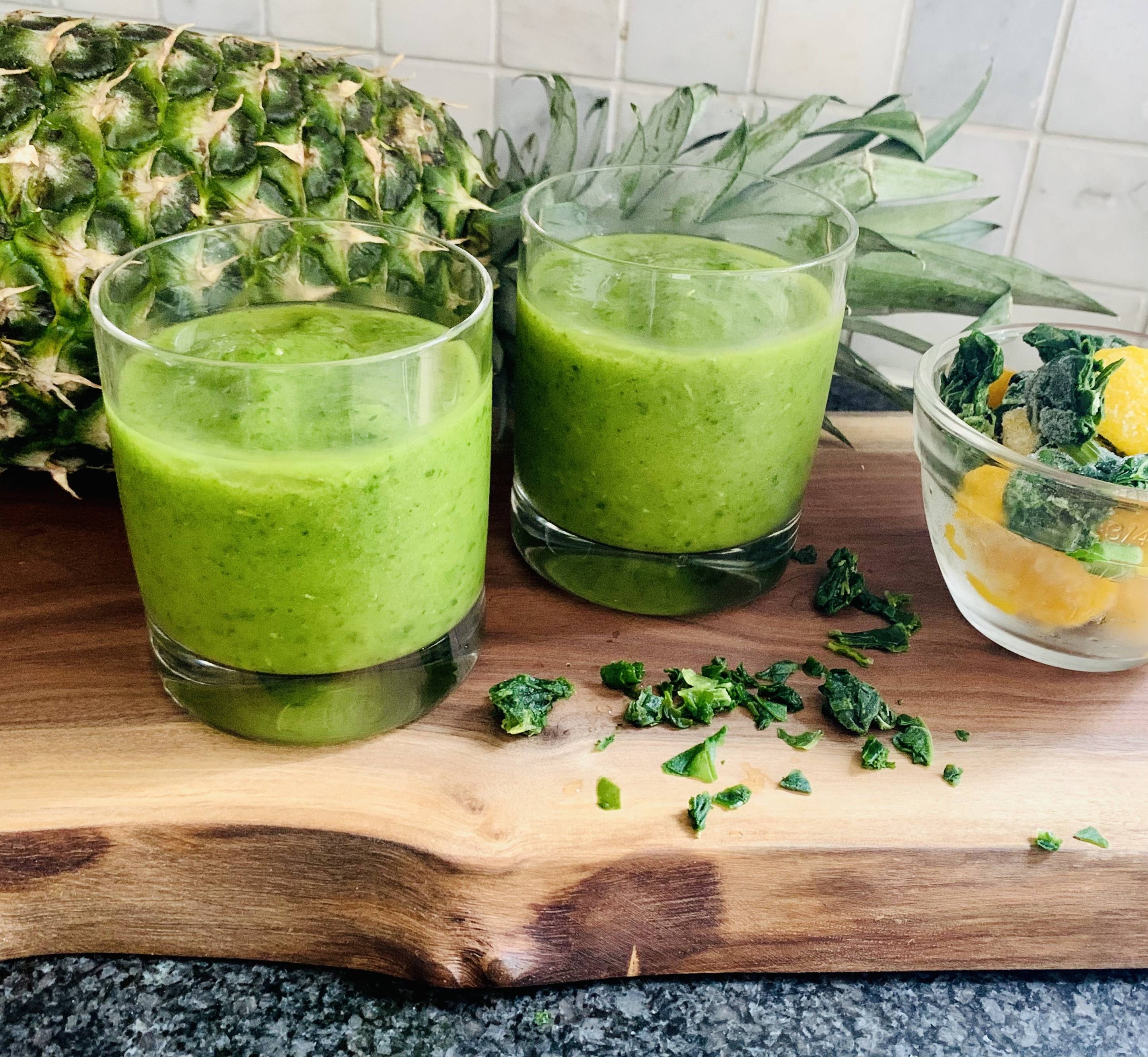 THE RECIPE | Urban Baker Co.
Pineapple Mango Green Smoothie
The sweetness of pineapple and mango with all the health benefits of kale
prep time | 5 minutes
total time | 5 minutes
servings | 2 servings
INGREDIENTS
Pineapple Mango Green Smoothie:
3/4 cup frozen kale
1/2 cup frozen pineapple
1/2 cup frozen mango
2 cups coconut water
INSTRUCTIONS
1. Place all ingredients into smoothie blender and blend until smooth. Pour into two glasses and serve immediately.