Blueberry Plum & Raspberry Almond Crisp


Sometimes we all need a few sweet things in our life, but we can still have them on the healthier side.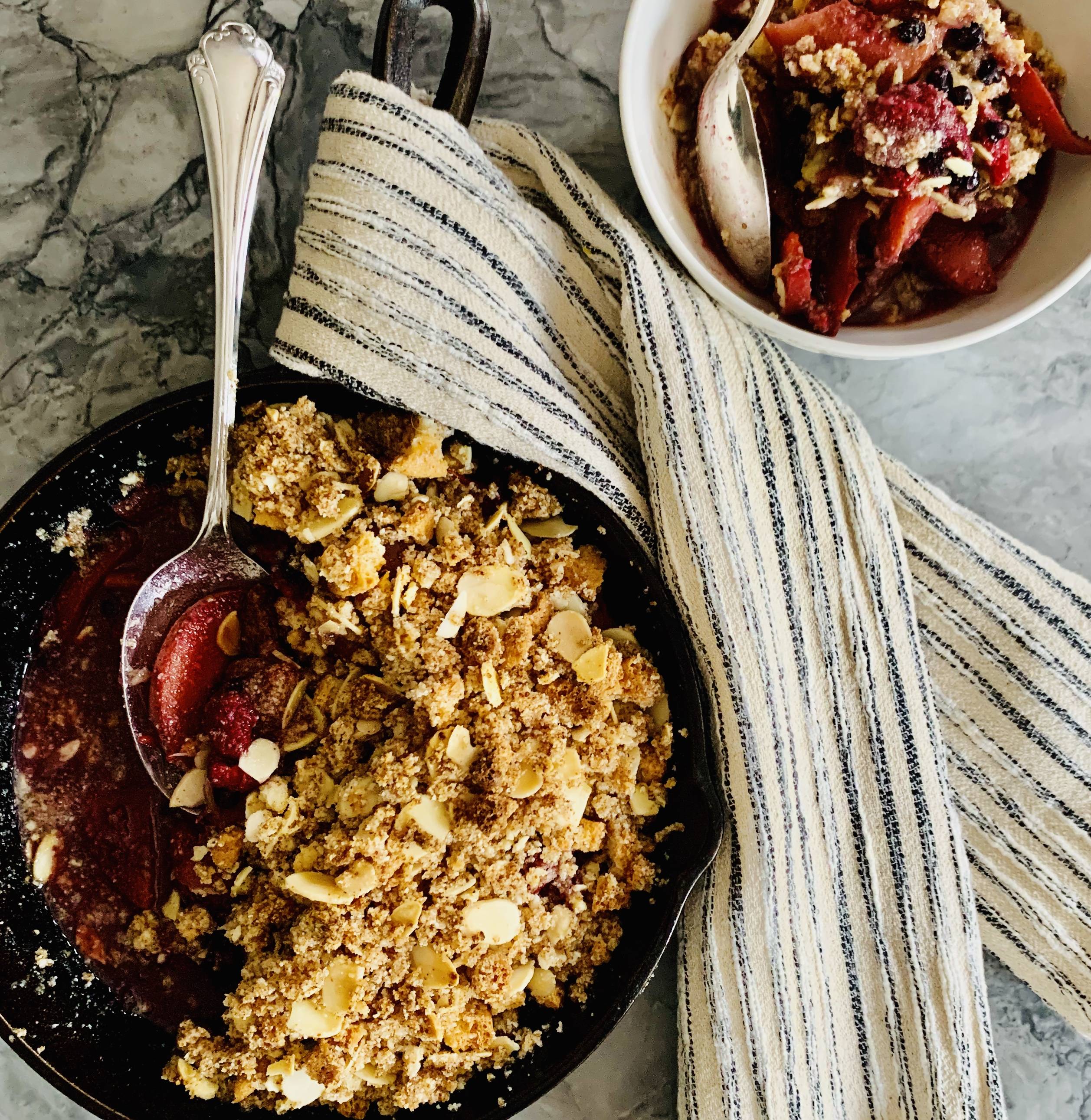 The addition of an almond liqueur makes this Blueberry plum & raspberry almond crips that much more special.
I love summer for so many reasons, however, one of my most favourite things about it is the opportunity to eat outside. I do this as often as I can as soon as the warmer temperatures hit. However, it takes some planning to prepare a meal that is just perfect for outdoor entertaining.⁠
⁠
Spending time catering allowed me to learn how to prepare a menu for hosting outdoors. I stick to a few key principles when planning, especially choosing items that can be eaten at room temperature, served family-style, and provide as many of the season's fresh produce as possible.⁠
⁠
From appetizers to side dishes and the main course it is important to ensure you keep things simple. After all you want time to get outside and enjoy the beautiful weather with your guests.⁠
⁠
I always love to end the meal with a large platter of fresh seasonal fruit and a platter of biscotti with a beautiful port (see my post last week on how to pair wine with our Urban Baker Co. biscotti). I also serve a family-style seasonal dessert. Today, I am sharing with you my Blueberry Plum & Raspberry Almond Crisp. It's gluten and dairy-free and so delicious! With the crunch of amaretti cookies mixed in the topping and an amaretti liqueur, this is an absolute show stopper! Seriously, who doesn't love a beautiful summer crisp! ⁠
This gluten and dairy free Blueberry Plum & Raspberry Almond Crisp is delicious. So do we need any better excuse then that to enjoy ourselves once in awhile! Sweeten things up this weekend for your family and give this recipe a try.
If you make this Blueberry Plum & Raspberry Almond Crisp, please tag me on social media. I will do my best to answer any questions and would love to get your comments.
For more ideas like this follow me at @urbanbakerco on #instagram or #facebook to get updates on my blog and don't forget to sign up for my personal e-mail list below. #glutenfree #diaryfree #blueberry #plum #raspberry #crisp #blueberryplumraspberrycrisp #almondliqueur #summerfood #comfortfood #haltonfoodie #oakvillefoodie #burlingtonfoodie #torontofoodie #blogger #haltonblogger #burlingtonblogger #oakvilleblogger #torontoblogger #healthierchoices #easyrecipes #healthymomrecipes #blogger #Baking #BakingPost #BakingVideo #Bakingcrisp #BakingSoda #BakingCooking #KetoBaking #BakingLove #BakingFun #BakingMakesMeHappy #BakingAddiction #BakingGoals #BakingDay #BakingBread #BakingIsFun #BakingClass #BakingHobby #BakingFromScratch #BakingTips #BakingPorn #BakingIsMyTherapy #BakingTime #BakingSchool #HealthyBaking #BakingTools #BakingSeason, #BakingSummerCrisp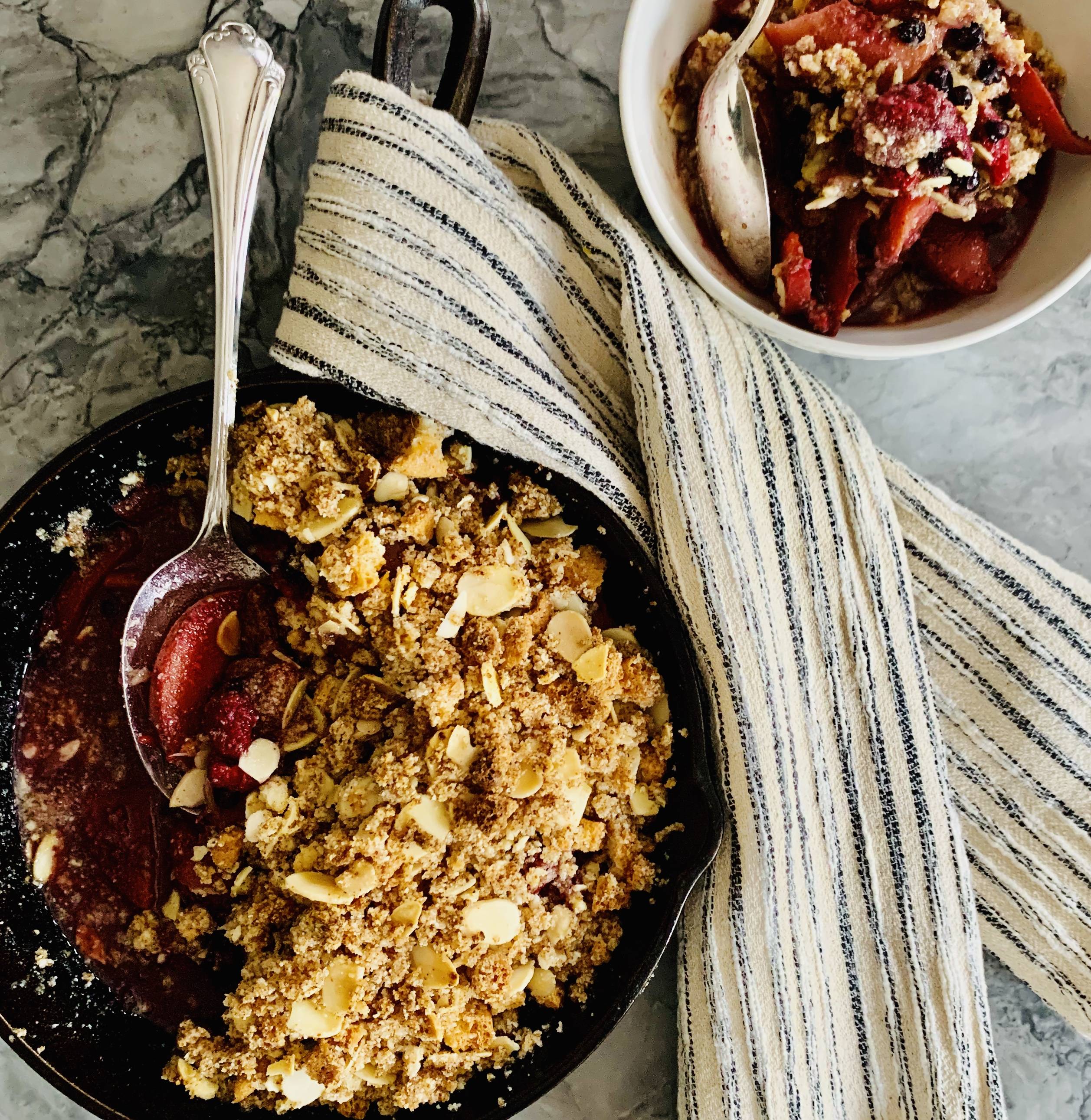 THE RECIPE | Urban Baker Co.
Blueberry Plum & Raspberry Almond Crisp
Gluten & Dairy Free
prep time | 15 minutes
total time | 35 minutes
servings | 4 people
INGREDIENTS
Filling:
1 cup blueberries
1 cup raspberries
1 cup plums, sliced and core removed
2 Tbsp sucanat
2 Tbsp almond flour
3 Tbsp Amaretto liqueur
Grease pan with coconut oil spray
Topping:
1 cup almond flour
1/3 cup sucanat or organic cane sugar
1/2 cup coconut oil, melted
1 cup amaretti cookies, crushed
3/4 cups slivered almonds
INSTRUCTIONS
1. Set oven to 350 degrees.
2. Prepare fruit and place in large bowl. Add remaining filling ingredients and stir until combined. Set aside.
3. In medium size bowl add all topping ingredients and stir until combined.
4. Place prepared fruit in greased pan and add topping. Place in oven for 20 minutes until browned on top and fruit is bubbling. Let sit for ten minutes and serve.