Blueberry Shortcakes with Vanilla Lemon Cream
Summer is the perfect time to indulge in light beautiful flavourful desserts. What better then the combination of blueberries and Vanilla Lemon cream.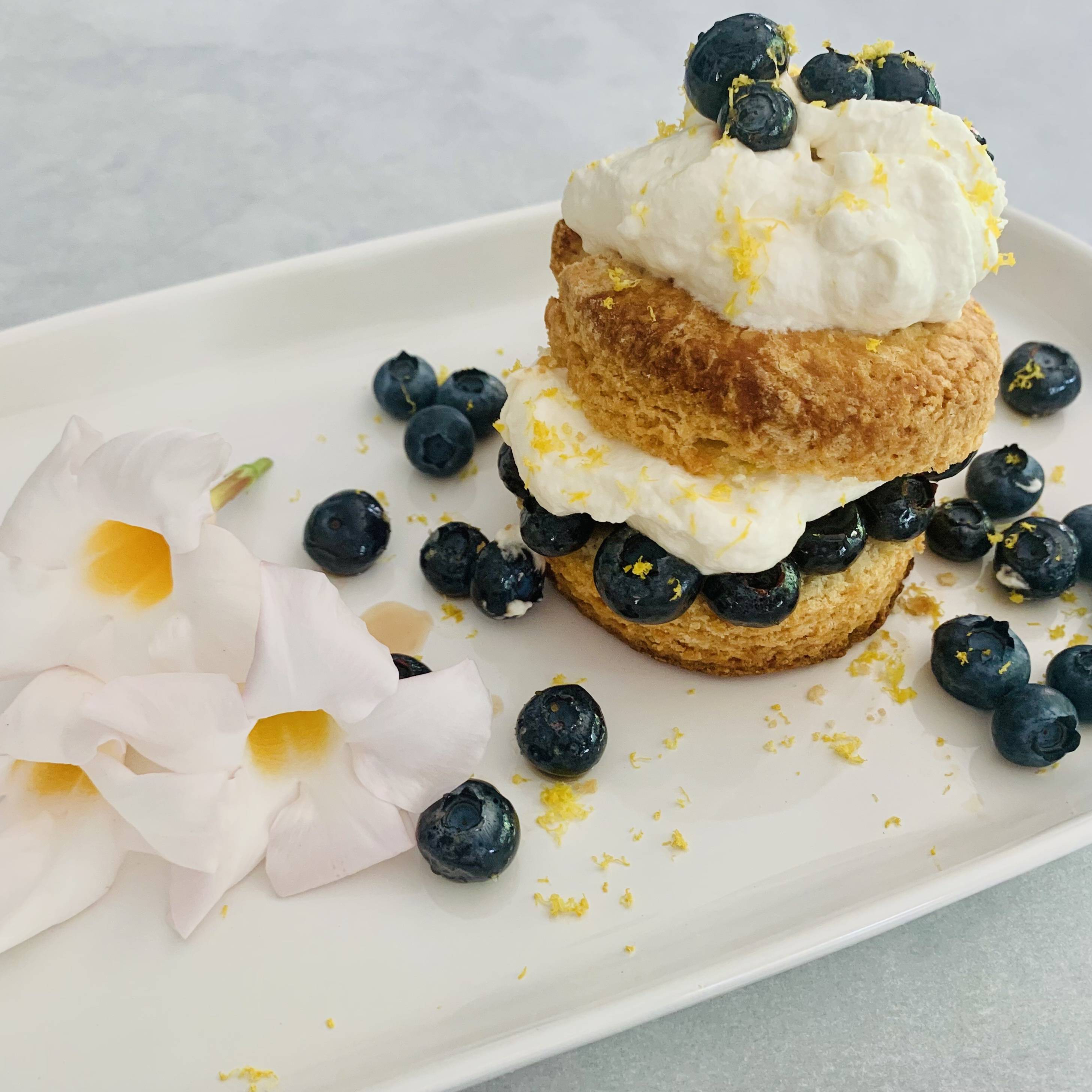 With Strawberry shortcake in June, Blackberry shortcake in April, Blueberry shortcake is a must in August! A beautiful, light, airy dessert that is so perfect for any summer weekend. I love any shortcake, so this takes me back to my childhood. Growing up in my teens, on the east coast in New Brunswick, there were always rolling fields of blueberries to look forward to every August. Each summer, we looked forward to taking a road trip to a small fruit stand called McKay's Farmstand, along highway 1 in Pennfield towards St. Andrews, New Brunswick, to have their unforgettable Blueberry Shortcake. The taste of plump blueberries, on top of a warm-soft flaky biscuit, layered with whip cream, was so delightful!
It's is such a fond memory I created a signature Blueberry Vanilla Lemon Cream Shortcake recipe. Place these beautiful plump blueberries and light-airy vanilla lemon cream on top of one of our fluffy sweet original buttery scones. You will have the makings of a fantastic summer dessert. This dessert captures the essence of summer and all the dreams and hopes that go along with it. If you make this Blueberry Vanilla Lemon Cream Shortcake recipe, please tag me on social media. Don't forget to check out our sweet original buttery scones in the shop. I will do my best to answer any questions and would love to get your comments.
For more ideas like this follow me at @urbanbakerco on #instagram or #facebook to get updates on my blog and don't forget to sign up for my personal e-mail list below. #scones #blueberries #vanillalemoncream #shortcake #blueberryvanillalemoncreamshortcake #haltonfoodie #oakvillefoodie #burlingtonfoodie #torontofoodie #blogger #haltonblogger #burlingtonblogger #oakvilleblogger #torontoblogger #blogger #urbanrecipepost #newrecipepost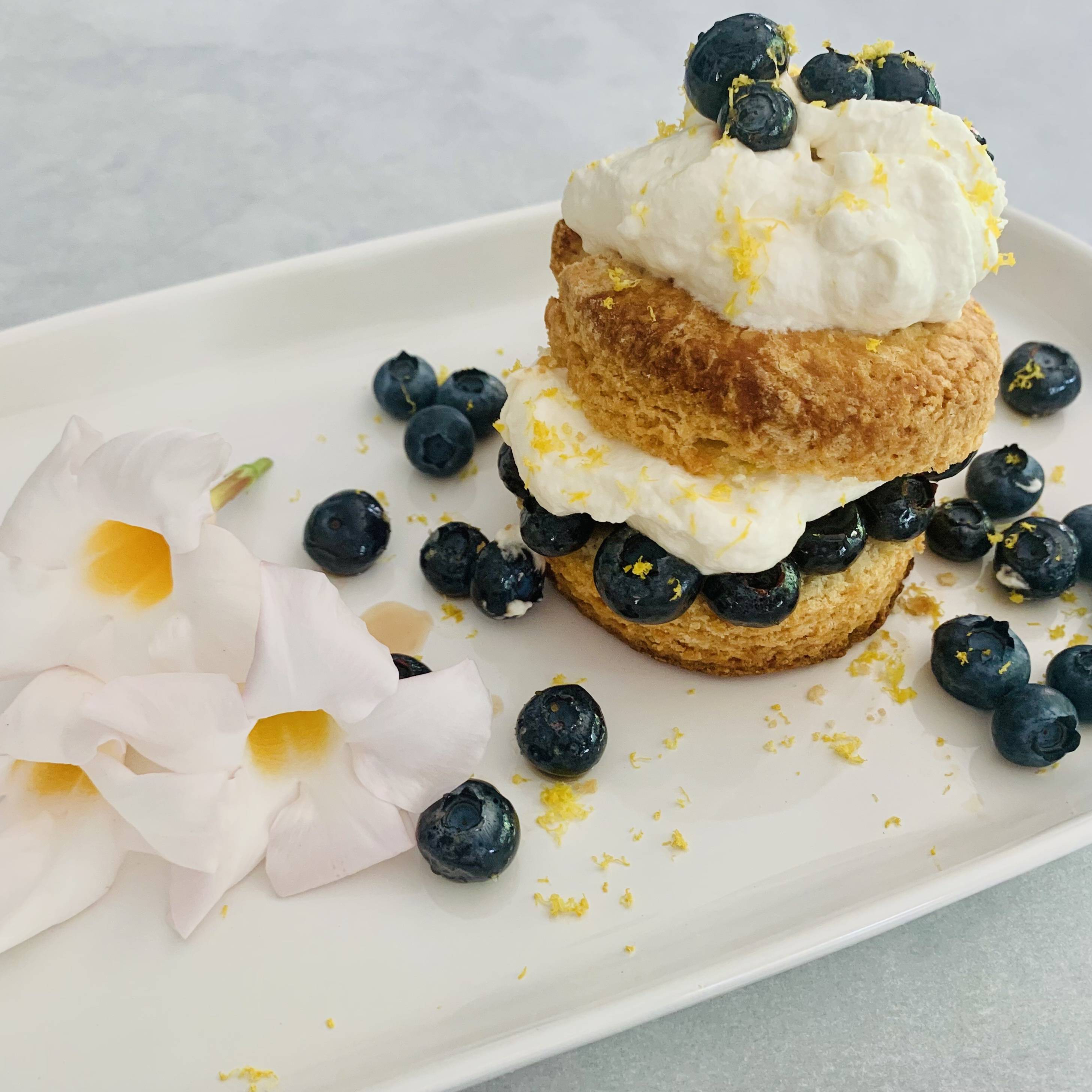 THE RECIPE | Urban Baker Co.
Blueberry Vanilla Lemon Cream Shortcakes on Fluffy Buttery Urban Baker Co. Sweet Original Buttery Scones
prep time | 20 minutes
total time | 20 minutes
servings | 2 servings
INGREDIENTS
Vanilla Lemon Cream:
1 cup whipping cream
1 tsp vanilla
2 tbsp powdered sugar
lemon zest
Blueberries:
2 tbsps brown sugar
1 tbsp lemon juice
2 tsps vanilla
lemon zest
1 cup blueberries
Blueberry Shortcakes:
2 Urban Baker Co. Classic Original Scones
1 cup Vanilla Lemon Cream
1 cup fresh prepared blueberries
INSTRUCTIONS
1. In the bowl of a standing mixer with the whisk attachment, beat the cream on medium-high until it begins to thicken. Add powdered sugar, vanilla and lemon zest, then continue to beat until soft peaks form.
2. Take one cup of the blueberries and add to a bowl with brown sugar, lemon juice, vanilla and lemon zest. Stir until combined.
3. Cut the Urban Baker Co. Sweet Original Buttery Scones in half, place a spoonful of the blueberry mixture on each one, top with vanilla lemon cream, top with the other scone half and top with a dollop of the cream and a spoonful of blueberries. Serve immediately.