Eggs Benedict with Prosciutto on Cheese Biscuits


A delectable twist on eggs benedict with prosciutto served on buttery fluffy Urban Baker Co. cheese biscuits.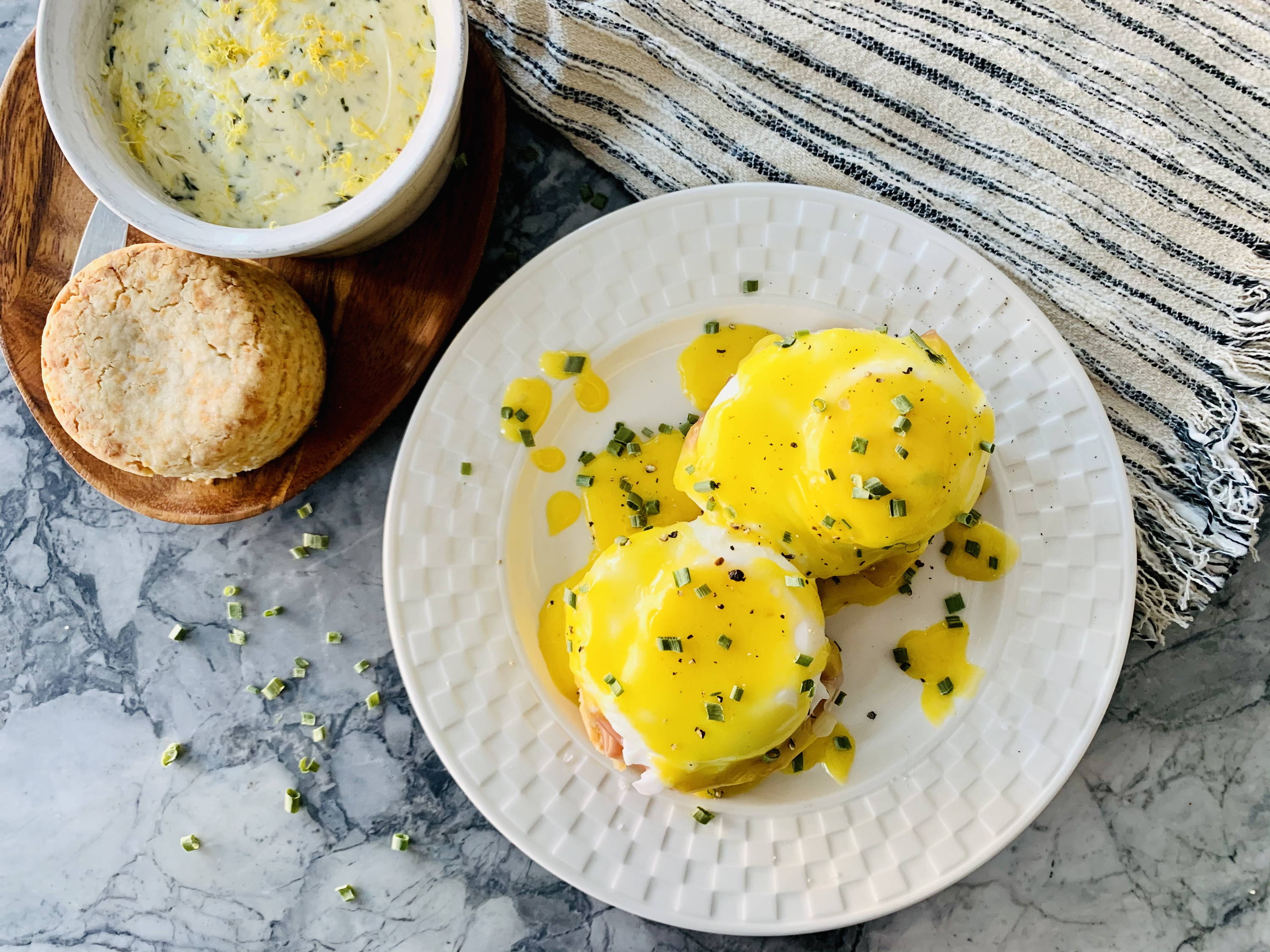 I have to admit, Eggs Benedict is my choice of breakfast food for a Sunday morning brunch. Place it on top of one of our beautiful fluffy buttery cheese biscuits and a slice of prosciutto and you have the makings of a fantastic morning meal. If you make this Eggs Benedict recipe, please tag me on social media. Don't forget to check out our cheese biscuits in the shop. I will do my best to answer any questions and would love to get your comments.
For more ideas like this follow me at @urbanbakerco on #instagram or #facebook to get updates on my blog and don't forget to sign up for my personal e-mail list below. #cheesebiscuits #eggsbenedict #prosciutto #holandaisesauce #haltonfoodie #oakvillefoodie #burlingtonfoodie #torontofoodie #blogger #haltonblogger #burlingtonblogger #oakvilleblogger #torontoblogger #blogger #flavourfriday #urbanrecipepost #newrecipepost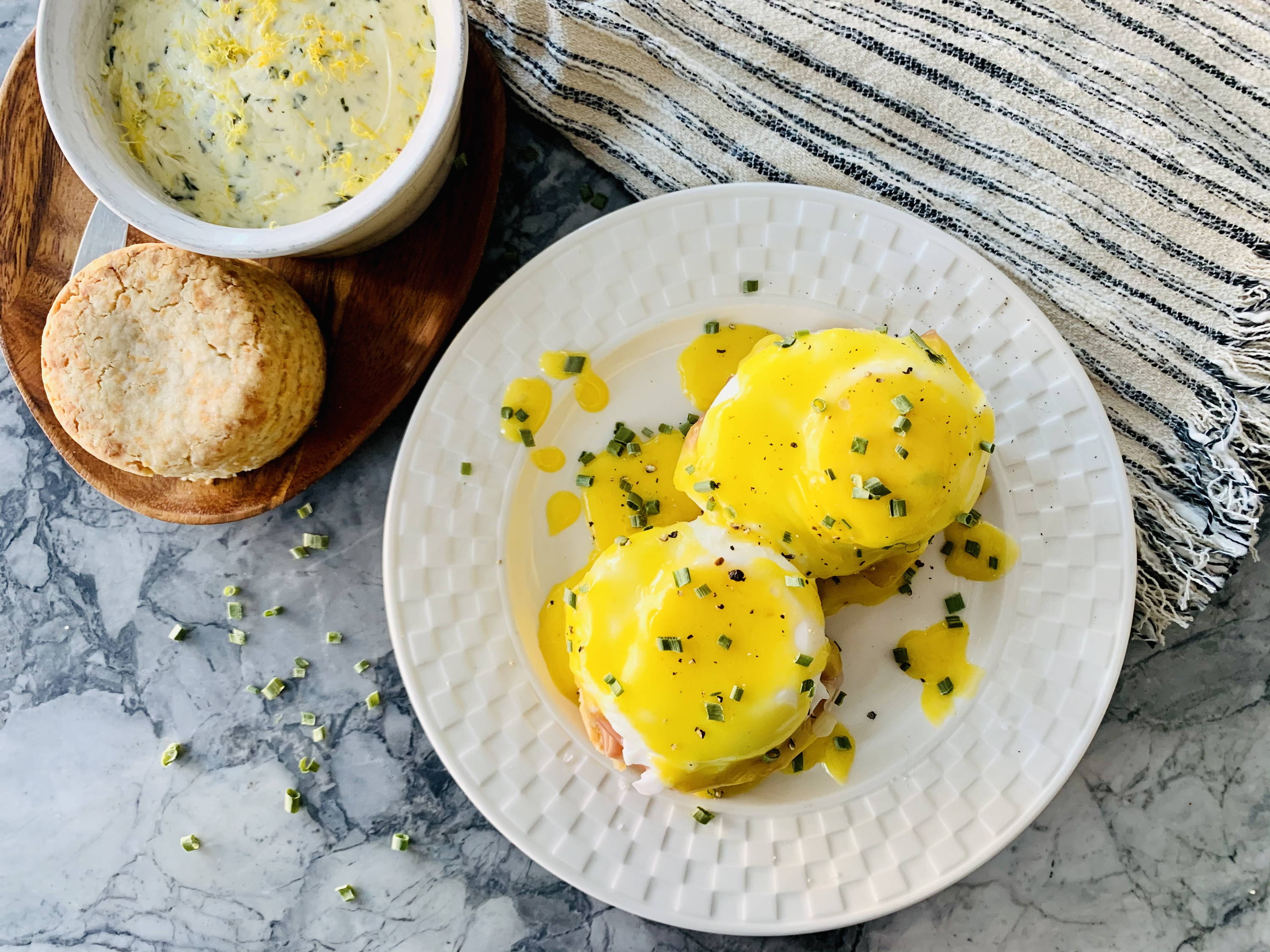 THE RECIPE | Urban Baker Co.
Eggs Benedict with Prosciutto and a Fluffy Buttery Urban Baker Co. Cheese Biscuit
prep time | 15 minutes/butter
total time | 15 minutes/butter
servings | 4 servings
INGREDIENTS
Hollandaise Sauce:
4 egg yolks
1 Tbsp fresh lemon juice
1/2 cup unsalted butter melted
pinch of cayenne pepper
salt to taste
Eggs Benedict:
8 eggs
4 purchased cheese biscuits from Urban Baker Co.
8 slices of Prosciutto
chives, sea salt and cracked black pepper for garnish
INSTRUCTIONS
1. In a stainless steel bowl whisk egg yolks and lemon juice until thickened and doubled in volume, about 2 minutes.
2. Place the bowl over a saucepan of simmering water.
3. Very slowly pour the melted butter in while whisking. When the butter has been added and the sauce thickened remove from the heat and whisk in cayenne pepper and salt. Cover and keep warm until ready to serve.
4. Fill saute pan with a couple inches of water and bring to a simmer. Gently crack eggs and place in simmering water for 4 to 5 minutes. Remove with a slotted spoon to a paper towel lined plate.
5. Cut the Urban Baker Co. cheese biscuits in half, place a piece prosciutto on each one, top with poached egg, hollandaise sauce and sprinkle with fresh chives and salt and pepper. Serve immediately.