Elevate Your Favourite Morning Ritual - Easy Iced Coffee
The aroma of fresh ground beans, the sound of the punch of steam from the espresso maker as you "surf" to reach the perfect temperature, which then turns into a shot of divine liquid java!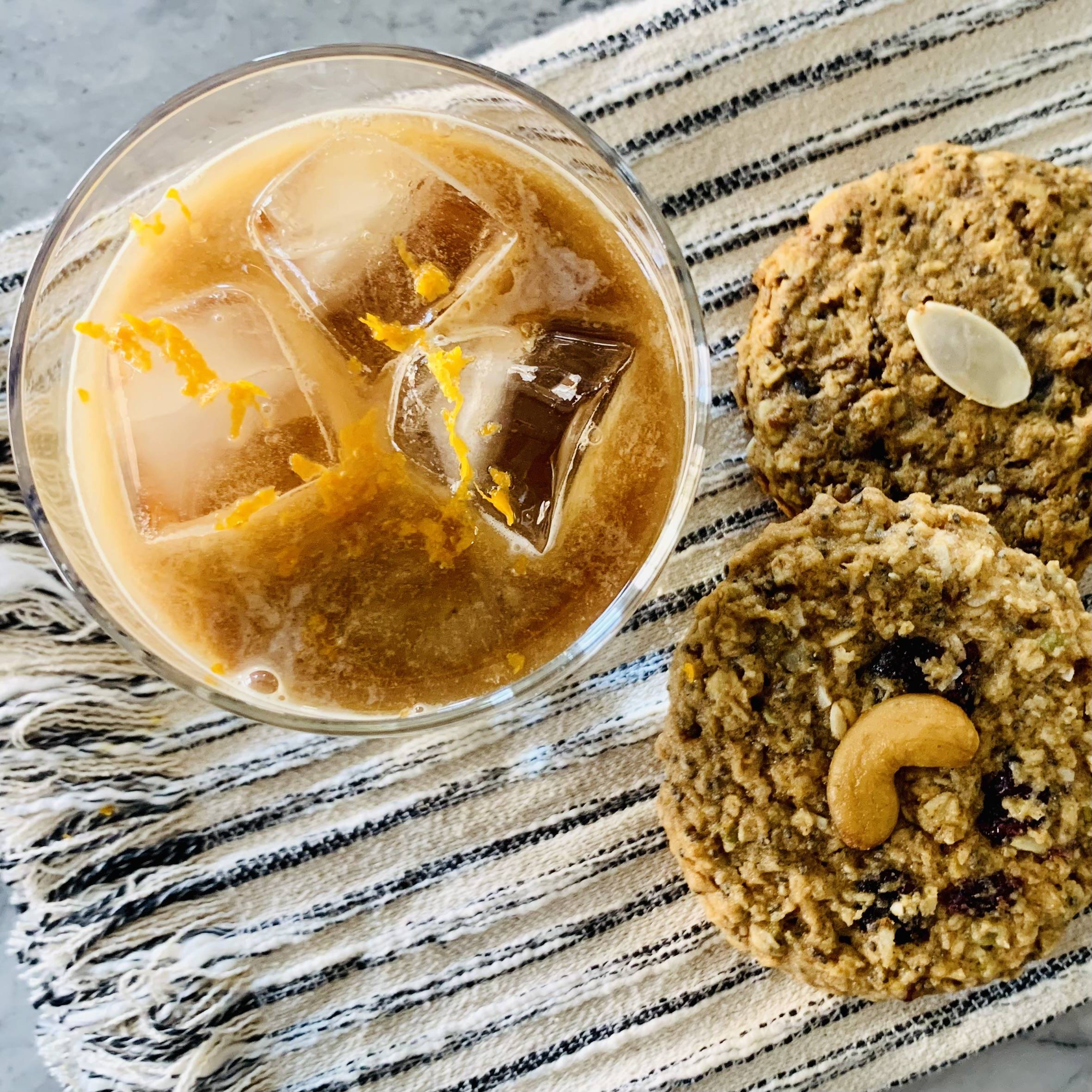 Looking for ways to jazz up your morning coffee? As the warmer temperatures approach pouring a shot over an iced glass of whole milk, nut milk or oat milk can be so delicious! These days making a special routine out of your morning cup of joe can be a very exciting part of the day. If you're anything like me you're falling asleep excited over tomorrow morning's coffee. My husband and I love coffee and have ordered beans from different coffee roasters all over North America. The preparation of that morning cup of goodness is equally important. So here's a way to jazz it up!
This Spiced Iced Coffee with cinnamon, anise, cloves, and orange zest is so flavourful and full of great things for you. This is a very rich and enchanting coffee experience. Cinnamon has some amazing health benefits, full of antioxidants, and can lower blood pressure and your risk of heart disease.
Pair this beautiful Spiced Iced Coffee with one of Urban Baker Co.'s Gluten-Free Breakfast Cookies and you have a morning meal for champions!
If you make this Spiced Iced Coffee recipe, please tag me on social media. Don't forget to check out our healthy breakfast cookies in the shop that will go perfectly with that iced cup of joe. I will do my best to answer any questions and would love to get your comments.

For more ideas like this follow me at @urbanbakerco on #instagram or #facebook to get updates on my blog and don't forget to sign up for my personal e-mail list below.
#icedcoffee #spicedicedcoffee #coffee #cupofjoe #jazzupyourmorningroutine #breakfastcookies #healthybreakfastcookies #breakfastcookiesandicedcoffeeohsogood #haltonfoodie #oakvillefoodie #burlingtonfoodie #torontofoodie #blogger #haltonblogger #burlingtonblogger #oakvilleblogger #torontoblogger #blogger #urbanrecipepost #newrecipepost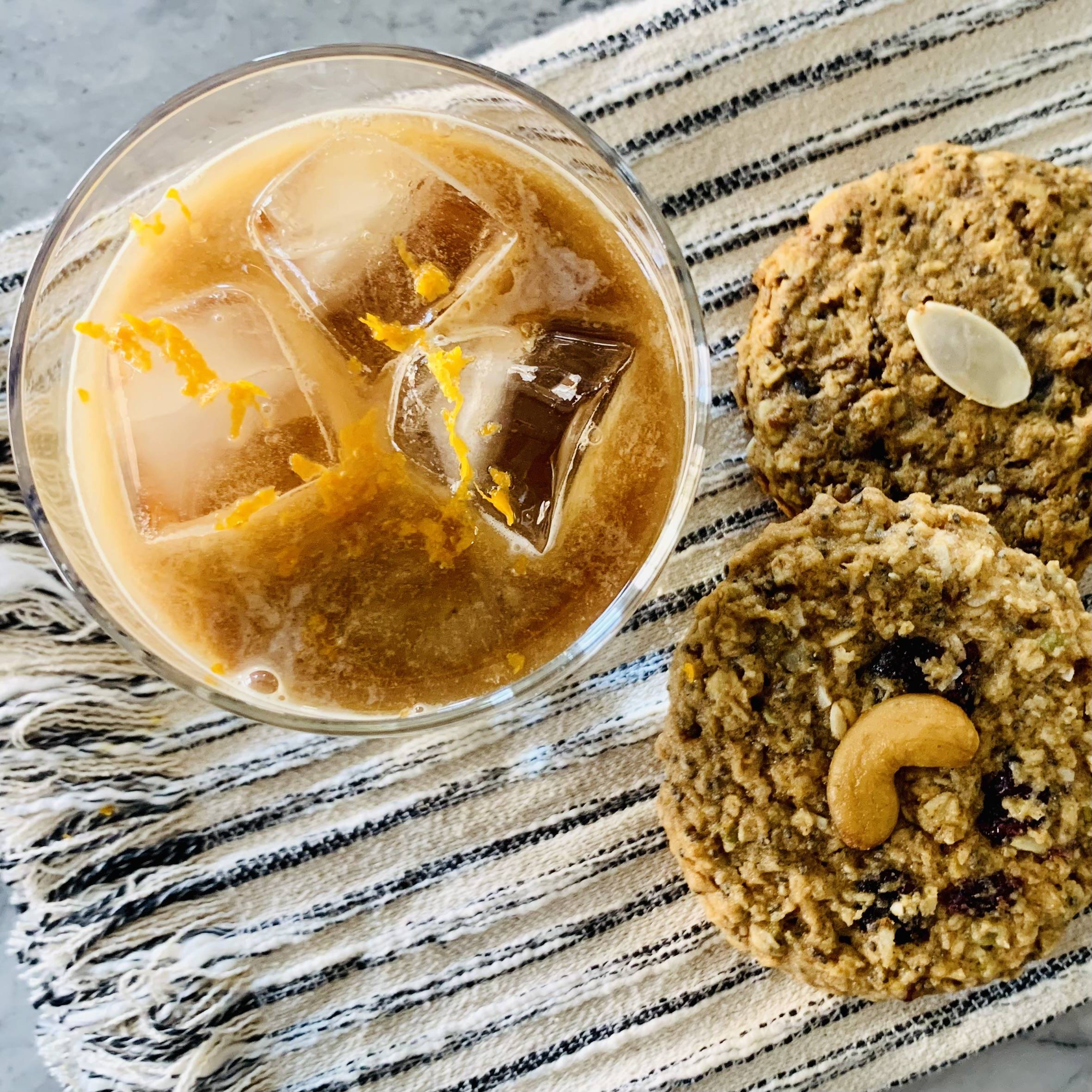 THE RECIPE | Urban Baker Co.
Spiced Iced Coffee with Cinnamon, Anise, Cloves and Orange Zest
prep time | 5 minutes
total time | 10 minutes
servings | 2 servings
INGREDIENTS
Espresso Shot (s):
1/4 cup ground espresso beans
1/4 teaspoon anise
1/8 teaspoon ground cloves
1/2 teaspoon ground cinnamon
1/2 teaspoon fresh orange zest
2 cups whole milk, nut milk or oat milk, 1 cup/serving
Natural sweetener (optional)
INSTRUCTIONS
1. Add the ground espresso beans, anise, cloves, cinnamon, and orange zest to a bowl and mix until combined.
2. Surf your espresso machine to bring to the right temperature. Place enough of mixture for a single shot or a double shot in your portafilter to your espresso maker. "Pull" your shot into the espresso cup (s).
3. Place ice in tall glass, pour espresso shot over ice, add milk of choice and natural sweetener if desired.