Balsamic Greek Chicken Skewers With Tangy Herb Greek Salad


Looking for a healthy but simple mid week meal for your family. These Balsamic Greek Chicken Skewers are so easy to prepare and take no time at all.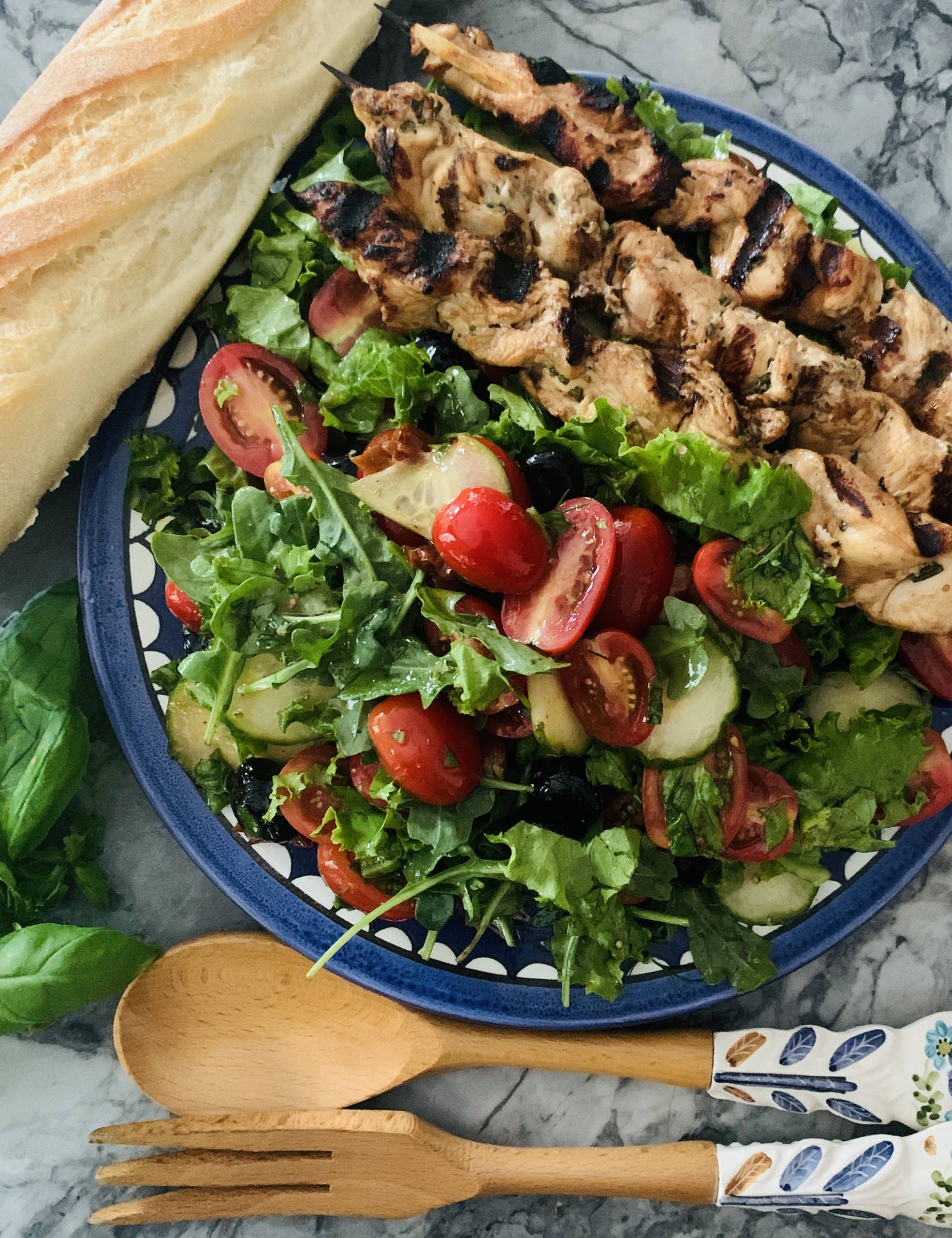 A simple balsamic marinade for the chicken with honey, dijon and some fresh herbs. The Garden Herb Greek Salad has fresh spring greens, avocado, cucumber, cherry tomatoes, sun-dried tomatoes, kalamata olives and a flavourful olive oil based dressing with fresh herbs of oregano, basil and dill.
These chicken skewers are fantastic for a summer backyard family dinner. Add this beautifully flavourful Garden Herb Greek Salad with a crusty baguette, and you are set for a deliciously satisfying meal that will fill the bellies of your loved ones.
If you make these Balsamic Greek Chicken Skewers with Tangy Herb Greek Salad, please tag me on social media. I will do my best to answer any questions and would love to get your comments.
For more ideas like this follow me at @urbanbakerco on #instagram or #facebook to get updates on my blog and don't forget to sign up for my personal e-mail list below. #summerfood #grilledfood #chickenskewers #greekfood #simpleweeknightdinner #healthyfood #healthylifestyle #blogger #foodblogger #haltonfoodblogger #torontofoodblogger #burlingtonfoodblogger #oakvillefoodblogger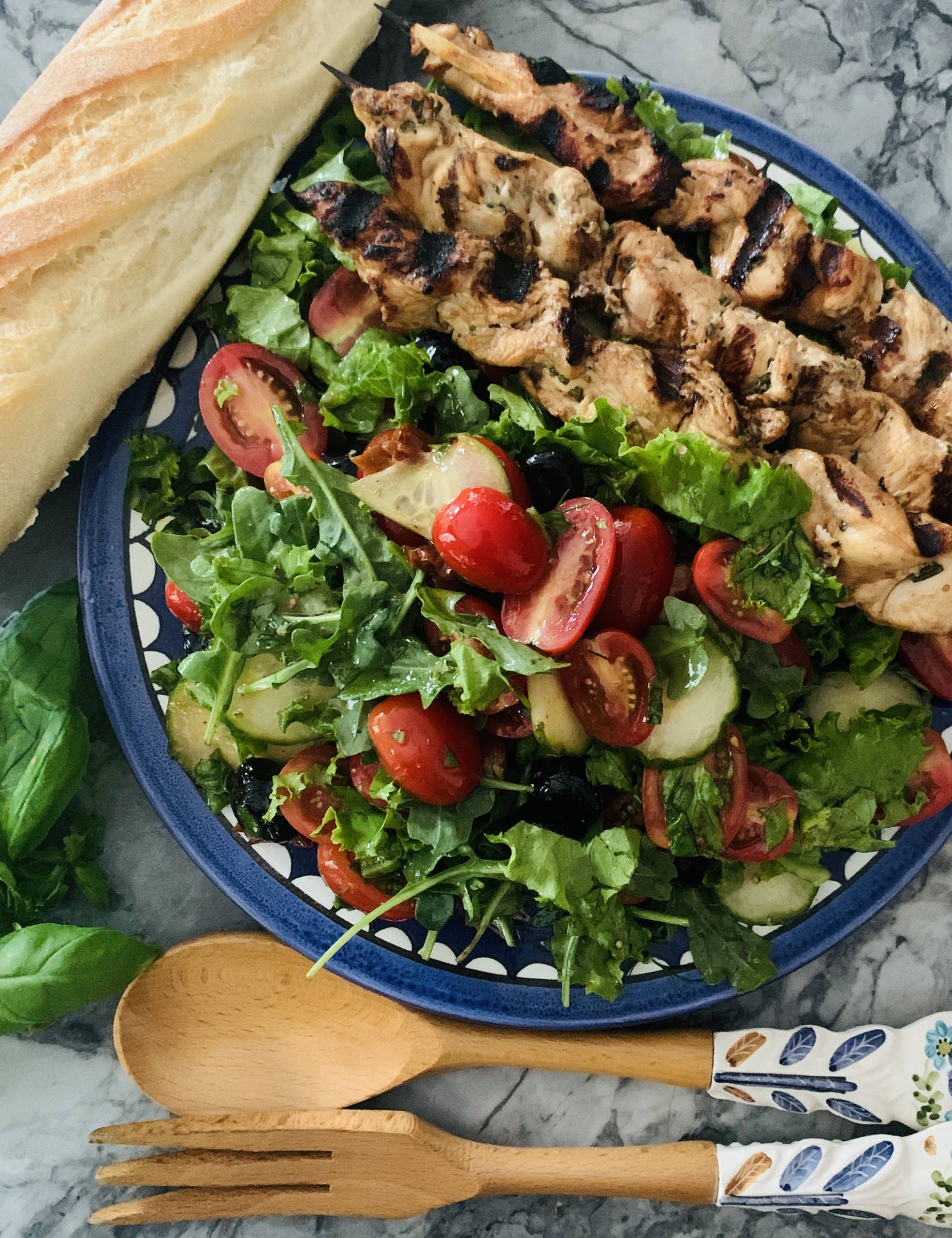 THE RECIPE | Urban Baker Co.
Balsamic Greek Chicken Skewers with Tangy Herb Greek Salad
A healthy and simple weeknight dinner
prep time | 30 minutes
total time | 50 minutes
servings | 4 people
INGREDIENTS
Balsamic Greek Chicken:
2 1/2 pounds of boneless skinless chicken breasts, cut into 1' cubes
1/4 cup balsamic vinegar
1/4 cup grape seed oil
1 tbsp dijon mustard
1 tbsp honey
1 tsp basil chopped finely
salt & pepper to taste
Tangy Herb Greek Salad:
1 head of green leaf lettuce chopped
1 small box cherry tomatoes chopped
kalamata olives
1 cucumber thinly sliced
1 avocado chopped
1/4 cup sun dried tomatoes chopped
Tangy Herb Greek Dressing:
1/2 cup olive oil
2 tbsp red wine vinegar
1 lemon juiced
1 tsp dijon mustard
2 tsp granulated sugar
1 garlic clove minced
fresh oregano, basil and dill chopped
salt and pepper to taste
INSTRUCTIONS
1. Heat grill to medium heat.
2. In small bowl whisk balsamic vinegar, grape seed oil, dijon mustard, honey, basil, salt & pepper. Set aside.
3. Cut boneless chicken into small 1 inch pieces. Place in plastic bag and pour balsamic marinade over top making sure all the chicken is covered with the marinade. Place in fridge for 20 to 30 minutes.
4. Soak skewers for 30 minutes in water. Remove from water and set aside.
5. Place marinated chicken on skewers. Grill turning often until cooked through, about 20 minutes.
6. Mix Tangy Herb Greek Dressing ingredients in small bowl. Olive oil, red wine vinegar, lemon juice, dijon, sugar, minced garlic and fresh oregano, basil, dill, salt and pepper to taste. Set aside.
7. Wash lettuce and prepare salad ingredients. Chop tomatoes, avocado, cucumber and dried tomatoes. Place in bowl and mix with dressing until well combined.
8. Serve Balsamic Greek Chicken Skewers with Tangy Herb Greek Salad.