Cajun Grilled Chicken Tacos With Corn Cilantro Lime Ranch Coleslaw


Tacos for a Friday night? Yes please!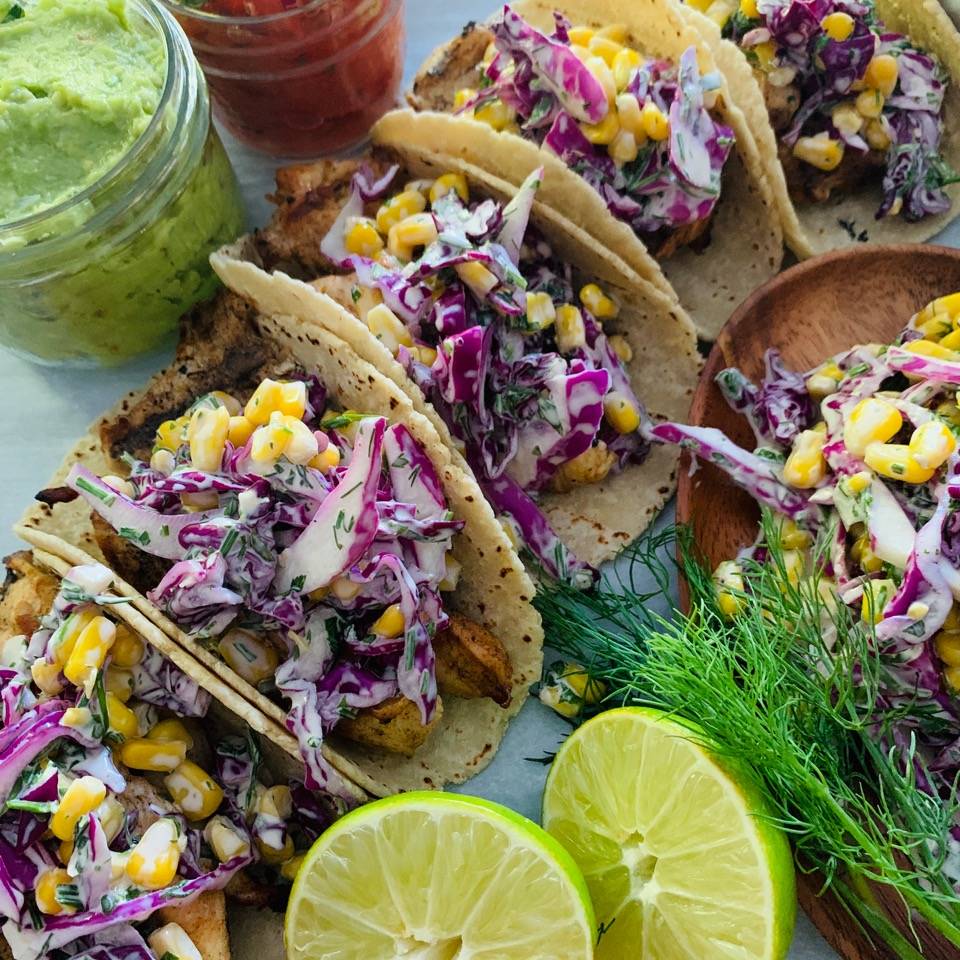 These Cajun Grilled Chicken Tacos with Corn Cilantro Lime Ranch Coleslaw could be considered street food, really good street food in fact! However these tacos are a very healthy street food.
This grilled chicken is easily prepared with a cajun spice rub, grilled and then topped with this Corn Cilantro Lime Ranch Coleslaw. The flavours of summer come through with the corn, red cabbage, lime, cilantro and chives. The ranch dressing provides a creaminess that brings out all the wonderful seasoning of this slaw. Place on a warm flour or corn tortilla for a gluten free option and you have an easy delicious Friday night dinner.
If you make these Cajun Grilled Chicken Tacos, please tag me on social media. I will do my best to answer any questions and would love to get your comments.
For more ideas like this follow me at @urbanbakerco on #instagram or #facebook to get updates on my blog and don't forget to sign up for my personal e-mail list below. #tacos #streetfood #healthytacos #glutenfree #chickentacos #coleslaw #summerfood #easymeals #easyrecipes #quickmeals #quickmealsforbusymoms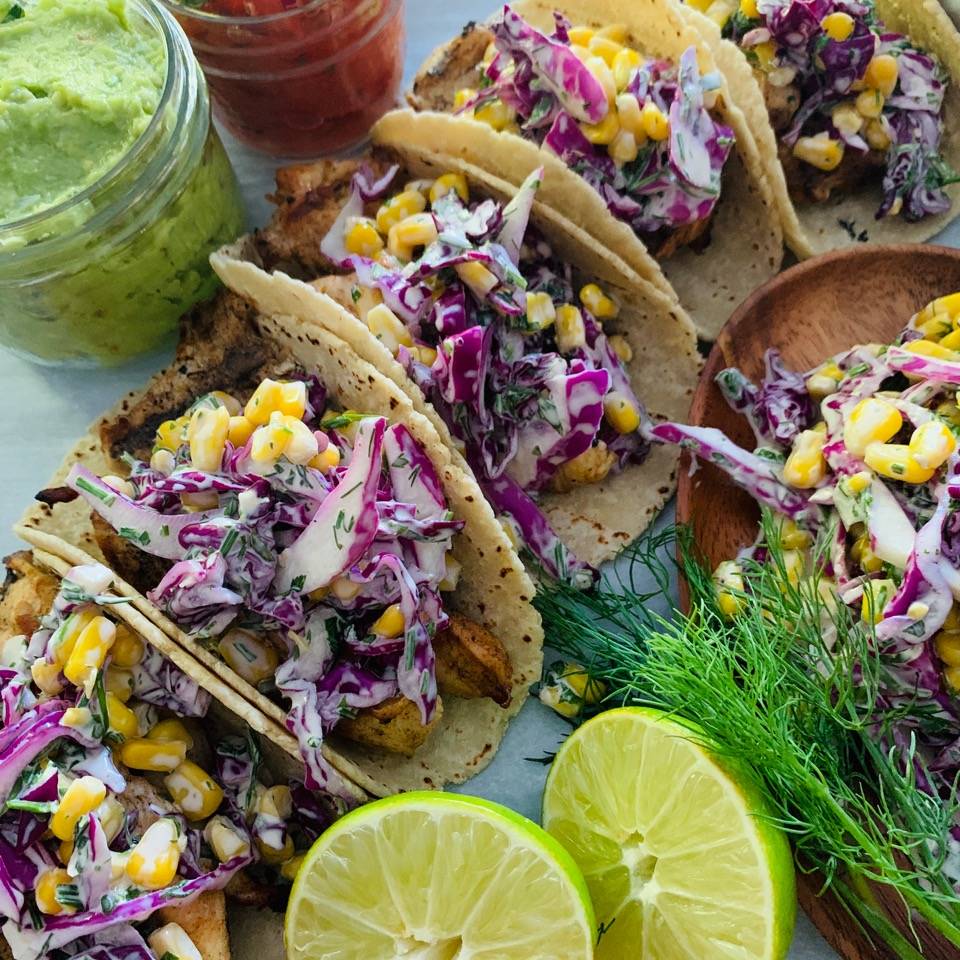 THE RECIPE | Urban Baker Co.
Cajun Grilled Chicken Tacos with Corn Cilantro Lime Ranch Coleslaw
Spicy chicken with a creamy ranch dressing, serve on a corn tortilla to make it gluten free.
prep time | 25 minutes
total time | 40 minutes
servings | 4 people
INGREDIENTS
4 boneless chicken breasts - thinly sliced lengthwise
2 Tbsp grape seed oil
2 tsp smoked paprika
1/8 to 1/4 tsp chilli powder (or to taste)
1 tsp garlic powder
1/2 tsp cinnamon
sea salt & pepper to taste
flour or corn tortillas
Corn Cilantro Lime Ranch Coleslaw:

3 cups red cabbage - thinly sliced
2 cups corn - cooked
1/4 cup fresh cilantro finely chopped
1/4 cup fresh chives finely chopped
sea salt to taste
Ranch Dill Dressing:
2 garlic cloves minced
1/2 cup olive oil mayo
1/2 cup plain greek yogurt
1 1/2 tsp lime juice
2 Tbsp ranch seasoning (see below)
1/4 tsp paprika
Ranch Seasoning:
2 tsp fresh parsley chopped
1 tsp fresh chives chopped
1/2 tsp fresh dill chopped
1/2 tsp onion powder
1/2 tsp salt & pepper
INSTRUCTIONS
1. Heat grill to 400 degrees.
2. Place chicken breasts in plastic bag with grape seed oil and spices. Seal bag and shake until chicken is covered evenly with the spices. Set in fridge.
3. Place all ingredients for Ranch Dill Dressing into small bowl. Set aside.
4. Place all Corn Cilantro Lime Ranch Coleslaw ingredients into a medium bowl. Add Ranch Dill Dressing and mix until combined.
5. Place marinated chicken breasts on grill and cook for 10 to 12 minutes until internal temperature reaches 160 degrees.
6. Place flour or corn tortillas on top rack of bbq and heat through for about 1 minute flipping half way through. Be careful not to burn, cook just until heated but still soft.
7. Place flour or corn tortillas on serving platter with Cajun Grilled Chicken and top with Corn Cilantro Lime Coleslaw and serve.