Caramelized Sweet Maple Fig Onion Grilled Gourmet Beef Burger


It's Thursday and we are almost to the weekend and I think we are all in need of a good burger! I am so excited to share this burger with you!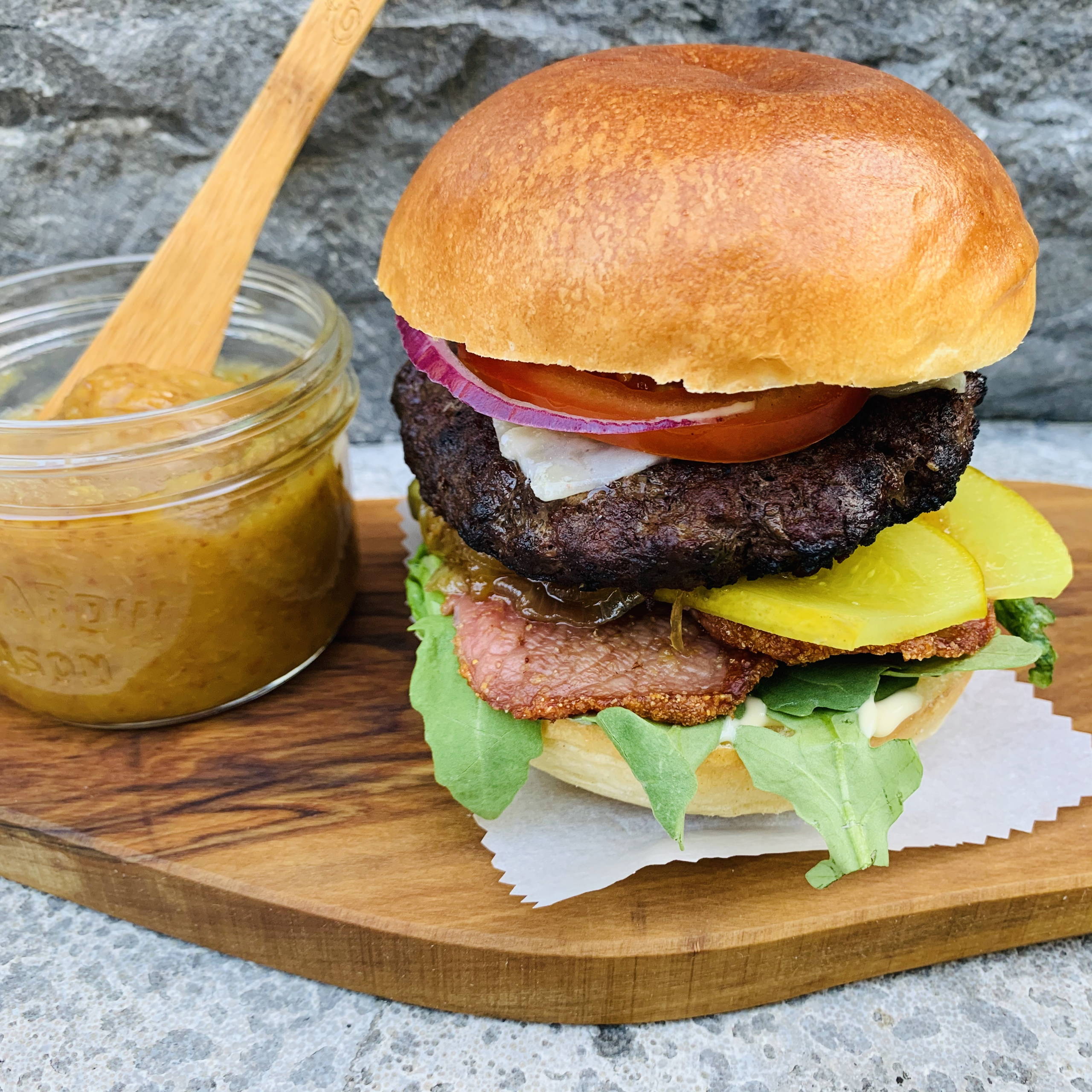 Caramelized Sweet Maple Fig onion Grilled Gourmet Organic Beef Burger with melted aged cheddar, on a bed of arugula, grilled peameal bacon, and garlic chipolte aioli, topped with thin slices of tomato and red onion, garlic pickles and my caramalized sweet maple fig onions.
This idea originated from my love of figs and my husbands craving for a gourmet burger for his birthday. These onions are so fragrant, sweet and the perfect topping to take this burger to a whole new level!
If you make this Gourmet Beef Burger with the Caramelized Sweet Maple Fig Onions, please tag me on social media. I will do my best to answer any questions and would love to get your comments.
For more ideas like this follow me at @urbanbakerco on #instagram or #facebook to get updates on my blog and don't forget to sign up for my personal e-mail list below. #gourmetburgers #organicbeefburgers #carmalizedonions #figjam #summerfood #grillingseason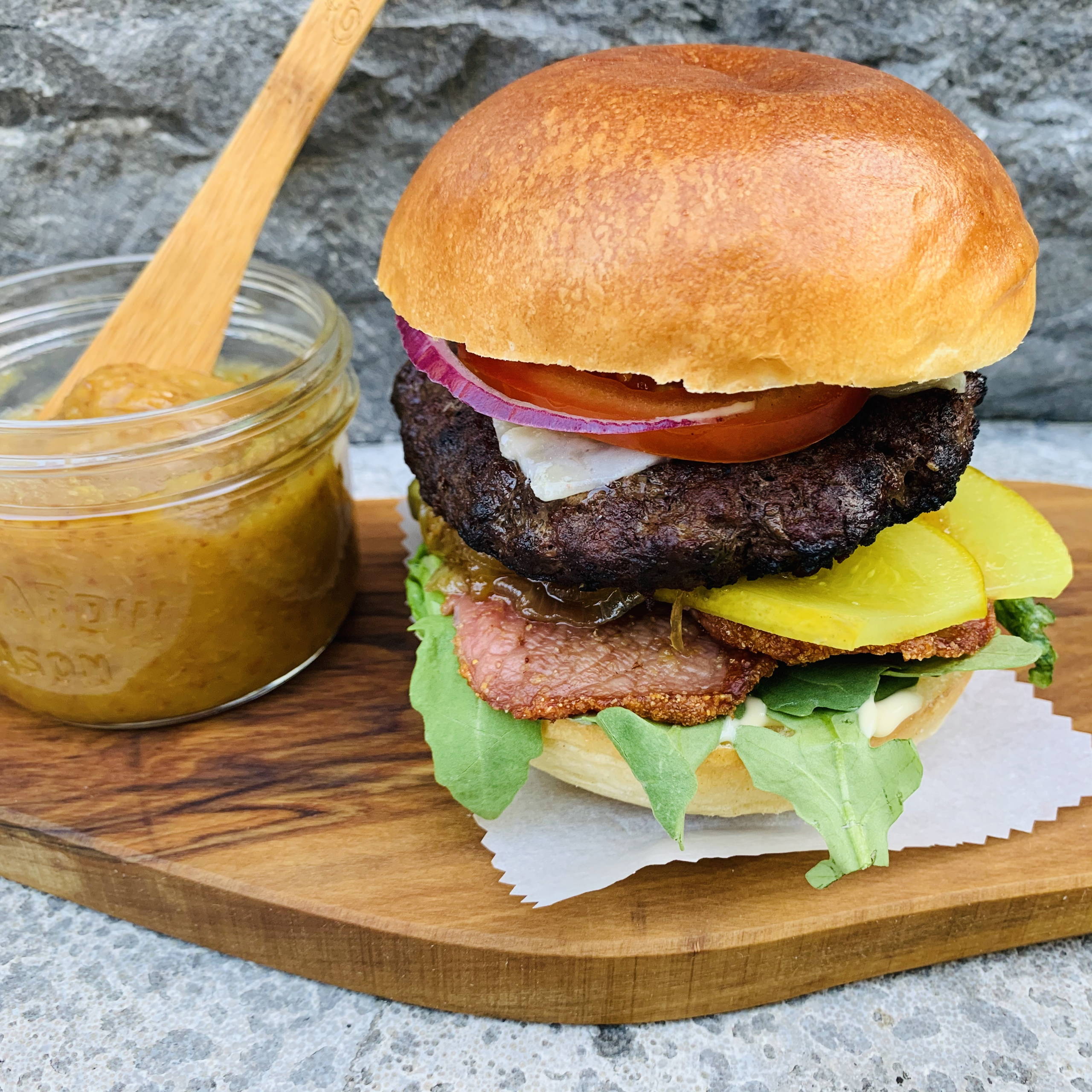 THE RECIPE | Urban Baker Co.
Gourmet Beef Burger with Caramelized Sweet Maple Fig Onions
Take your burger to a whole new level!
prep time | 30 minutes
total time | 45 minutes
servings | 4 burgers
INGREDIENTS
Beef Patties:
1 1/2 pounds grass fed organic ground beef
sea salt & pepper to taste
Caramelized Sweet Maple Fig Onions:
2 sweet onions thinly sliced
2 Tbsp olive oil
2 Tbsp unsalted butter
1 tsp sea salt
1 Tbsp maple syrup
1 Tbsp fig jam
Toppings:
tomato thinly sliced
red onion thinly sliced
arugula
pickles
pea meal bacon - cooked until crisp
aged cheddar thinly sliced
Garlic Chipotle Aioli
4 Brioche Burger Buns
INSTRUCTIONS
1. Heat grill to 400 degrees.
2. Place ground beef in bowl with sea salt and pepper to taste and form four ground beef patties. Sprinkle top of patties with additional sea salt & pepper. Set aside.
3. Heat medium size frying pan over medium heat. Add butter and olive oil. Once melted add onions and sea salt. Reduce heat to medium low and continue cooking for 30 to 40 minutes. Add maple syrup and fig jam to onions for an additional 10 to 15 more minutes of cooking. Set aside.
4. Place beef patties on grill and cook until internal temperature is 140 degrees. Place cheese on patty for last minute of cooking to melt. Meanwhile place pea meal bacon in 400 degree oven and cook on parchment lined baking sheet until crispy.
5. Spread Garlic Chipotle Aioli on burger bun. Place arugula, pea meal bacon, pickle, Caramelized Sweet Maple Fig Onions, cooked beef patty on bun and top with tomato and red onion.