Grilled Sweet Maple Fig Onion Chicken Burger


My favourite gourmet burger is this Grilled Sweet Fig Onion Chicken Burger, and I just had to share it with you before summer ends! It's so flavourful and satisfying you will want to try this one.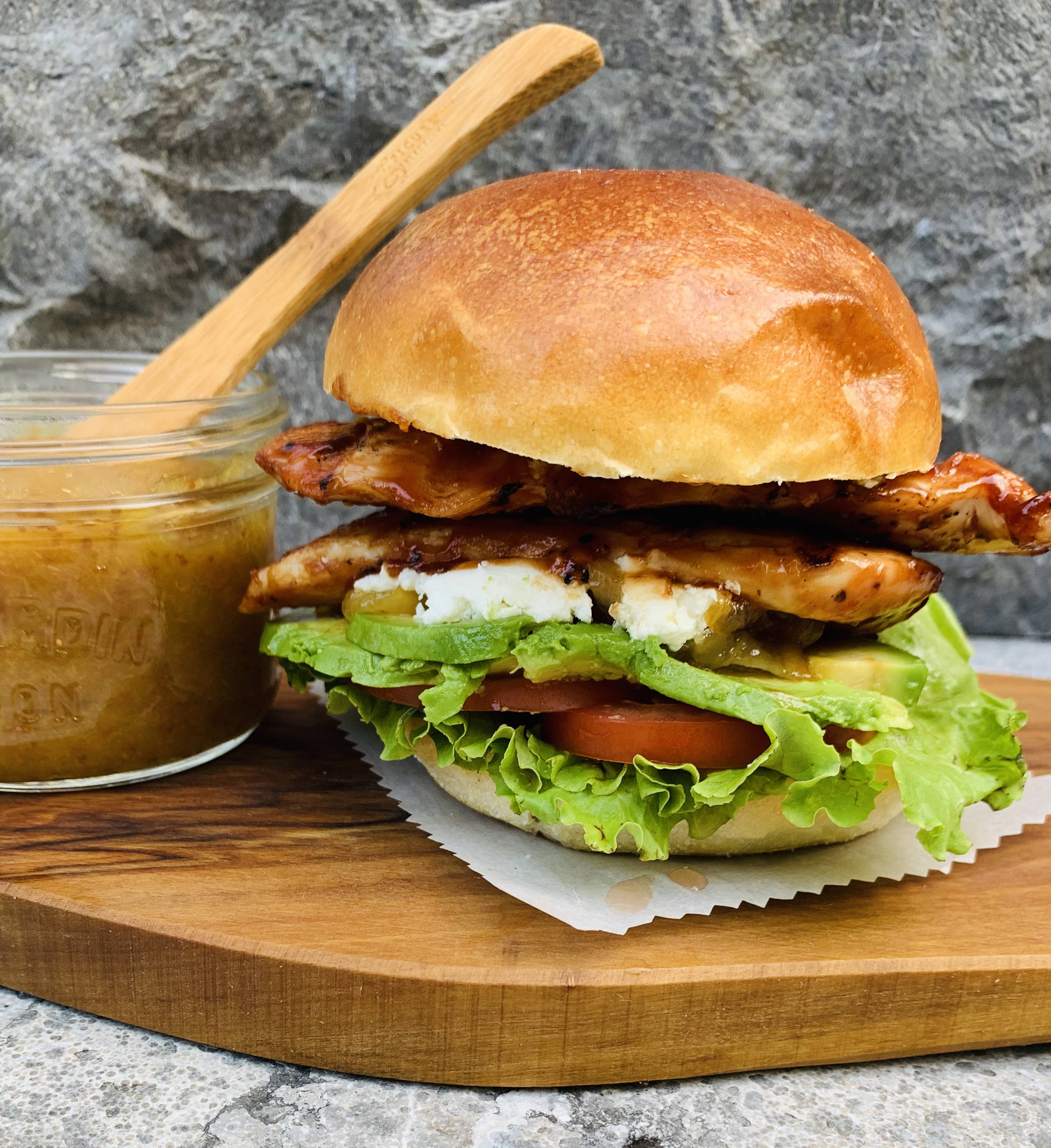 This grilled chicken is on a bed of green leaf lettuce, honey mustard, thin slices of tomato, avocado, goat cheese and topped with my caramelized sweet maple fig Onions.
I made a personal choice to not eat red meat a few years ago, with exception of lamb on the odd holiday. So when I am grilling up some beef burgers for my family, I throw some chicken on for myself and let me tell you, if you beef lovers try this you may never go back! If you want to make any chicken burger or beef burger extra special then you must try these Sweet Maple Fig Onions. It really takes this chicken burger to a whole other level.
If you make this Grilled Sweet Maple Fig Onion Chicken Burger, please tag me on social media. I will do my best to answer any questions and would love to get your comments.
For more ideas like this follow me at @urbanbakerco on #instagram or #facebook to get updates on my blog and don't forget to sign up for my personal e-mail list below. #grilledchickenburger #gourmetburgers #organicchickenburger #carmalizedonions #figjam #summerfood #grillingseason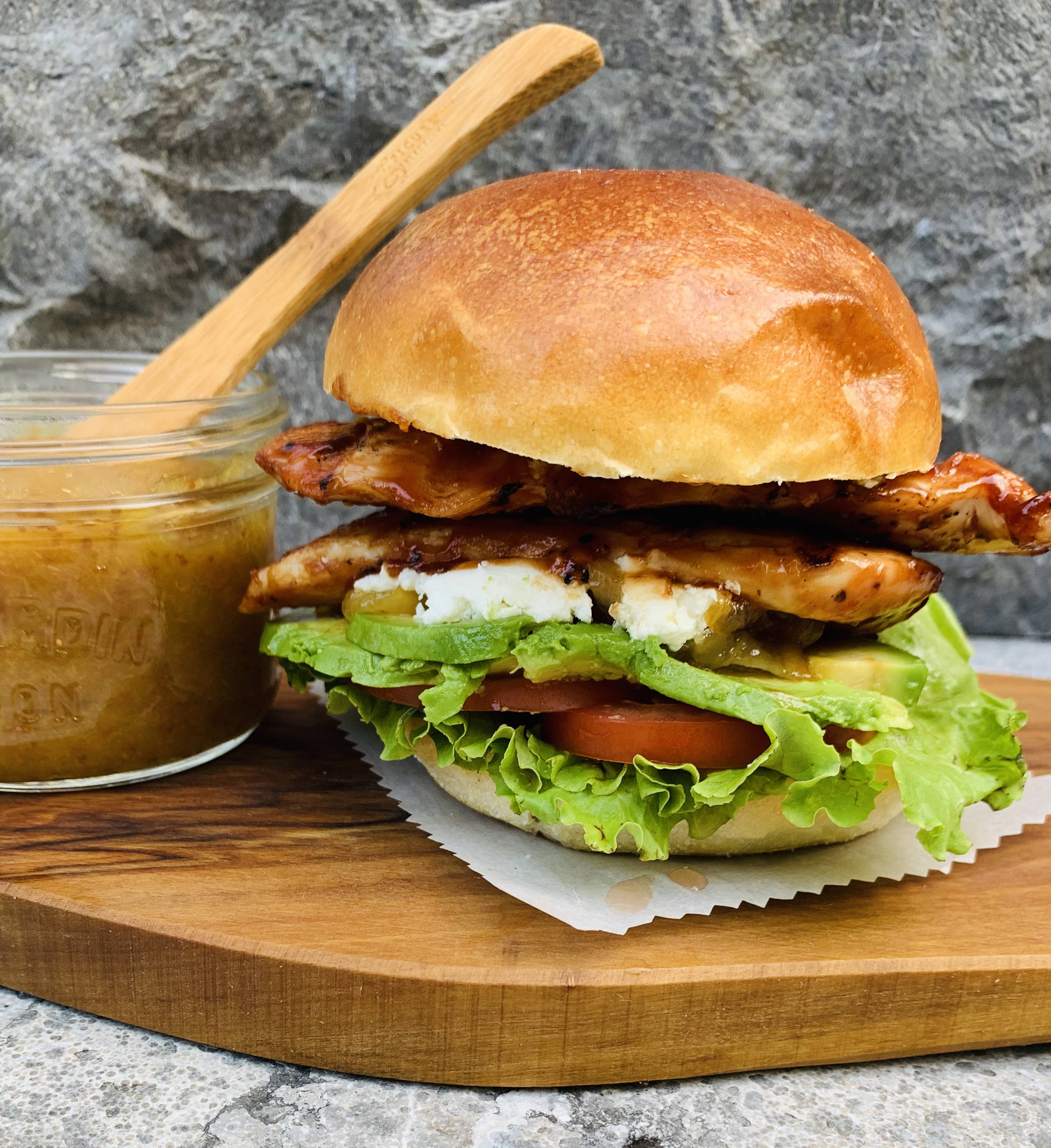 THE RECIPE | Urban Baker Co.
Grilled Sweet Maple Fig Onion Chicken Burger
A gourmet burger with whole lot of flavour!
prep time | 15 minutes
total time | 30 minutes
servings | 4 burgers
INGREDIENTS
4 chicken breasts - cut each breast in half to make two thin chicken breasts for a total of eight
Homemade Brown Sugar BBQ sauce (see below) or store bought
salt and pepper to taste
Brown Sugar BBQ Sauce:
1/4 cup ketchup
1/4 cup molasses
1/4 cup brown sugar
Caramelized Sweet Maple Fig Onions:
2 sweet onions thinly sliced
2 Tbsp olive oil
2 Tbsp unsalted butter
1 tsp sea salt
1 Tbsp maple syrup
1 Tbsp fig jam
Toppings:
avocado thinly sliced
tomato thinly sliced
green leaf lettuce
pickles
goat cheese
honey mustard
4 Brioche Burger Buns
INSTRUCTIONS
1. Heat grill to 400 degrees.
2. Cut chicken breasts as instructed above and season with sea salt & pepper. Place in fridge until ready to place on grill.
3. Heat medium size frying pan over medium heat. Add butter and olive oil. Once melted add onions and sea salt. Reduce heat to medium low and continue cooking for 30 to 40 minutes. Add maple syrup and fig jam to onions for an additional 10 to 15 more minutes of cooking. Set aside.
4. Mix all ingredients together for Brown Sugar BBQ Sauce in small bowl and set aside.
5. Place chicken breasts on grill and cook for 5 to 10 minutes until cooked through. Brush bbq sauce over chicken on both sides for last minute of cooking.
6. Spread honey mustard on burger bun. Place green leaf lettuce, tomato, avocado, pickle, goat cheese and cooked chicken breasts on bun and top with Caramelized Sweet Maple Fig Onions.