Italian Florence Style Chicken


this Italian Florence Style Chicken is a classic dish. However, these Rosemary Basil Lemon Pepper Tomatoes take this dish and make it entertainment worthy!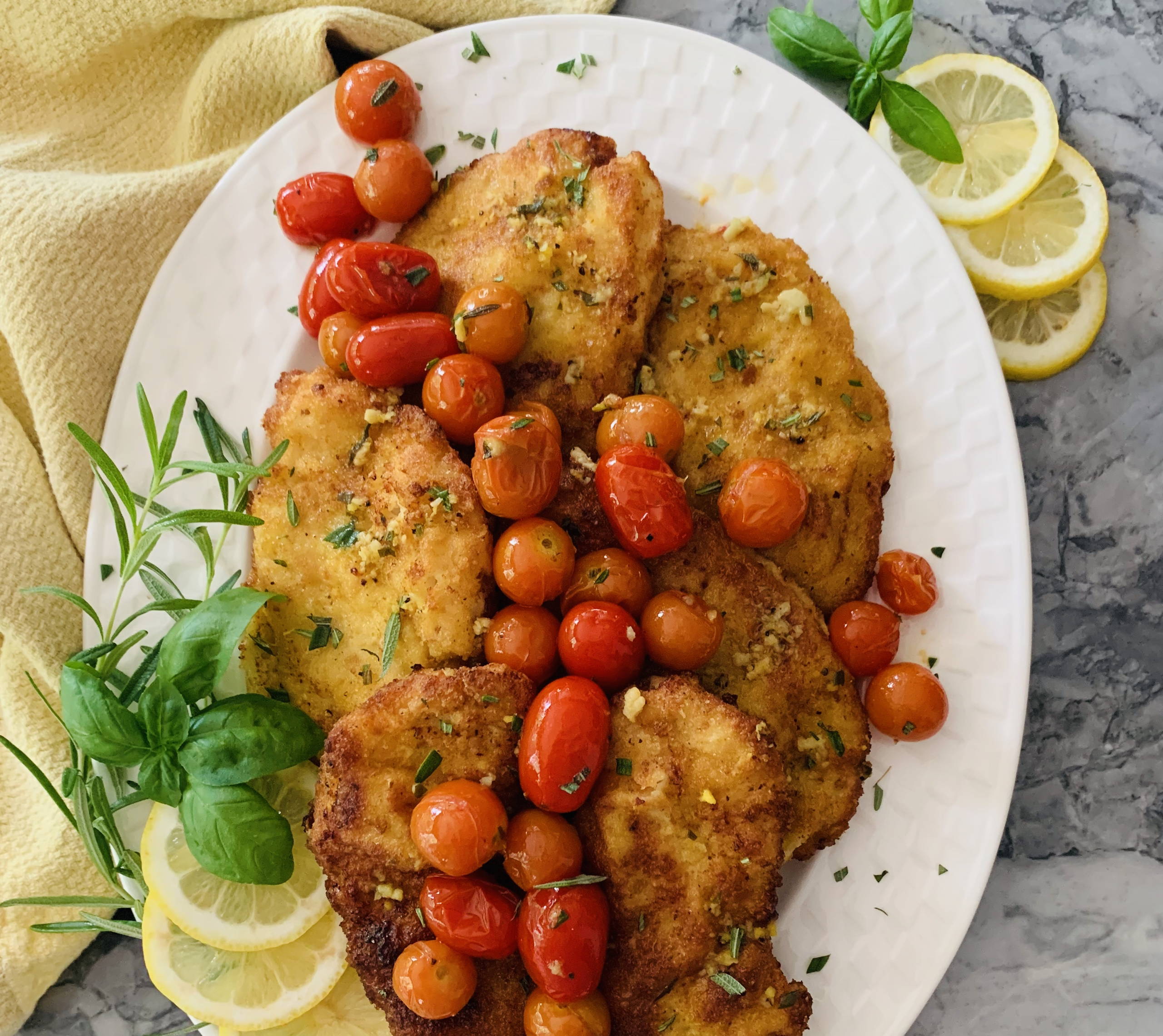 The tomatoes are sauteed for just a few minutes until they pop, with bit of olive oil, rosemary and garlic. Sprinkled with basil and lemon zest for a tangy richness.
As we move into September with evenings cooling down a bit, you sometimes want a feel good meal. With tomatoes at their peak, this Italian Florence Style Chicken is the perfect dish for your family. The chicken is breaded with flour, egg, parmesan cheese and rolled in bread crumbs (make them gluten free if you wish). With the addition of the rosemary, garlic, basil and lemon zest, the tomatoes become very flavourful.
If you make these Italian Florence Style Chicken, please tag me on social media. I will do my best to answer any questions and would love to get your comments.
For more ideas like this follow me at @urbanbakerco on #instagram or #facebook to get updates on my blog and don't forget to sign up for my personal e-mail list below. #tomatoes #fall #fallmeals #chicken #chickenflorentine #rosemary #basil #lemon #lemonpepper #entertaingathome #easydinner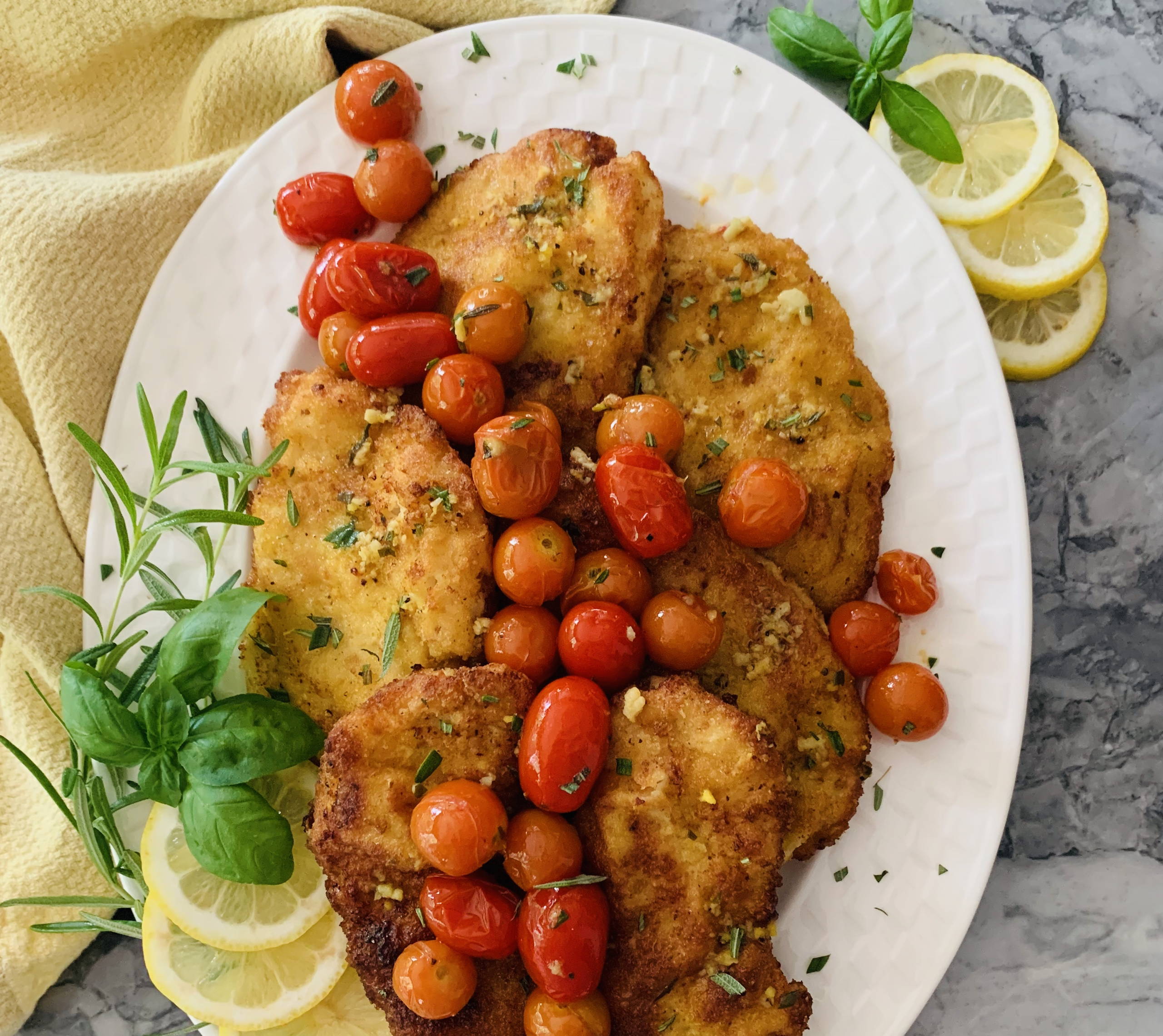 THE RECIPE | Urban Baker Co.
Italian Florence Style Chicken
A classic dish, but these rosemary basil lemon pepper tomatoes make it entertainment worthy!
prep time | 20 minutes
total time | 50 minutes
servings | 4 people
INGREDIENTS
4 to 6 boneless chicken breasts
1 cup all purpose flour or gluten free flour
1 cup bread crumbs (gluten free optional)
3 eggs
1/4 cup parmesan cheese shredded (optional)
salt & pepper to taste
1/2 cup grape seed oil
bunch of basil chopped finely
Lemon Pepper Tomatoes:
2 cups of cherry tomatoes
1/2 cup olive oil
2 sprigs of rosemary
2 cloves of garlic minced
zest and juice of 1 lemon
black pepper to taste
INSTRUCTIONS
1. Set oven to 400 degrees.
2. Place flour on a large plate. Place eggs, parmesan cheese and salt and pepper in a shallow bowl and whisk to combine. Place bread crumbs on a large plate.
3. Place a piece of parchment paper on a baking sheet and arrange the flour, egg mixture and bread crumbs in a row beside the baking sheet. With a fork dip the chicken into the flour ensuring it is completely covered and shake off the excess. Then dip the chicken into the egg mixture and dip into the bread crumbs and ensure the chicken is covered completely. Place on the baking sheet and repeat these steps with the remaining pieces of chicken.
4. Heat grape seed oil in a large deep frying pan. Heat over medium to high heat. Add breaded chicken for about 3 to 5 minutes each side until browned and crispy.
5. Place chicken on a new baking sheet and place in oven to cook for approximately 20 to 25 minutes.
6. While chicken is cooking, heat a medium size frying pan over medium to low heat. Add the olive oil, garlic, rosemary and tomatoes and cook for approximately 5 minutes being careful not to burn the garlic cooking just until golden and the tomatoes start to pop. Add the lemon and cook for another minute. Remove from the heat and season with pepper.
7. Place the chicken on a serving platter and top with the Lemon Pepper Tomatoes, sprinkle with chopped basil and serve.