Pesto Burrata Lemon Pepper Arugula Pizza


An easy week night meal is pizza, but here's a healthier twist on it.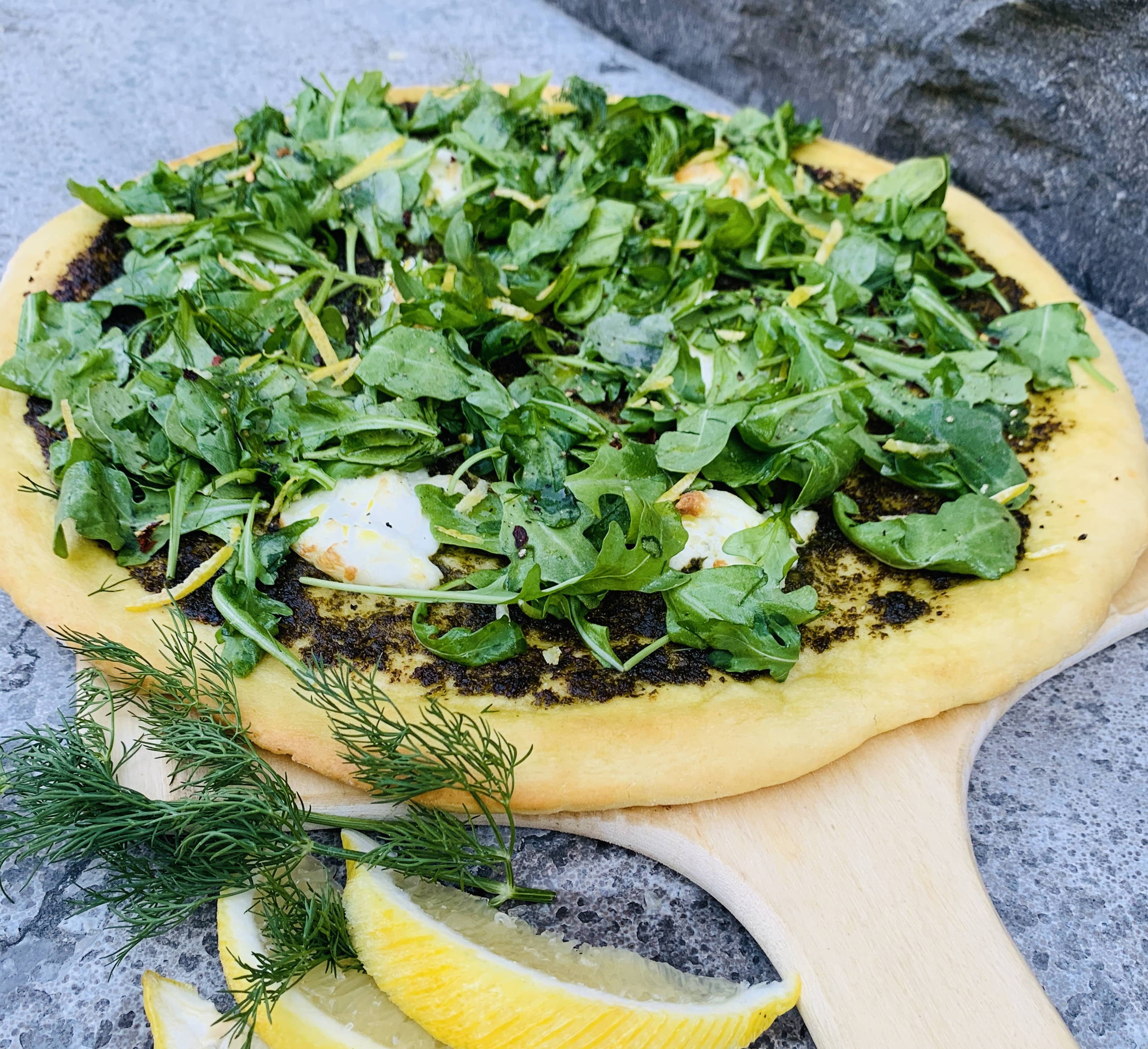 Pesto Burrata Lemon Pepper Arugula Pizza. Basil pesto with creamy Burrata cheese and the topped with arugula tossed in a lemon pepper olive oil dressing.
If you're in a hurry go with a store bought crust. But if you have the time you must try this semolina dough. It is delicious with honey and olive oil in it! If you have not used Semolina before it is a type of flour made from durum wheat. It is a higher protein flour then regular all purpose flour, and is also packed with minerals. If you prefer a gluten free crust, you could also try this recipe on my gluten free crust that I posted a couple weeks ago.
If you make these Pesto Burrata Lemon Pepper Arugula Pizza, please tag me on social media. I will do my best to answer any questions and would love to get your comments.
For more ideas like this follow me at @urbanbakerco on #instagram or #facebook to get updates on my blog and don't forget to sign up for my personal e-mail list below. #pizza #basilpesto #basilpestopizza #lemonpepperarugula #burrata #easyrecipes #easyentertaining #easyweeknightmeals #healthyeating #healthylifestyle #healthyliving #haltonfoodie #burlingtonfoodie #oakvillefoodie #foodie #blogger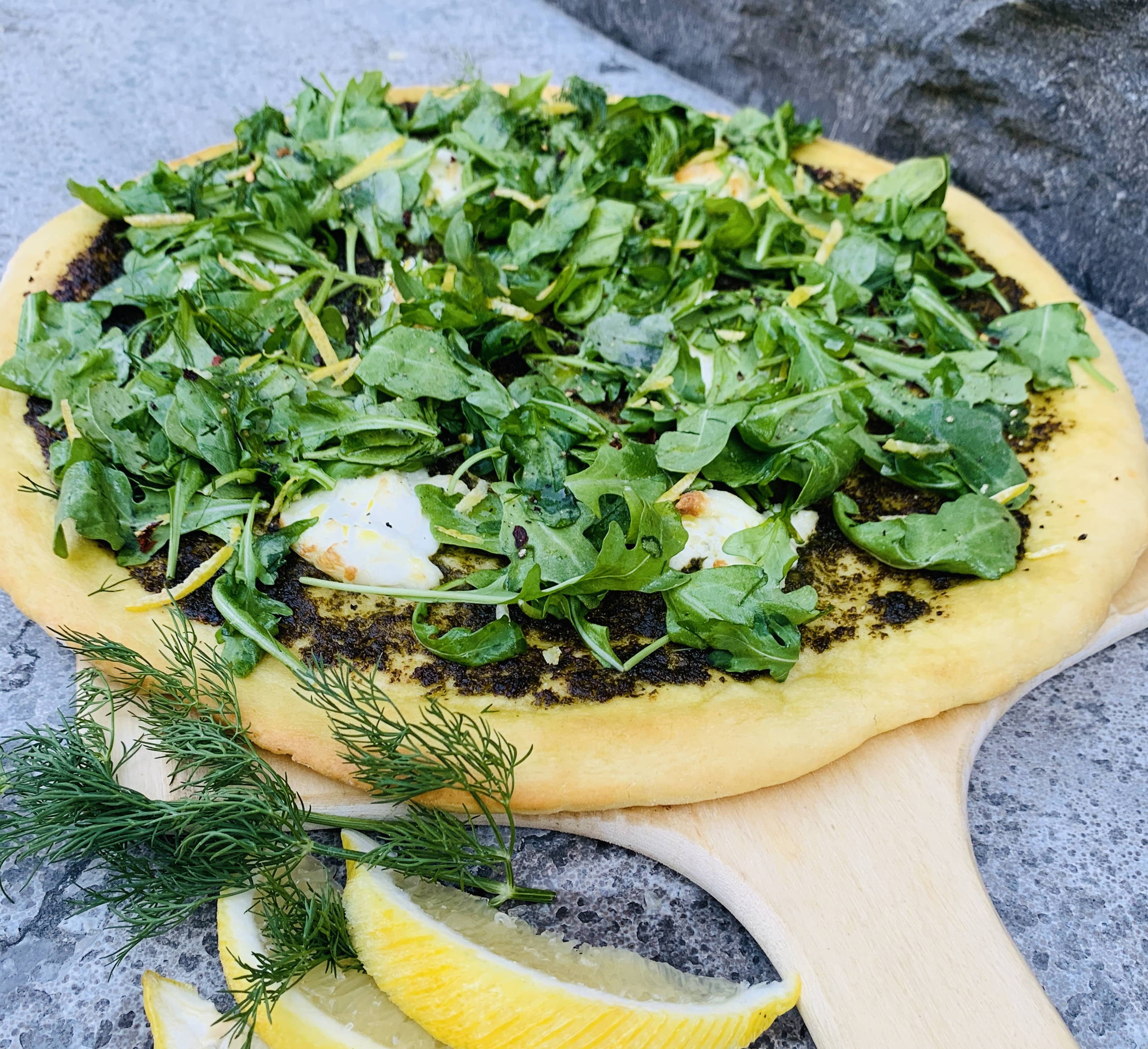 THE RECIPE | Urban Baker Co.
Pesto Burrata Lemon Pepper Arugula Pizza
An easy week night meal with a healthy twist.
prep time | 15 minutes
total time | 25 minutes
servings | 4 people
INGREDIENTS
Pizza Crust: (or store bought)
2 1/2 Tbsp yeast
1 Tbsp sugar
1 tsp salt
1 1/2 cups warm water
1 cups all purpose flour
3 cups semolina flour
2 Tbsp olive oil
2 Tbsp honey
Pizza Toppings:
Burrata Cheese
Arugula
Basil Pesto
Lemon Pepper Vinaigrette:
2 Tbsps olive oil
zest and juice of 1 lemon
pepper to taste
1/2 tsp garlic powder
1/2 tsp onion powder
INSTRUCTIONS
1. Place pizza stone in cold oven and set oven to 450 degrees
2. In small bowl add warm water and sprinkle in the sugar and yeast. Set aside and let yeast proof (activate) for 10 minutes.
3. In large bowl add all purpose flour and semolina flour with olive oil and honey. Add activated yeast and mix with fork until combined. Place on floured surface and kneed for 10 minutes. Place in large bowl that is greased with olive oil and cover with damp towel. Let rest for 1 to 2 hours until risen.
4. Remove dough from bowl and place on lightly floured surface. Roll out with floured rolling pin until thin. Place pizza dough on parchment paper and place on pizza pan. Spread the basil pesto all over the pizza dough.
5. Slide the parchment paper and pizza from the pizza pan onto the pizza stone in the oven. Bake for 7 minutes.
5. Open the oven and slightly lift the pizza dough to be able to pull the parchment paper out from underneath the pizza dough. Top the pizza with the burrata cheese. Bake for an additional 3 minutes.
6. In a small mixing bowl combine olive oil, zest and juice of 1 lemon, pepper, garlic powder and onion powder. Whisk until combined, set aside.
7. In a medium size mixing bowl add arugula with the Lemon Pepper Vinaigrette. Top pizza with dressed arugula and serve.