This Roasted Butternut Squash and Pesto casserole is a fantastic side dish to a roast turkey, chicken or any roast.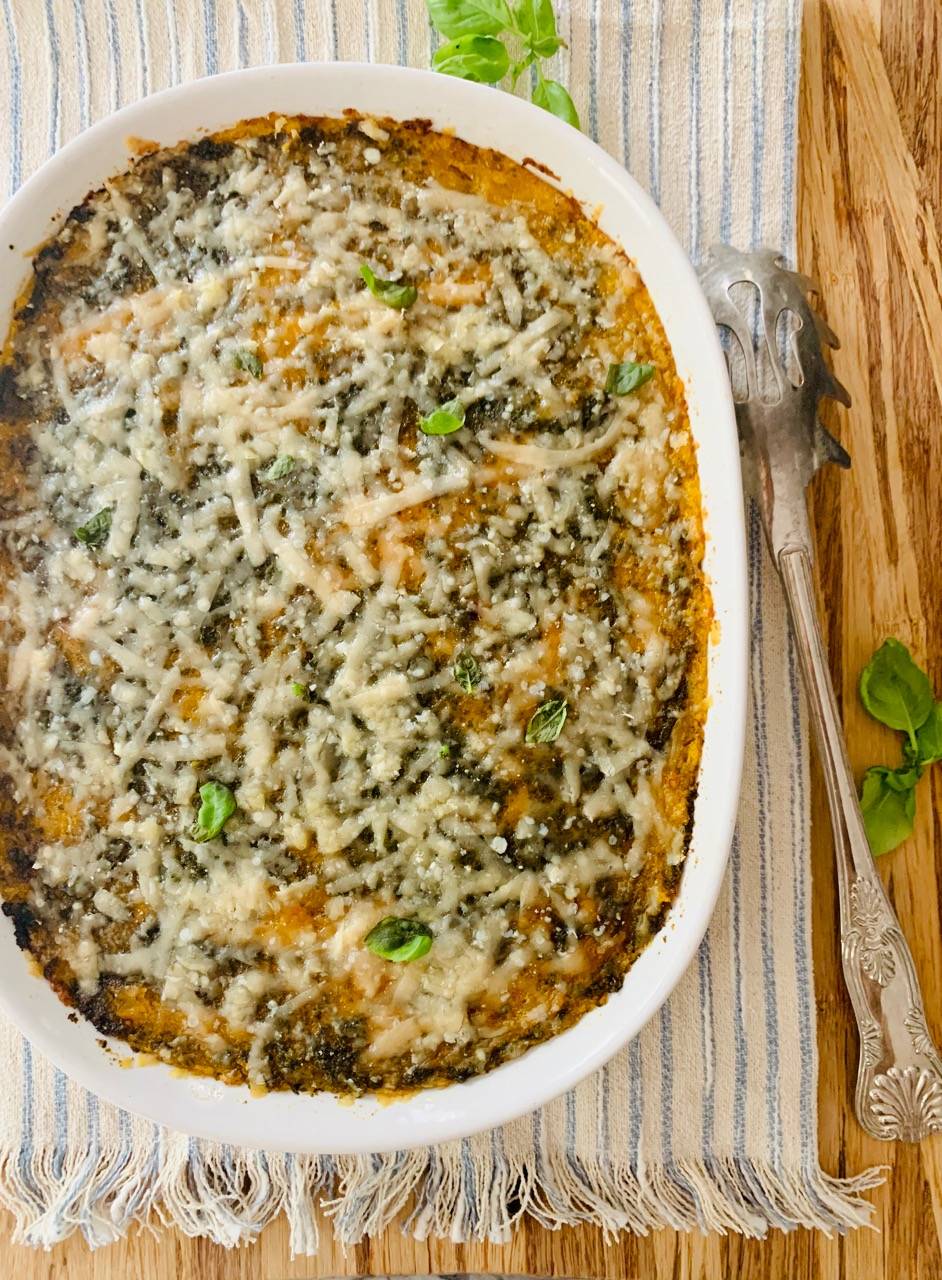 Roasted Butternut Squash, basil pesto, Parmigiano Reggiano cheese baked until bubbling and full of flavour.
It's hard to believe that we are in full swing into October already and Thanksgiving is approaching very quickly in a few days. Every day this week I will be sharing posts to help inspire and prepare you for this well enjoyed holiday. All the posts this week will be ones that can all be prepared ahead. Like you I am really looking forward to slowing down and enjoying these few days with my family, so any prep I can do ahead of time is ideal! This Roasted Butternut Squash and Pesto casserole is easily made ahead to make prep the day of so much easier.
If you make this Roasted Butternut Squash & Basil Pesto casserole, please tag me on social media. I will do my best to answer any questions and would love to get your comments.
For more ideas like this follow me at @urbanbakerco on #instagram or #facebook to get updates on my blog and don't forget to sign up for my personal e-mail list below. #thanksgiving #thanksgivingrecipes #veganrecipes #glutenfreerecipes #dairyfreerecipes #healthyfood #healthylifestyle #haltonfoodie #oakvillefoodie #burlingtonfoodie #torontofoodie #blogger #haltonblogger #burlingtonblogger #oakvilleblogger #torontoblogger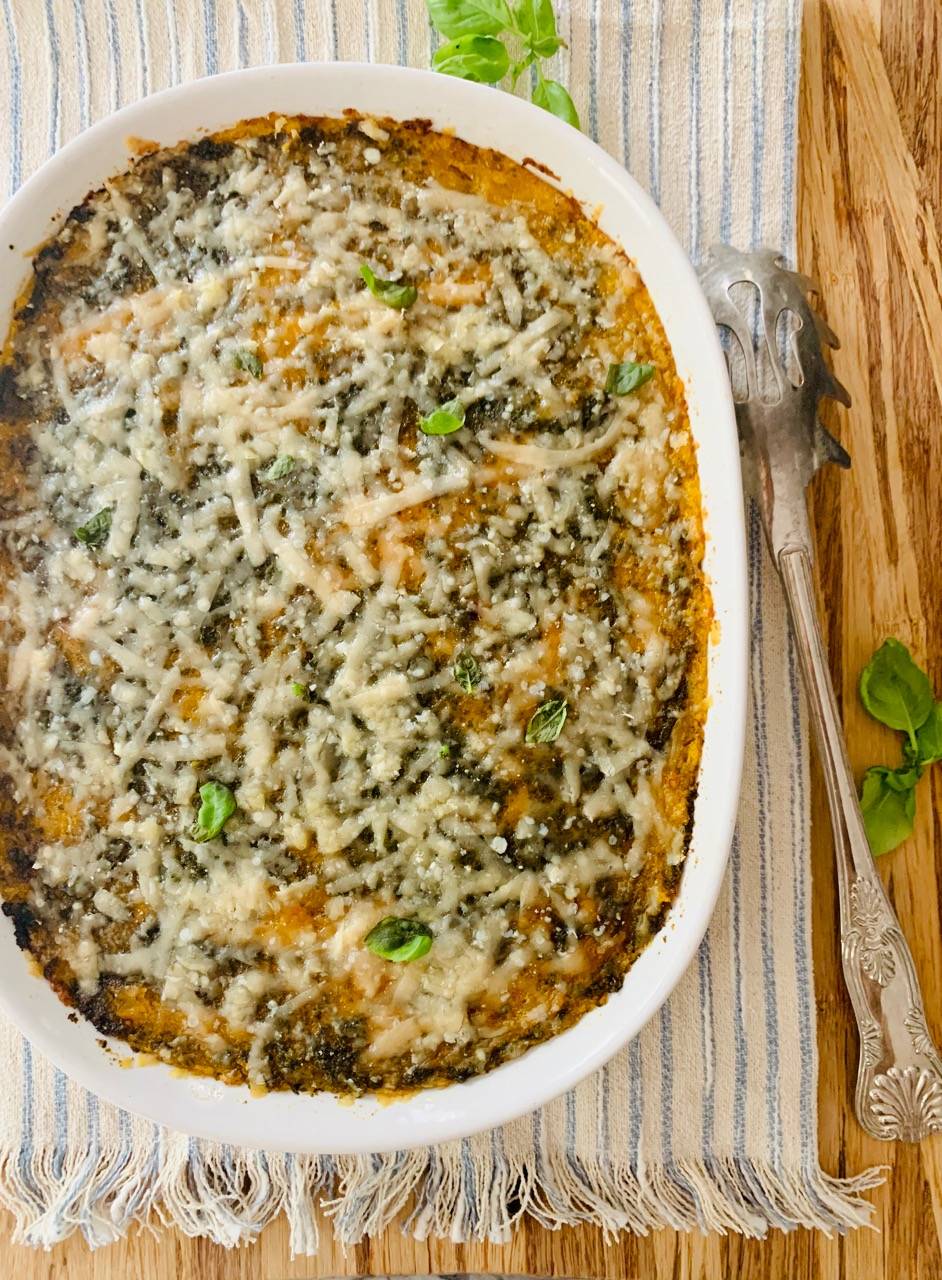 THE RECIPE | Urban Baker Co.
Roasted Butternut Squash & Basil Pesto
A fantastic side dish to a roast turkey, chicken or any roast.
prep time | 20 minutes
total time | 60 minutes
servings | 8 people
INGREDIENTS
1 large butternut squash, peeled, seeded and cut into 1 inch pieces
1/4 cup grape seed oil
2 Tbsp's sea salt
1/2 cup Basil Pesto (see link to Urban Baker Co.'s recipe)
1 1/2 cups parmesan cheese grated
INSTRUCTIONS
1. Set oven to 400 degrees.
2. Place prepared butternut squash in a large bowl and mix with grape seed oil and salt. Place on parchment lined baking sheet and cook for 40 minutes until soft and cooked through.
3. Remove butternut squash from oven and place in large bowl. With a potato masher or immersible hand blend, blend until smooth.
4. Grease a medium size casserole dish with olive oil. Spread a layer of the mashed butternut squash on the bottom of the dish, top with half of the basil pesto and sprinkle with parmesan cheese to cover. Repeat layers a second time. Do a third and final layer of butternut squash and top with parmesan cheese.
5. Can cover and refrigerate for 1 day at this point or freeze for later use.
6. Cover and place in 350 degree oven to bake for 30 minutes until bubbling and heated through. Remove cover for last 5 minutes of baking to melt cheese.