Roasted Chestnut Stuffing & Lemon Cranberry Sauce


Two classic side dishes that just have to be on our table at Thanksgiving are cranberry and stuffing.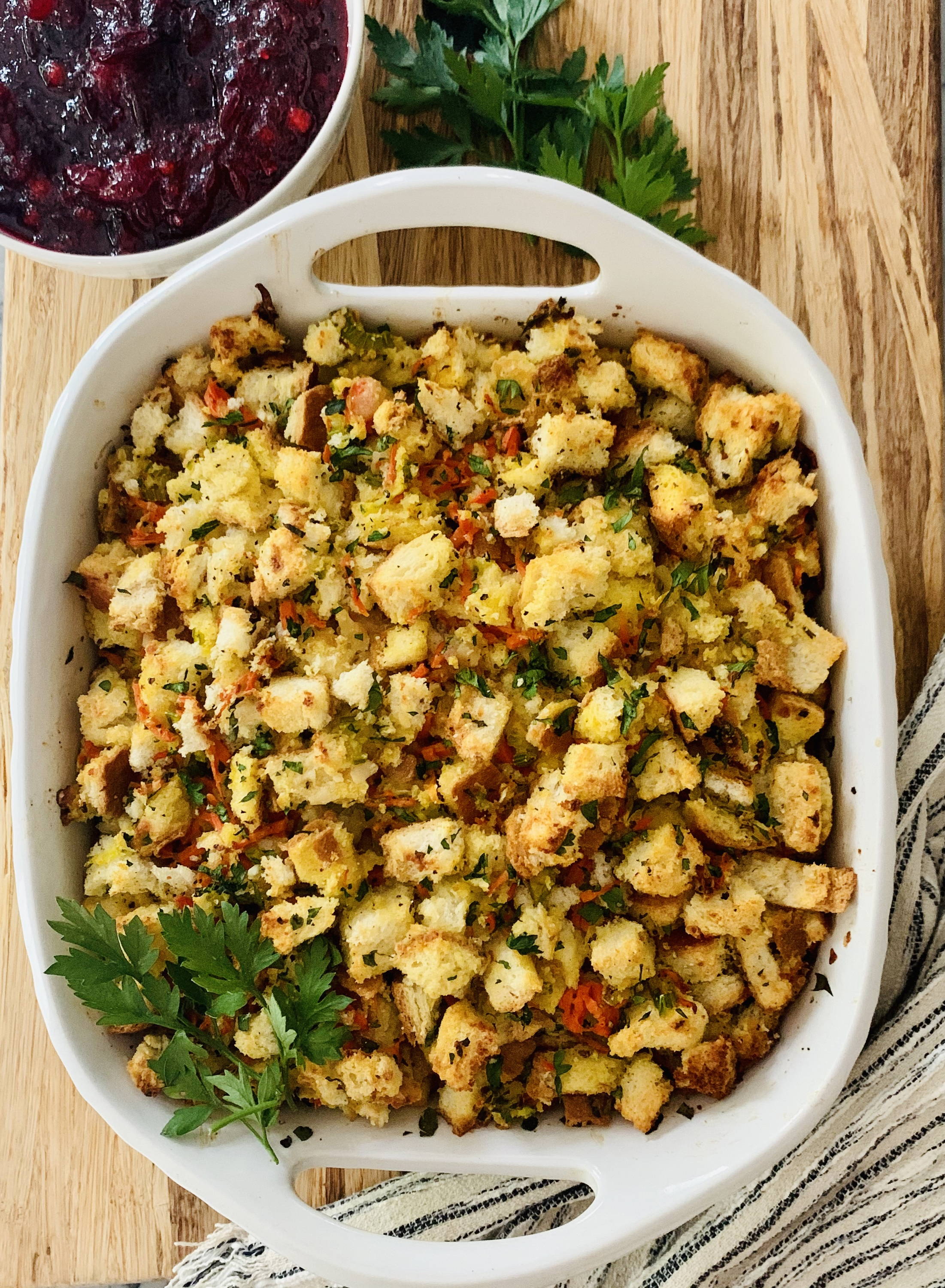 Both the Lemon Cranberry Sauce & the Roasted Chestnut Stuffing can be prepared ahead for simplicity.
This Lemon Cranberry Sauce is so easy to make, 10 minutes in the microwave and you have a beautiful sauce to accompany that gorgeous turkey you have worked so hard on. Because the cranberry sauce is so easy, it will give you time to prepare the stuffing. This Roasted Chestnut Stuffing is made with ciabatta, parmesan cheese, parsley, garlic, carrot, celery, onion and of course roasted chestnuts. A beautiful combination of flavours!
If you make this Lemon Cranberry Sauce or Roasted Chestnut Stuffing, please tag me on social media. I will do my best to answer any questions and would love to get your comments.
For more ideas like this follow me at @urbanbakerco on #instagram or #facebook to get updates on my blog and don't forget to sign up for my personal e-mail list below. #thanksgiving #thanksgivingrecipes #glutenfreerecipes #dairyfreerecipes #healthyfood #healthylifestyle #haltonfoodie #oakvillefoodie #burlingtonfoodie #torontofoodie #blogger #haltonblogger #burlingtonblogger #oakvilleblogger #torontoblogger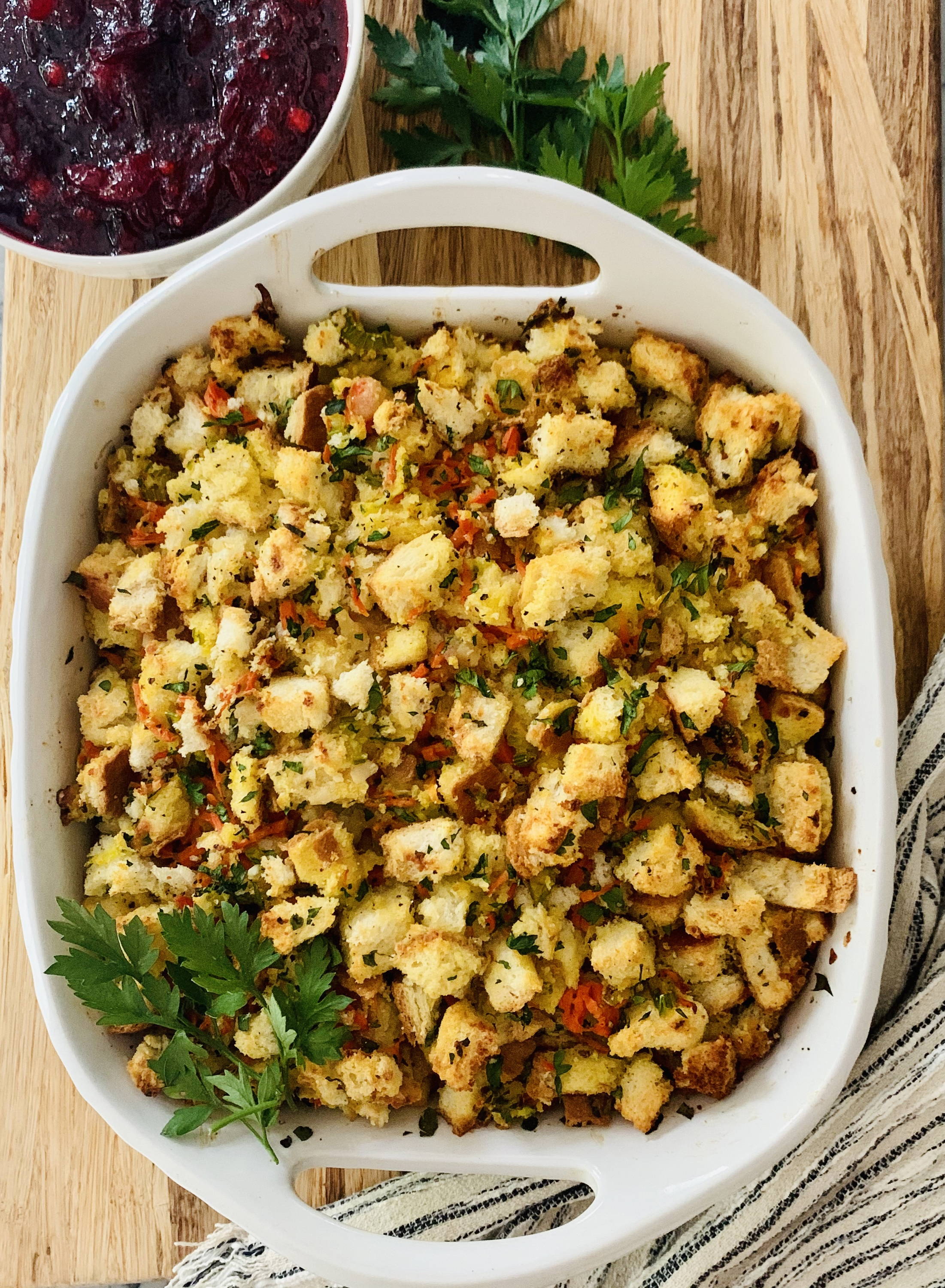 THE RECIPE | Urban Baker Co.
Lemon Cranberry Sauce & Roasted Chestnut Stuffing
Two classic side dishes with a whole lot of flavour!
Lemon Cranberry Sauce
prep time | 5 minutes
total time | 15 minutes
servings | 2 cups
Roasted Chestnut Stuffing
prep time | 20 minutes
total time | 60 minutes
servings | 8 to 10 people
INGREDIENTS
Lemon Cranberry Sauce:
3 cups fresh or frozen cranberries
1 1/2 cups granulated sugar
zest of 1 lemon
Roasted Chestnut Stuffing:
2 sweet onions, finely chopped
2 carrots, peeled and finely chopped
3 celery stalks, finely chopped
2 Tbsp's fresh rosemary, finely chopped
3 to 4 good size garlic cloves, minced
2 cups chestnuts, removed from shell, roasted and chopped (see note below)
12 cups ciabatta bread, cut into 1/2 inch cubes
2/3 cup parmesan cheese, grated
1/2 cup fresh parsley, chopped
1 cup chicken broth
1 tsp sea salt
pepper to taste
2 eggs, beaten
1/4 cup olive oil
2 Tbsp's unsalted butter
Lemon Cranberry Sauce:
INSTRUCTIONS
1. Place all ingredients in a 8 cup microwaveable dish and mix until combined.
2. Cover and place in microwave on high for 4 minutes, stir and place back in microwave for an additional 4 to 5 minutes until the cranberries pop and the sugar is dissolved.
3. Place cranberry sauce in a serving dish and let cool.
4. Cover sauce and leave at room temperature until ready to serve. Alternatively, the sauce can be refrigerated in an airtight container for up to one week.
Roasted Chestnut Stuffing:
INSTRUCTIONS
1. Heat oven to 350 degrees. Grease a 9 x 14 inch baking dish with olive oil.
2. Place enough water in the bottom of a large frying pan to just cover the bottom. Heat over medium heat and add onion, carrot, celery and rosemary. Stirring often for about 5 minutes until translucent.
3. Add the 1/4 cup of olive oil and 2 Tbsp's of butter with the minced garlic for 30 seconds. Saute for an additional 7 minutes until onions are tender.
4. In a large bowl add the veggie mixture, roasted chestnuts, bread, parmesan cheese and parsley. Mix in the broth, egg, salt & pepper.
5. Place stuffing in the greased baking dish and cover with parchment and then a layer of foil.
6. Bake for 30 minutes. Uncover and bake an additional 15 minutes until golden and crisp.
Note:
To roast chestnuts: Remove from shells and place on parchment lined baking sheet. Bake in 400 degree oven stirring occasionally not to burn for 10 minutes.