Sweet Orange Ginger Chicken


This Sweet Orange Ginger Chicken is lightly breaded in a gluten free coating and baked in a delicious honey orange glaze.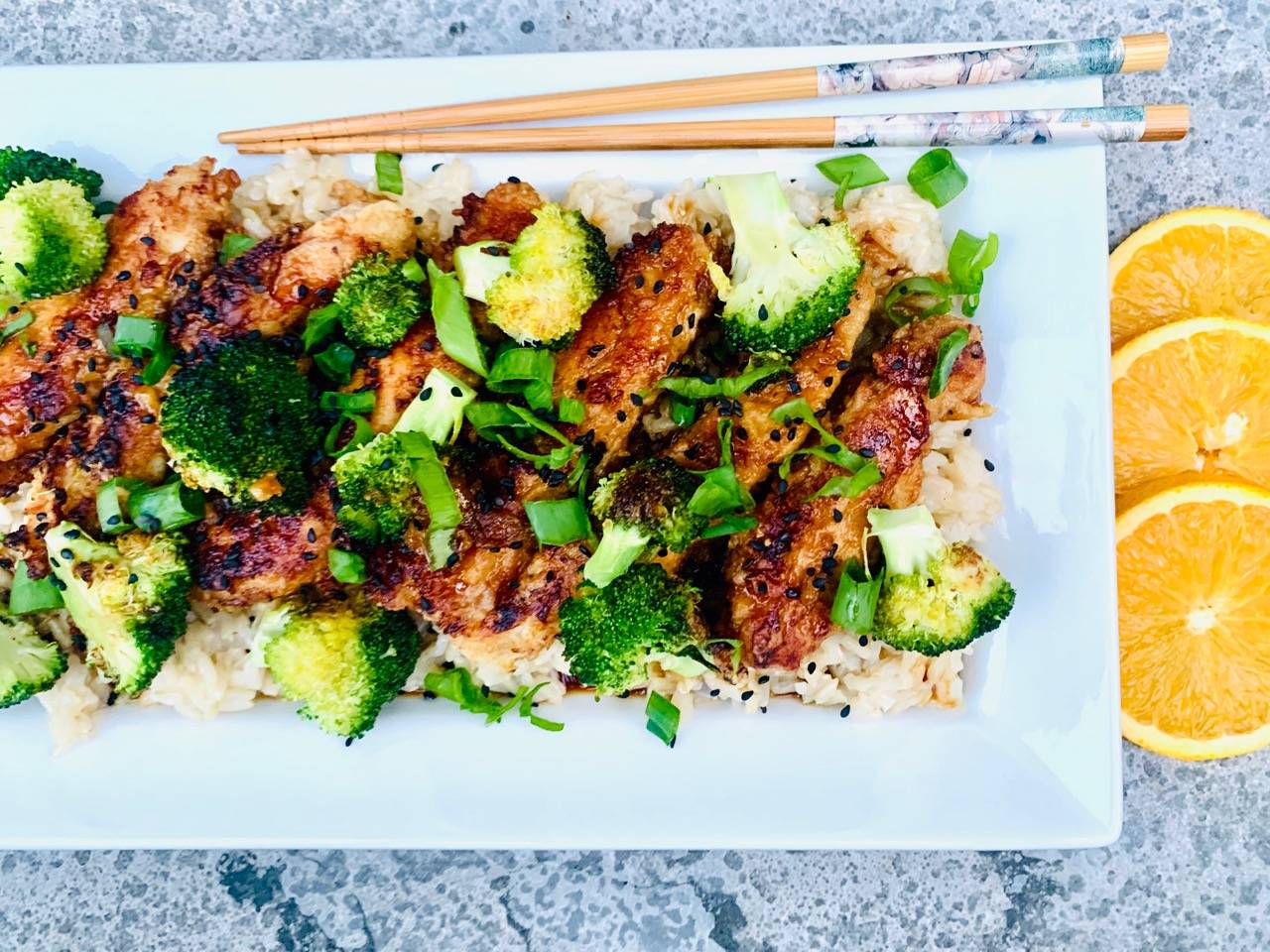 A perfect easy week night meal that will be a great alternative to takeout.
Coming up with flavourful easy weeknight meals ideas can be challenging sometimes. We all want to have healthy alternatives for our family, but sometimes we just want things to be easy too. This Sweet Orange Ginger Chicken is easy to make in about 35 to 40 minutes and is healthy too!
If you make this Sweet Orange Ginger Chicken, please tag me on social media. I will do my best to answer any questions and would love to get your comments.
For more ideas like this follow me at @urbanbakerco on #instagram or #facebook to get updates on my blog and don't forget to sign up for my personal e-mail list below. #sweet #ginger #orange #chicken #asian #asianinspired #sweetorangegingerchicken #glutenfree #healthyliving #fallfood #organic #organicliving #comfortfood #haltonfoodie #oakvillefoodie #burlingtonfoodie #torontofoodie #blogger #haltonblogger #burlingtonblogger #oakvilleblogger #torontoblogger #weeknightdinner #easyrecipes #healthymomrecipes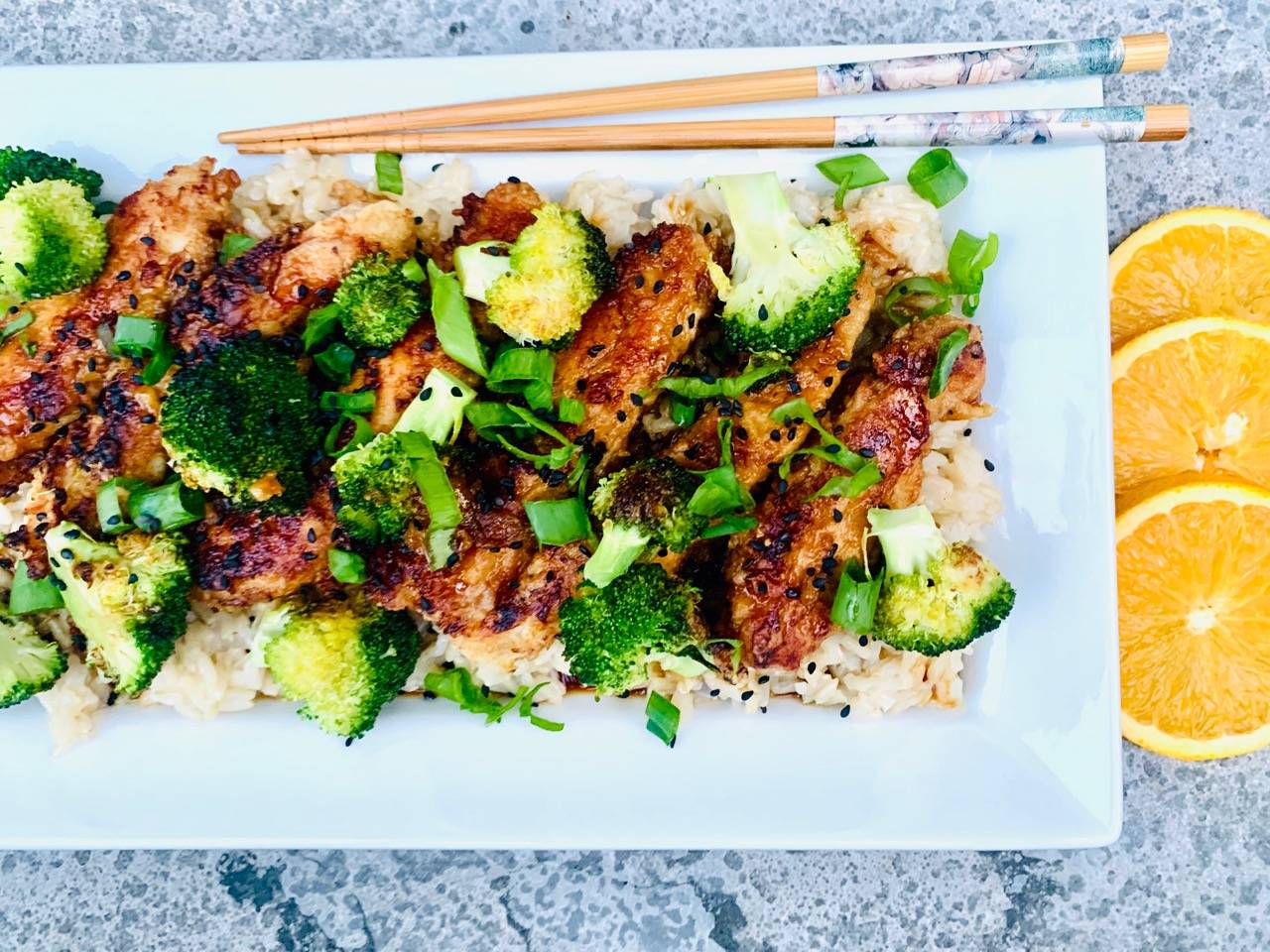 THE RECIPE | Urban Baker Co.
Sweet Orange Ginger Chicken
A perfect alternative to takeout
prep time | 15 minutes
total time | 35 minutes
servings | 4 people
INGREDIENTS
Chicken coating:
6 to 8 boneless chicken breasts, cut into bite size pieces
3 cups gluten free flour
3 eggs
1/2 tsp salt
pepper to taste
1/4 to 1/2 cup sesame oil
1 head of broccoli
green onions, finely chopped
Marinade:
1 Tbsp sesame oil
1/4 cup honey
1/3 cup orange juice
2/3 cup soy sauce
2 cloves garlic, minced
2 tsp ground ginger
pepper to taste
INSTRUCTIONS
1. Set oven to 450 degrees.
2. Mix all marinade ingredients together in a medium size bowl and set aside.
3. Mix the eggs with salt and pepper. Dip chicken pieces into the egg mixture and then roll into the flour.
4. Heat the sesame oil in a large frying pan over medium high heat. Make sure there is enough oil to cover the pan about 1/4 inch. Place the chicken pieces in the pan browning all sides evenly, about 3 to 5 minutes each side.
5. Place chicken on parchment lined baking sheet and bake for 15 minutes until the chicken is cooked through and the juices run clear.
6. Place broccoli in steamer until just cooked, but a little crunchy, about 4 to 5 minutes.
7. Remove chicken from the oven. Place the broccoli on the pan with the chicken. Pour the marinade over top of the chicken and broccoli and place back into the oven for an additional 5 minutes until the sauce caramelizes. Serve chicken and broccoli over a bed of brown or white rice with green onions.