Grilled Mexican Salad With Tangy Ranch Dressing


Looking for a healthy easy weeknight meal for your family? This Grilled Mexican Salad with a Tangy Ranch Dressing is not only healthy but hearty too.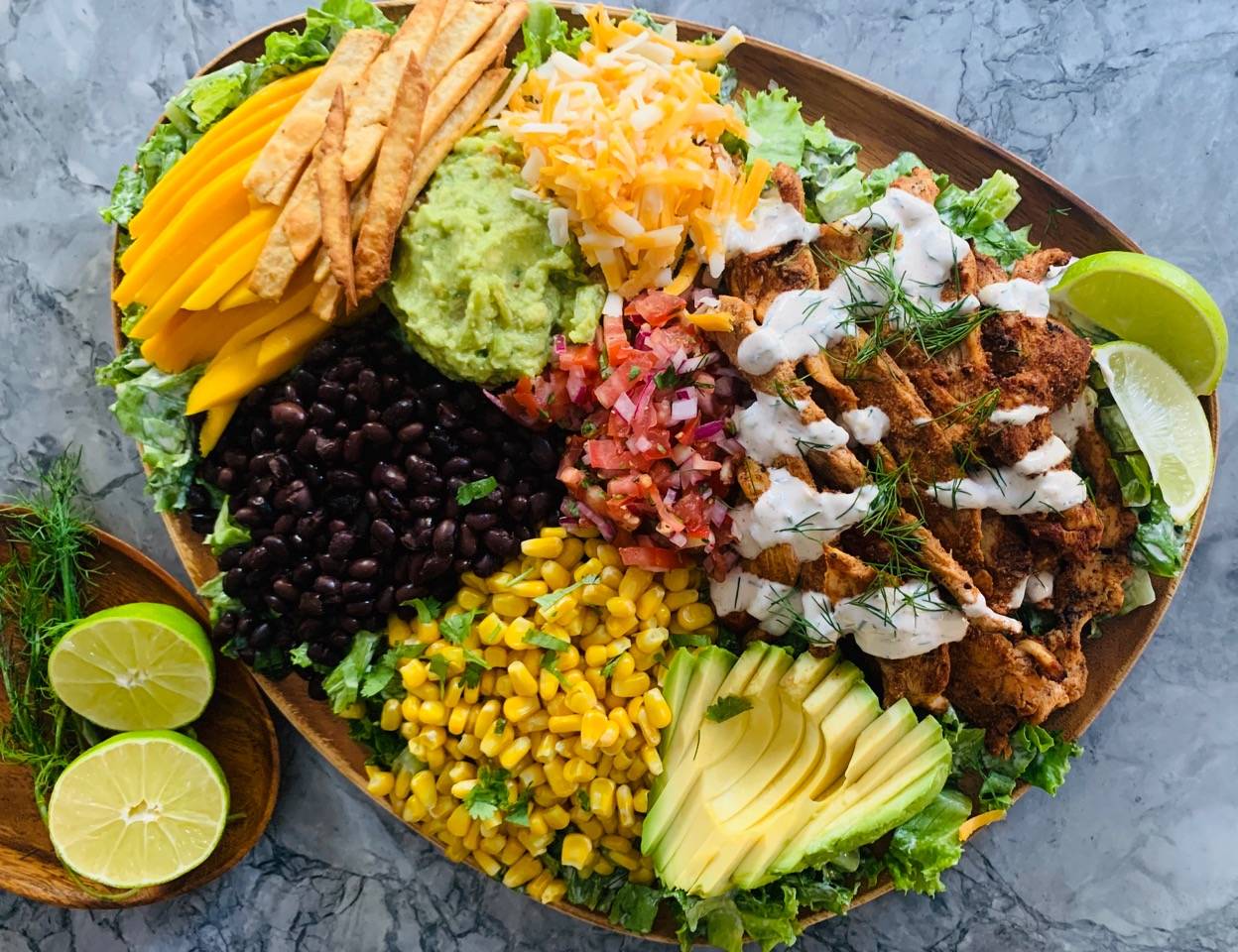 The grilled chicken is smoky with a bit of spice on a bed of greens tossed in a tangy ranch dressing, topped with avocado, corn, black beans, mango and cheddar cheese.
Add a Summer Guacamole and a Fresh Tomato Salsa and you have taken this Mexican salad to a whole other level. With Roma tomatoes so readily available right now you will want to take a few extra minutes to try this out rather then a store bought option. Fragrant and flavourful and seasoned so perfectly for this salad.
If you make this Grilled Mexican Salad with Tangy Ranch Dressing, please tag me on social media. I will do my best to answer any questions and would love to get your comments.
For more ideas like this follow me at @urbanbakerco on #instagram or #facebook to get updates on my blog and don't forget to sign up for my personal e-mail list below. #mexicanfood #mexicansalad #salad #chickenmexicansalad #summerfood #healthyfood #guacamole #salsa #romatomatoes #easymeals #easydinner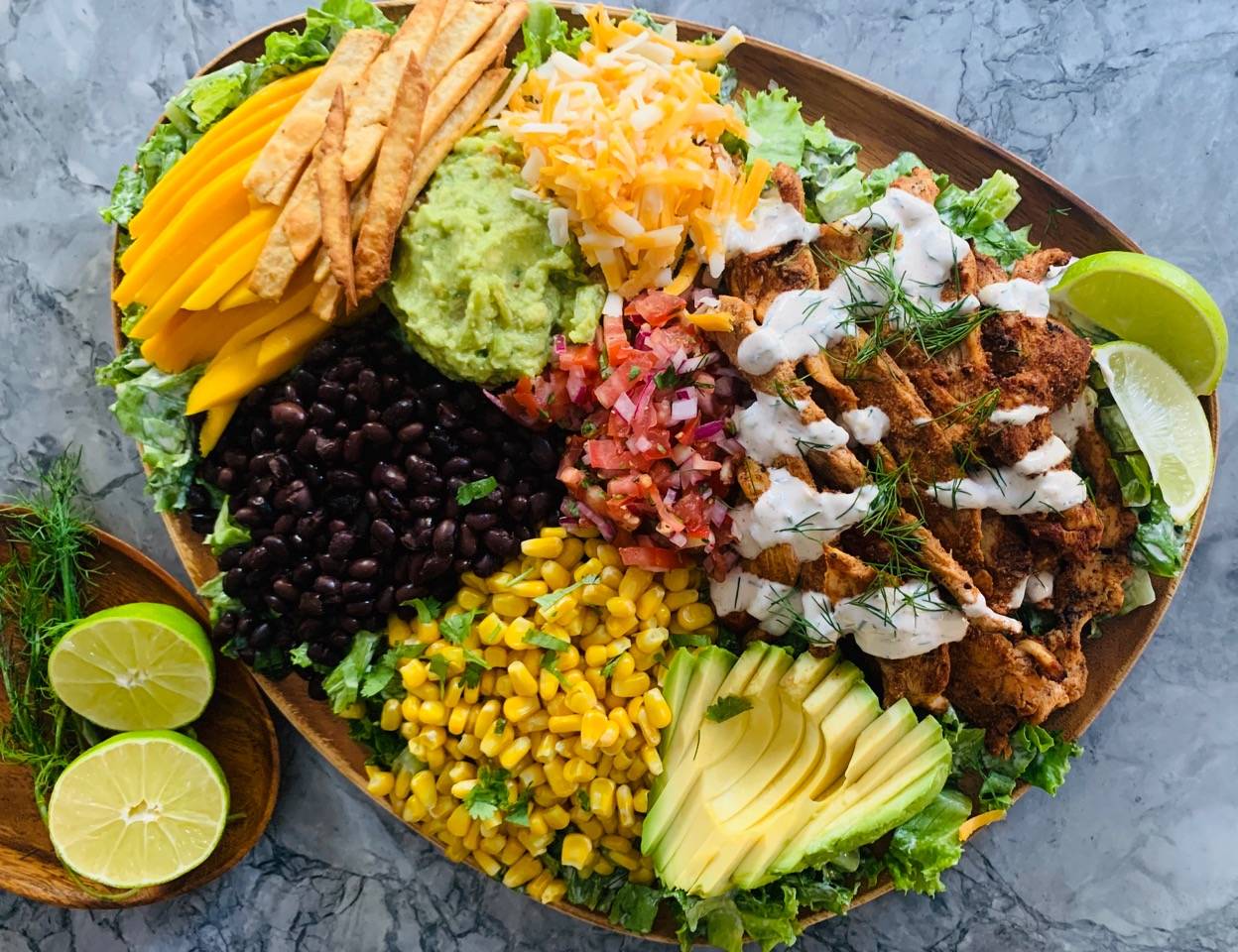 THE RECIPE | Urban Baker Co.
Grilled Mexican Salad with Tangy Ranch Dressing
A healthy easy weeknight meal that is hearty too!
prep time | 25 minutes
total time | 60 minutes
servings | 4 people
INGREDIENTS
4 boneless chicken breasts - thinly sliced lengthwise
2 Tbsp grape seed oil
2 tsp smoked paprika
1/8 to 1/4 tsp chilli powder (or to taste)
1 tsp garlic powder
1/2 tsp cinnamon
sea salt & pepper to taste
Homemade Nacho Chips: (or store bought)
Whole grain
Grape seed oil
Sea Salt
Ranch Dill Dip:
2 garlic cloves minced
1/2 cup olive oil mayo
1/2 cup plain greek yogurt
1 1/2 tsp lime juice
2 Tbsp ranch seasoning (see below)
1/4 tsp paprika
Ranch Seasoning:
2 tsp fresh parsley chopped
1 tsp fresh chives chopped
1/2 tsp fresh dill chopped
1/2 tsp onion powder
1/2 tsp salt & pepper
Guacamole: (or store bought)
3 large ripe avocados halved, peeled and pit removed
1 small sweet onion or 1/2 a medium size sweet onion finely chopped
1 tomato finely chopped
1/4 cup cilantro finely chopped
1 lemon juiced
1 tsp salt (or to taste)
Tomato Salsa: (or store bought)
2 to 3 roma tomatoes
1/2 red onion
1 jalapeno pepper (optional)
Juice & zest of 1 lime
1/2 cup cilantro finely chopped
sea salt & pepper to taste
pinch of oregano
pinch of cumin
Salad:
green leaf lettuce - washed and cut
1 cup corn - cooked and cooled
1 cup black beans drained and rinsed
1 ripe avocado peeled, cored and thinly sliced
2 mangoes peeled and thinly sliced
1 cup of cheddar cheese grated
INSTRUCTIONS
1. Place all ingredients together for the tomato salsa in a bowl and set aside for one hour.
2. Heat grill to 400 degrees.
3. Mix Cajun Chicken Spices in small bowl, set aside.
4. Cut chicken lengthwise and place in plastic bag or bowl with 2 Tbsp of grape seed oil. Mix Cajun Shrimp Spices with chicken. Place in fridge to marinate while preparing other items.
5. Options to cook Homemade Nacho Chips:
a) Heat oven to 400 degrees. Brush grape seed oil on tortillas and sprinkle with sea salt. Cut tortillas into small triangles with pizza cutter. Place in oven for 10 minutes or until crispy.
OR
b) Fill large frypan with enough grape seed oil to fill pan 1/4 of the way up the side of the pan. Heat the oil over medium heat. Cut the tortillas with a pizza cutter. Place the tortillas in the oil cooking in batches. Place on paper towel lined baking sheet and sprinkle with sea salt.
6. Mix all ingredients together for the ranch seasoning and ranch dill dip in a small bowl. Place in small serving bowl and set aside.
7. Place all ingredients together for the guacamole in a bowl and mash with potato masher or in a Molcajete. Set aside.
8. Place green leaf lettuce in a large mixing bowl and toss with ranch dressing. Reserve remaining ranch dressing to serve alongside the salad.
9. Place dressed greens on serving platter or in a salad bowl with chicken, corn, black beans, avocado, mangoes, cheddar cheese and nacho chips. Top with a spoon full of guacamole and tomato salsa and serve.