Lemon Pepper Shrimp Salad


I love salad, and I also love black tiger shrimp, especially in the summer!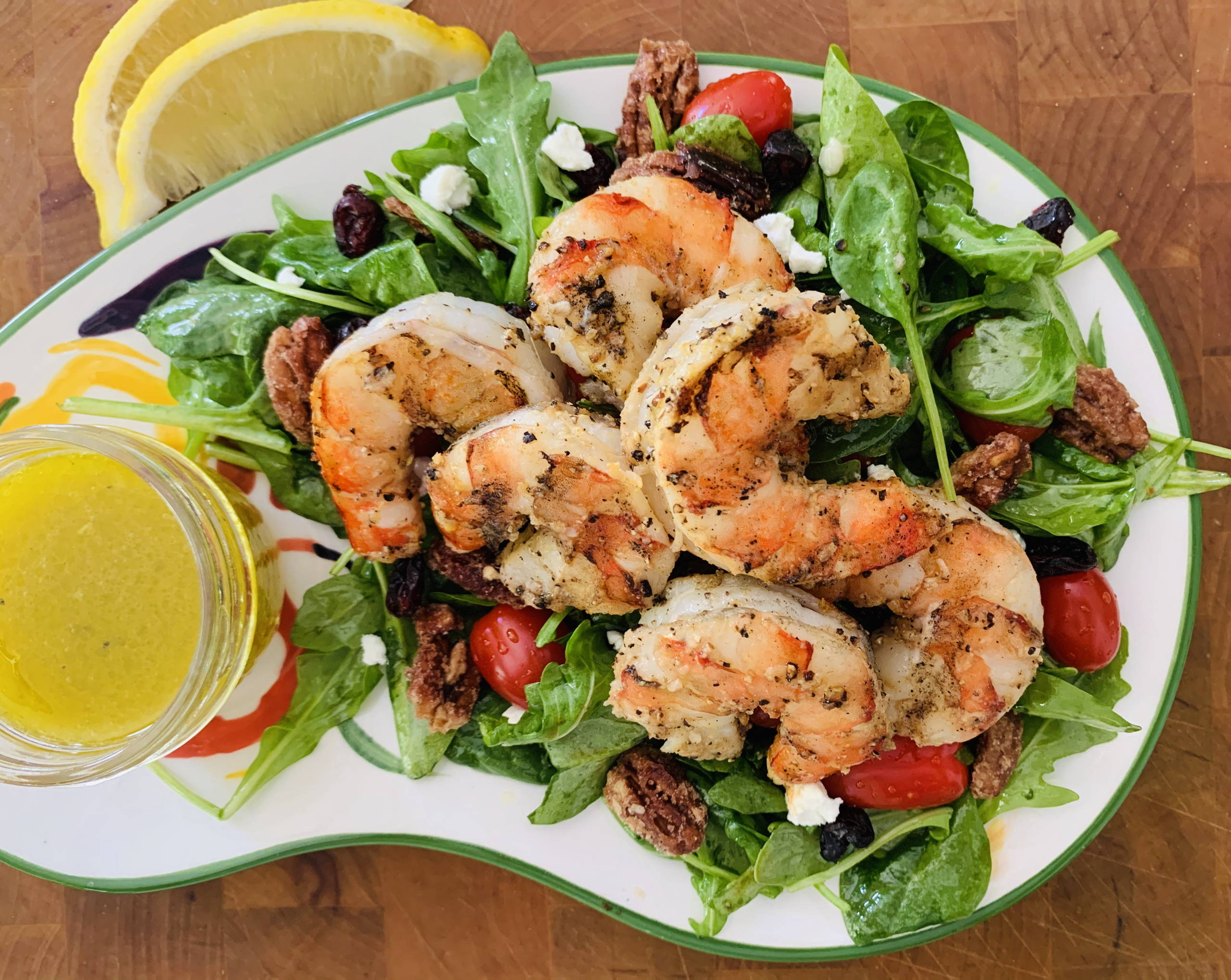 one of my favourite combinations as you can guess, is this Lemon Pepper Shrimp Salad with Champagne Vinaigrette.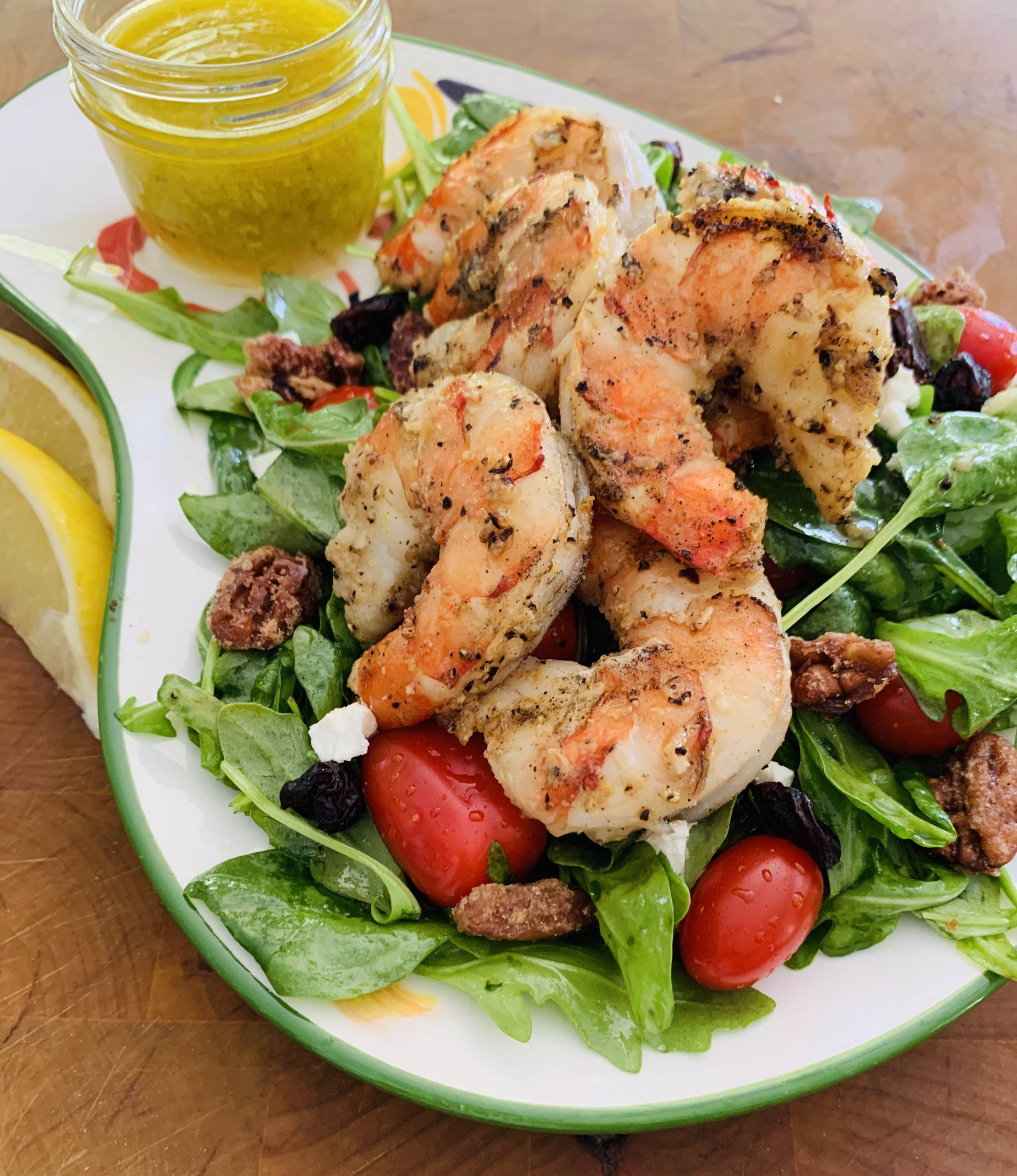 The shrimp are marinated in a lemon pepper seasoning and then grilled. Toss the Champagne Vinaigrette with spinach, cherry tomatoes, candied pecans, cranberries and goat cheese. Such a beautiful combination. Did I mention the candied pecans? Wow, they are so decadent, easy to make and really make this salad!
If you make this Lemon Pepper Shrimp Salad, please tag me on social media. I will do my best to answer any questions and would love to get your comments.
For more ideas like this follow me at @urbanbakerco on #instagram or #facebook to get updates on my blog and don't forget to sign up for my personal e-mail list below. #salad #shrimpsalad #blacktigershrimp #champagnevinegrette #candiedpecans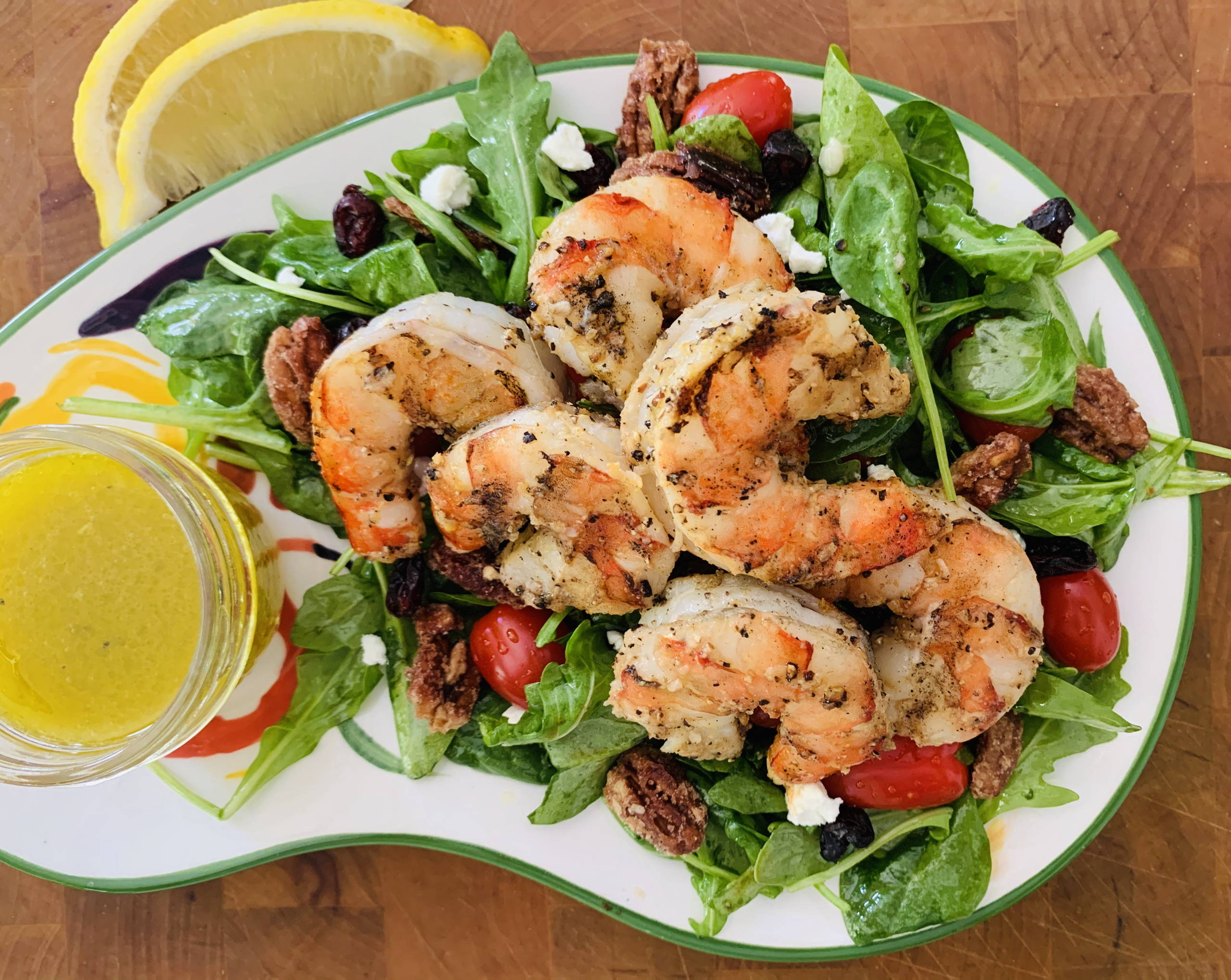 THE RECIPE | Urban Baker Co.
Lemon Pepper Shrimp Salad
A beautiful lunch or perfect for entertaining!
prep time | 10 minutes
total time | 20 minutes
servings | 4 people
INGREDIENTS
Salad:
spinach and arugula
1 pound shrimp, peeled & deveined
1 small box cherry tomatoes
1 cup pecans
goat cheese
1/2 cup dried cranberries
Lemon Pepper Seasoning:
2 Tbsp grape seed oil
1 tsp pepper
1 tsp salt
1/2 tsp minced onion
1/2 tsp garlic powder
Zest of 1 lemon
Champagne Vinaigrette:
1 tsp dijon mustard
1 tsp minced garlic
3 Tbsp champagne vinegar
sea salt & fresh ground pepper
1/2 cup olive oil
Candied Pecans:
1 cup pecans
2 tbsp butter
2 tbsp maple syrup
1 tbsp brown sugar
INSTRUCTIONS
1. Heat grill to medium temperature.
2. Peel and devein shrimp. Place in plastic bag with lemon pepper seasoning. Place in fridge.
3. In a small fry pan, melt butter, add brown sugar and stir. Add pecans and maple syrup. Simmer on low until pecans are browned and caramelized, about 10 minutes. Remove from heat and set aside.
4. Mix ingredients for champagne vinaigrette together in small bowl
5. Place shrimp on grill and cook 2 to 3 minutes each side until turn pink and cooked through.
6. Wash spinach, arugula and cherry tomatoes. Place in bowl with cranberries. Toss with champagne vinaigrette. Place on serving platter.
7. Place grilled shrimp, candied pecans and goat cheese on salad and serve.