Entertainment Worthy Maple Glazed Salmon Salad


Grilled Maple Salmon Salad. The king of all salads!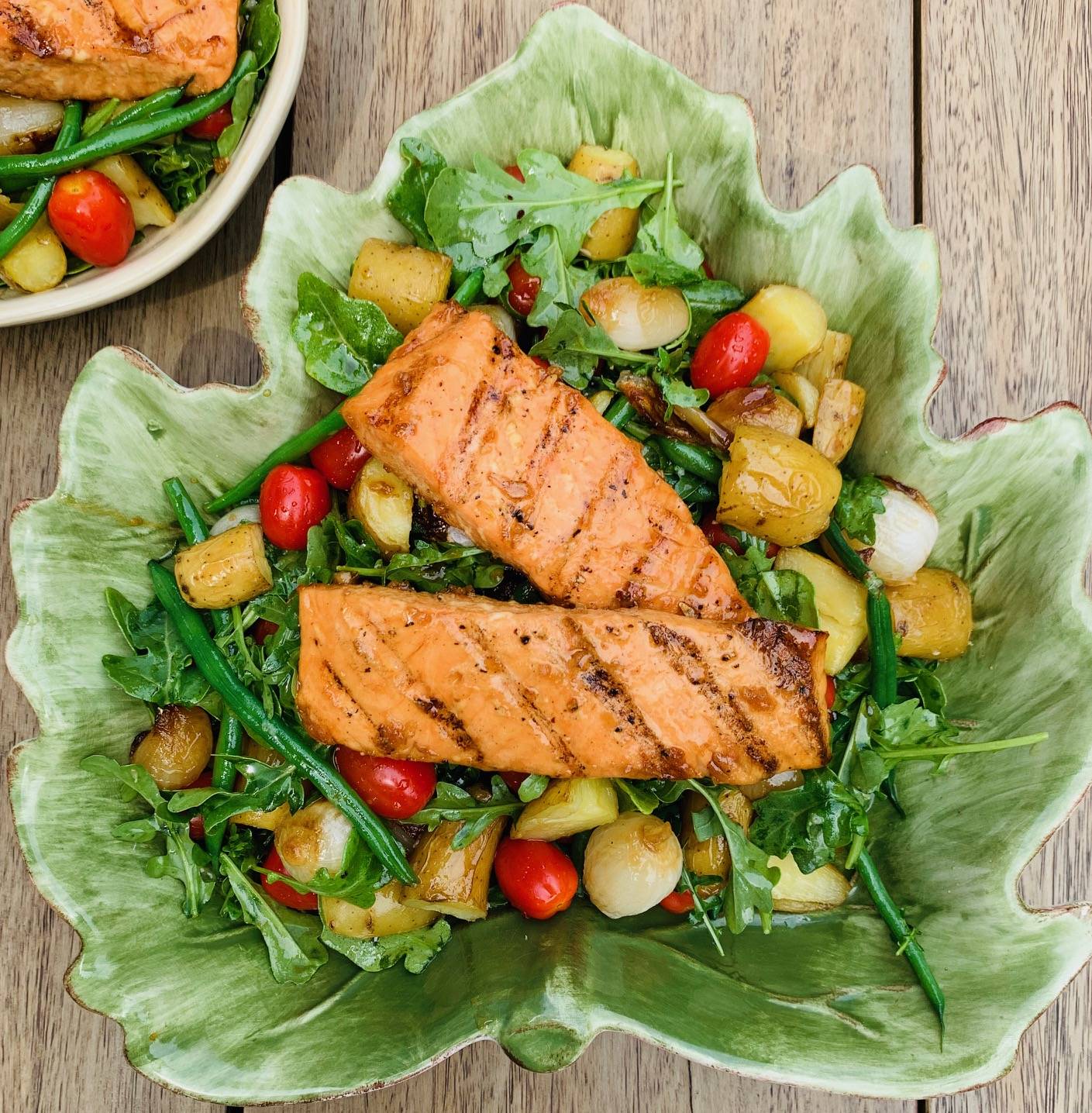 Grilled maple glazed salmon on a bed of arugula, pearl onions, green beans, baby potatoes and cherry tomatoes served with a champagne Vinegrette.
If you like salmon it's perfect for summer and it's definitely entertainment worthy! Not your average salad and perfect to spoil that special friend or family member with. There are a few steps to making this salad, but it is definitely worth the effort!
If you make this Maple Glazed Salmon Salad, please tag me on social media. I will do my best to answer any questions and would love to get your comments.
For more ideas like this follow me at @urbanbakerco on #instagram or #facebook to get updates on my blog and don't forget to sign up for my personal e-mail list below. #salmonsalad #grilledsalmon #mapleglazed #mapleglazedsalmon #mapleglazedsalmonsalad #healthyfood #healthylifestyle #summerfood #grilledfood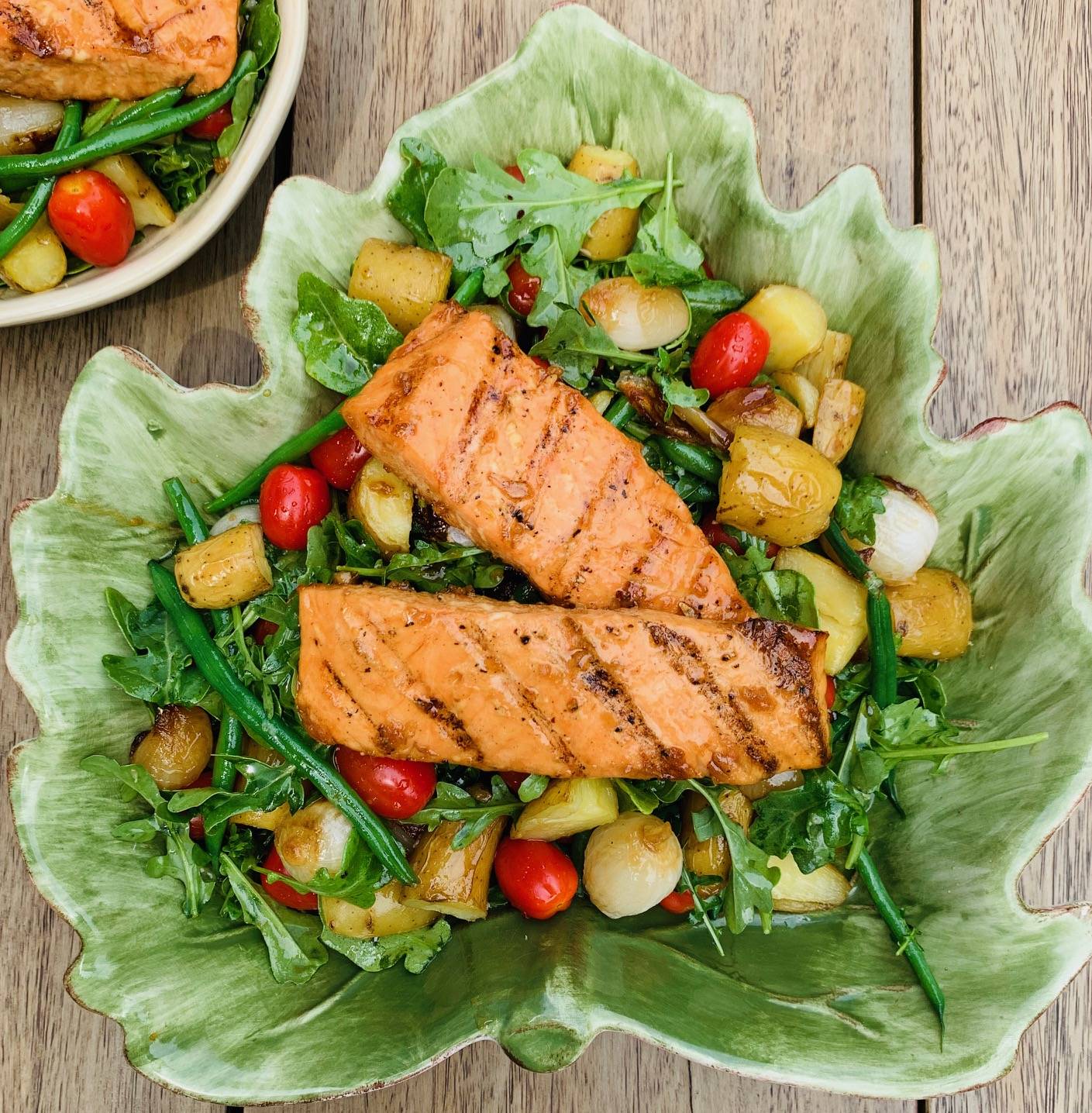 THE RECIPE | Urban Baker Co.
Maple Glazed Salmon Salad
A few steps but worth the effort! Definitely entertainment worthy!
prep time | 30 minutes
total time | 60 minutes
servings | 4 people
INGREDIENTS
Salmon Salad:
Arugula
Cherry tomatoes
Baby potatoes, boiled until soft
Green beans, blanched for four minutes
Pearl onions
Bacon (optional)
4 salmon fillets
Champagne vinaigrette
Champagne Vinaigrette:
1 tsp dijon mustard
1 tsp minced garlic
3 Tbsps champagne vinegar
Sea salt & fresh ground pepper to taste
1/2 cup olive oil
Maple Glaze:
1 cup maple syrup
2 Tbsp ginger root or 2 tsp ground ginger
4 Tbsp lemon juice
3 Tbsp soy sauce
1 1/2 tsp minced garlic
INSTRUCTIONS
1. Place all ingredients for maple glaze in a small sauce pan and bring to boil. Turn to simmer for 10 minutes. Glaze will reduce by half. Place half of the glaze in basting bowl. Set remaining maple glaze aside.
2. Set oven to 400 degrees. Place bacon on a parchment or foil lined baking sheet. Cook bacon in oven for eight minutes. Pour 2 Tbsp of maple glaze over bacon and continue cooking until crispy, about 2 more minutes. Set aside
3. Bring a medium size pot of water to boil. Add 1 tsp salt and add baby potatoes. Turn to medium heat and cook until soft, about 20 minutes. Drain and set aside.
4. Heat small sauce pan to medium heat with 1 tsp grape seed oil. Place pearl onions in pan and cook for 4 minutes, add 1 Tbsp of maple glaze and continue cooking for another 2 to 3 minutes until cooked through and sauce has caramelized on the onions. Set aside.
5. Heat a medium saucepan of water to boil. Turn to medium heat add 1 tsp salt and add green beans. Blanch for four minutes. Drain water and set aside.
6. Heat 2 Tbsp grape seed oil over medium heat in frying pan. Place salmon in pan for 10 minutes and then turning gently once for an additional 10 minutes until reaches internal temperature of 135 degrees. Baste salmon throughout cooking every five minutes with maple glaze.
7. Mix champagne vinaigrette ingredients in small mixing bowl. Whisk until combined.
8. Place arugula, cherry tomatoes and green beans in mixing bowl. Toss with champagne vinaigrette.
9. Place the salad greens, cherry tomatoes and green beans on a serving platter. Top with cooked potatoes, caramelized pearl onions & bacon and maple glazed salmon. Serve remaining maple glaze along side salad.