Steak Salad With Candied Pecans, Blue Cheese & Champagne Vinaigrette


This steak salad makes a hearty meal and perfect for a Thursday night dinner or any night of the week!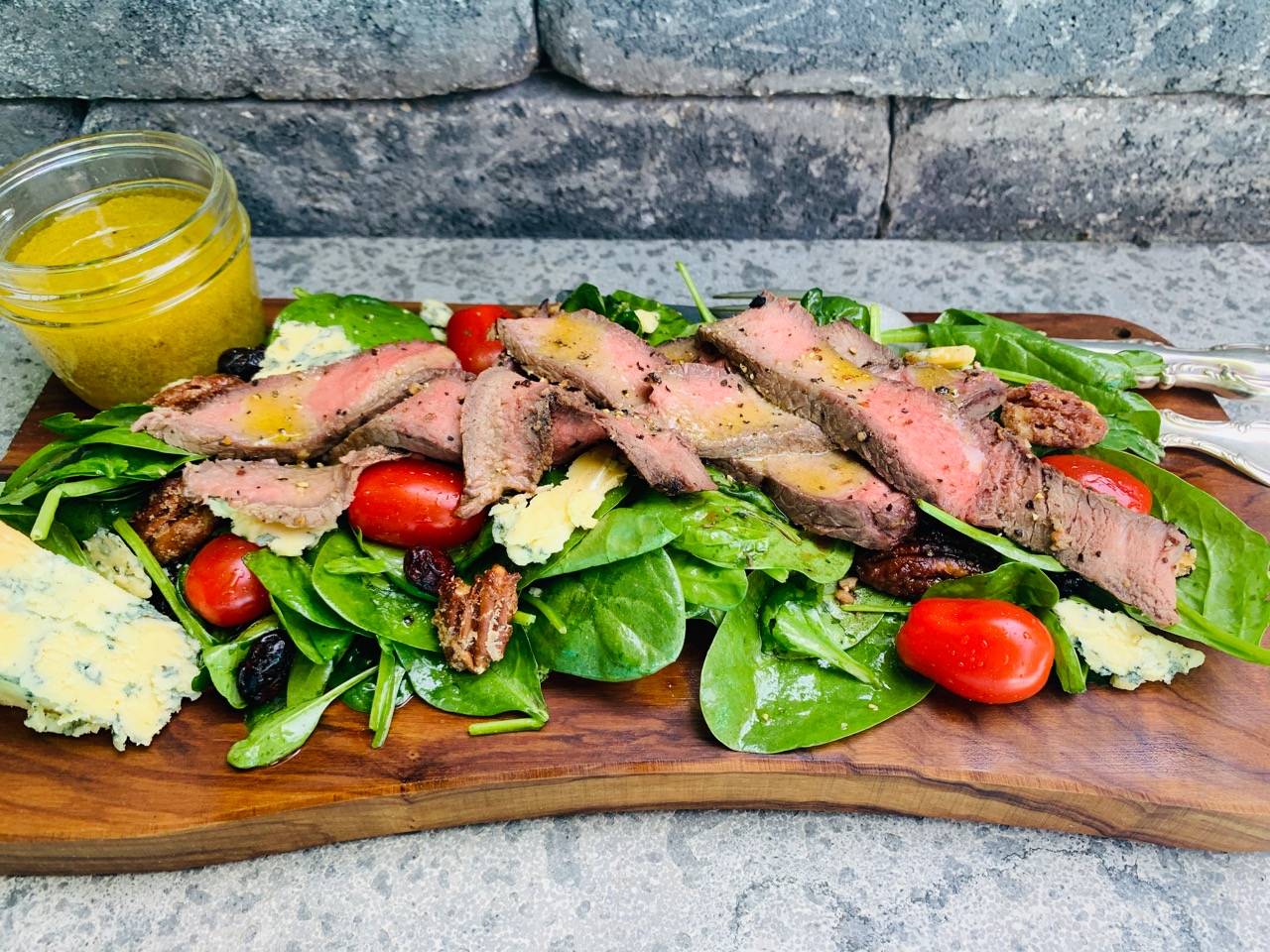 Grilled seasoned steak on a bed of spinach with cherry tomatoes, cranberries, candied pecans and blue cheese tossed in a champagne vinaigrette.
This is the ultimate in steak salads and very simple to make. This is a wonderful salad to entertain with as well. My family doesn't eat much red meat, but when they do this salad is definitely the way to go!
If you make this Steak Salad, please tag me on social media. I will do my best to answer any questions and would love to get your comments.
For more ideas like this follow me at @urbanbakerco on #instagram or #facebook to get updates on my blog and don't forget to sign up for my personal e-mail list below. #steaksalad #champagnevinaigrette #summersalad #candiedpecans #bluecheese #entrepreneur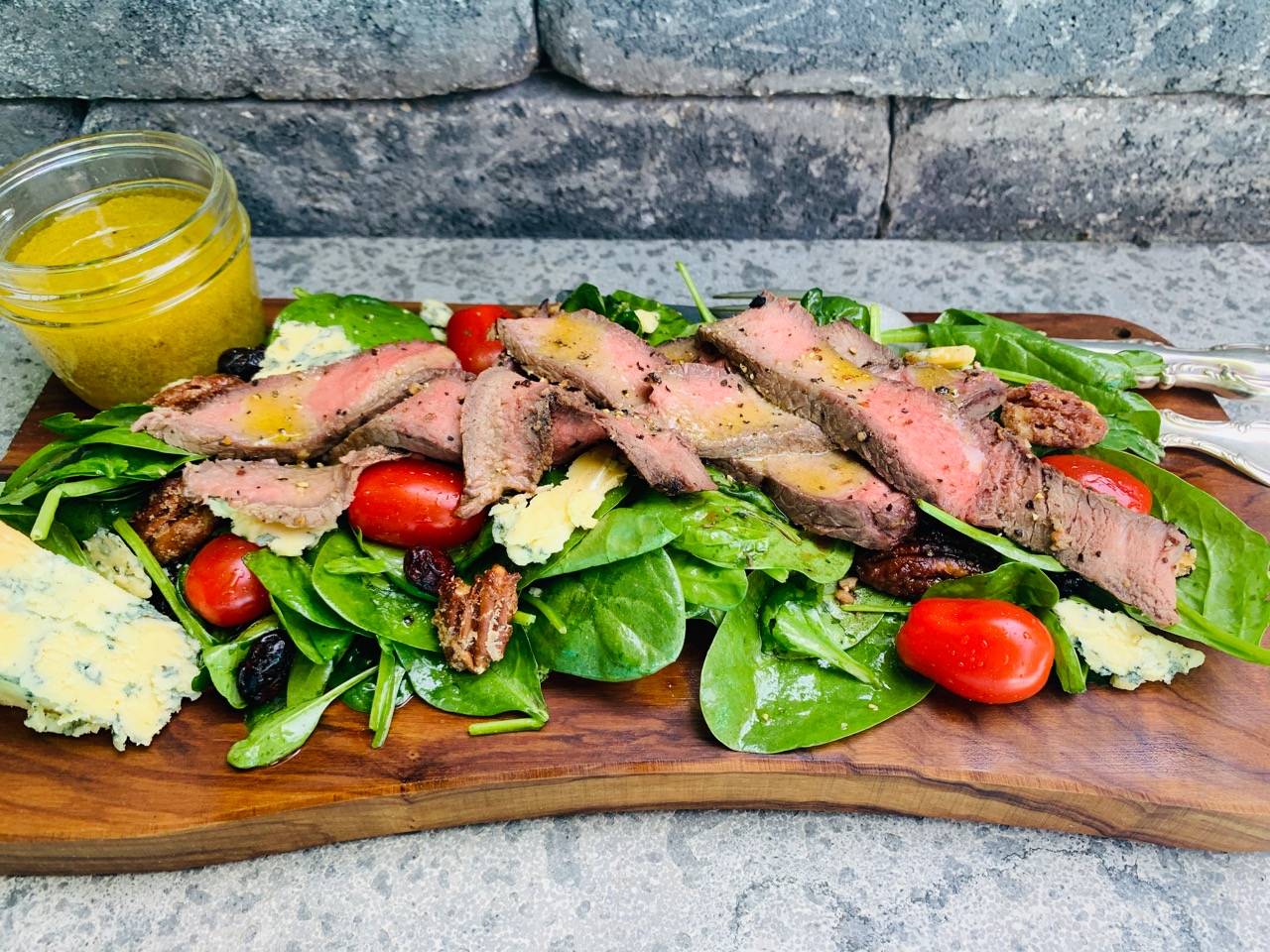 THE RECIPE | Urban Baker Co.
Steak Salad with Candied Pecans, Blue Cheese & Champagne Vinaigrette
A beautiful salad that makes for a hearty meal!
prep time | 15 minutes
total time | 35 minutes
servings | 4 people
INGREDIENTS
Salad:
spinach
2 striploin steaks
2 tbsp keg steak spice
1 small box cherry tomatoes
1 cup pecans
blue cheese or goat cheese
1/2 cup dried cranberries or apricots
Champagne Vinaigrette:
1 tsp dijon mustard
1 tsp minced garlic
3 Tbsp champagne vinegar
sea salt & fresh ground pepper
1/2 cup olive oil
Candied Pecans:
1 cup pecans
2 tbsp butter
2 tbsp maple syrup
1 tbsp brown sugar
INSTRUCTIONS
1. Heat grill to medium temperature.
2. Let steaks sit at room temperature for 15 minutes. Sprinkle with steak spice and place on grill. Grill steak for 5 to 8 minutes, turn and grill for an additional 4 to 5 minutes or until cooked to your liking. Place on plate and let rest for 10 minutes.
3. In a small fry pan, melt butter, add brown sugar and stir. Add pecans and maple syrup. Simmer on low until pecans are browned and caramelized, about 10 minutes. Remove from heat and set aside.
4. Mix ingredients for champagne vinaigrette together in small bowl
5. Wash spinach and cherry tomatoes. Place in bowl with cranberries. Toss with champagne vinaigrette. Place on serving platter.
6. Place sliced steak, candied pecans and blue cheese on salad and serve.