Warm Fall Salad: Roasted Beet & Arugula Salad
This is the perfect salad to move into fall and it's not only beautiful but delicious! if you love roasted beets you will love this salad!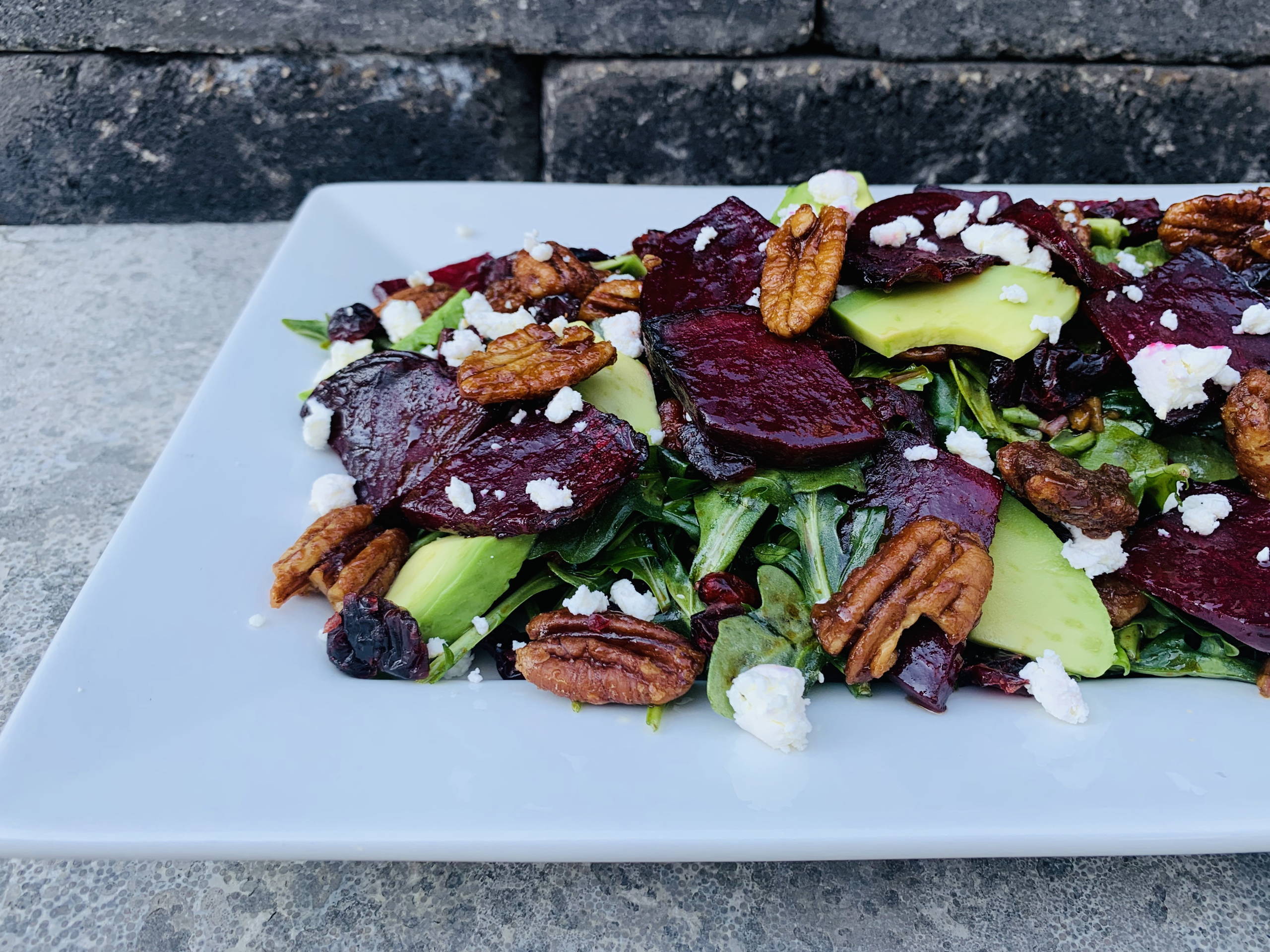 Roasted Beet and Arugula Salad with avocado, cranberries, candied pecans and goat cheese all tossed with a balsamic vinegrette.
I love beets, but the best and only way I like to prepare them is by roasting them. I actually toss them with the balsamic vinaigrette and then bake them until they caramelize. They are so decadent! But, these candied pecans, wow they top this salad off! Mixed with brown sugar and maple syrup, so delicious! I don't know which is better the candied pecans or the roasted beets, that's why they are so fantastic together.
If you make these Roasted Beet & Arugula Salad, please tag me on social media. I will do my best to answer any questions and would love to get your comments.
For more ideas like this follow me at @urbanbakerco on #instagram or #facebook to get updates on my blog and don't forget to sign up for my personal e-mail list below. #beetsalad #candiedpecans #goatcheese #arugula #delicioussalad #fallsalads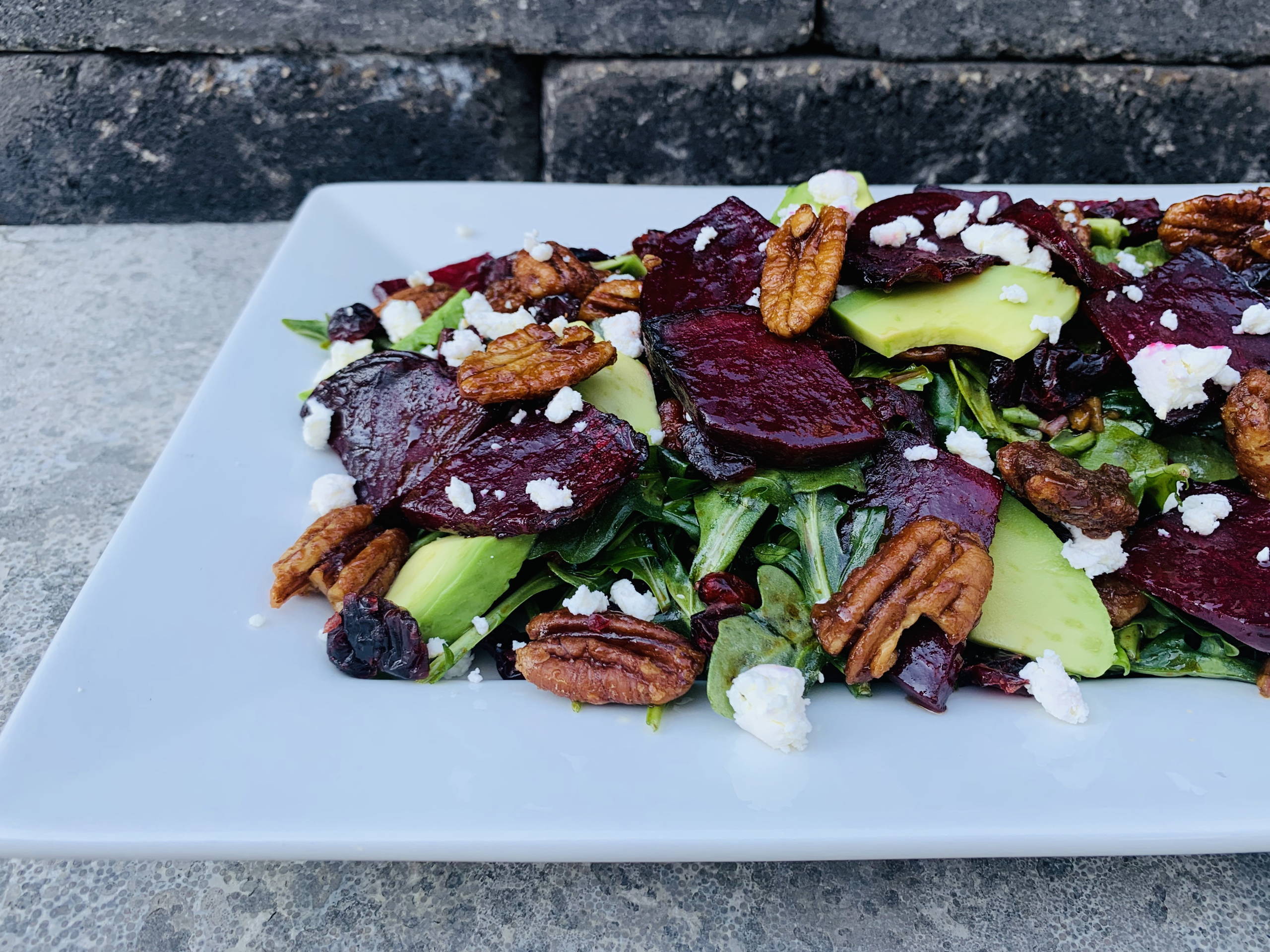 THE RECIPE | Urban Baker Co.
Roasted Beet & Arugula Salad
A beautiful fall salad with candied pecans & roasted beets.
prep time | 30 minutes
total time | 60 minutes
servings | 4 people
INGREDIENTS
Salad:
Arugula
Goat Cheese
6 medium beets, peeled and sliced
1/2 cup candied pecans
1/4 cup dried cranberries
1/2 avocado peeled and cubed
Balsamic Vinaigrette:
1/4 cup balsamic vinegar
3 Tbsp chopped shallots
1 Tbsp honey
1/3 cup olive oil
salt and pepper to taste
Candied Pecans:
1 cup pecans
2 tbsp butter
2 tbsp maple syrup
1 tbsp brown sugar
INSTRUCTIONS
1. Heat oven to 400 degrees.
2. Mix balsamic vinaigrette ingredients together in small bowl and set aside.
3. Peel and cut beets and place in a medium size bowl. Take 1/2 the balsamic vinaigrette and mix in with the beets. Keep remaining 1/2 of the vinaigrette to dress the salad.
4. Place the beets on a parchment and foil lined baking sheet and cover the beets with another piece of parchment and foil. Place in oven for 30 minutes. Remove the cover of foil and parchment paper and roast for 25 minutes more until beets are tender.
5. Meanwhile, in a small fry pan, melt butter, add brown sugar and stir. Add pecans and maple syrup. Simmer on low until pecans are browned and caramelized, about 10 minutes. Remove from heat and set aside.
6. Wash arugula and place in bowl with cranberries. Toss with balsamic vinaigrette. Place on serving platter. Top salad with roasted beets, candied pecans and goat cheese & avocado and serve.