Cauliflower Bites With Ranch Dill Dip


Looking to make dinner a bit more fun tonight. These Cauliflower Bites With Ranch Dill Dip will do the trick!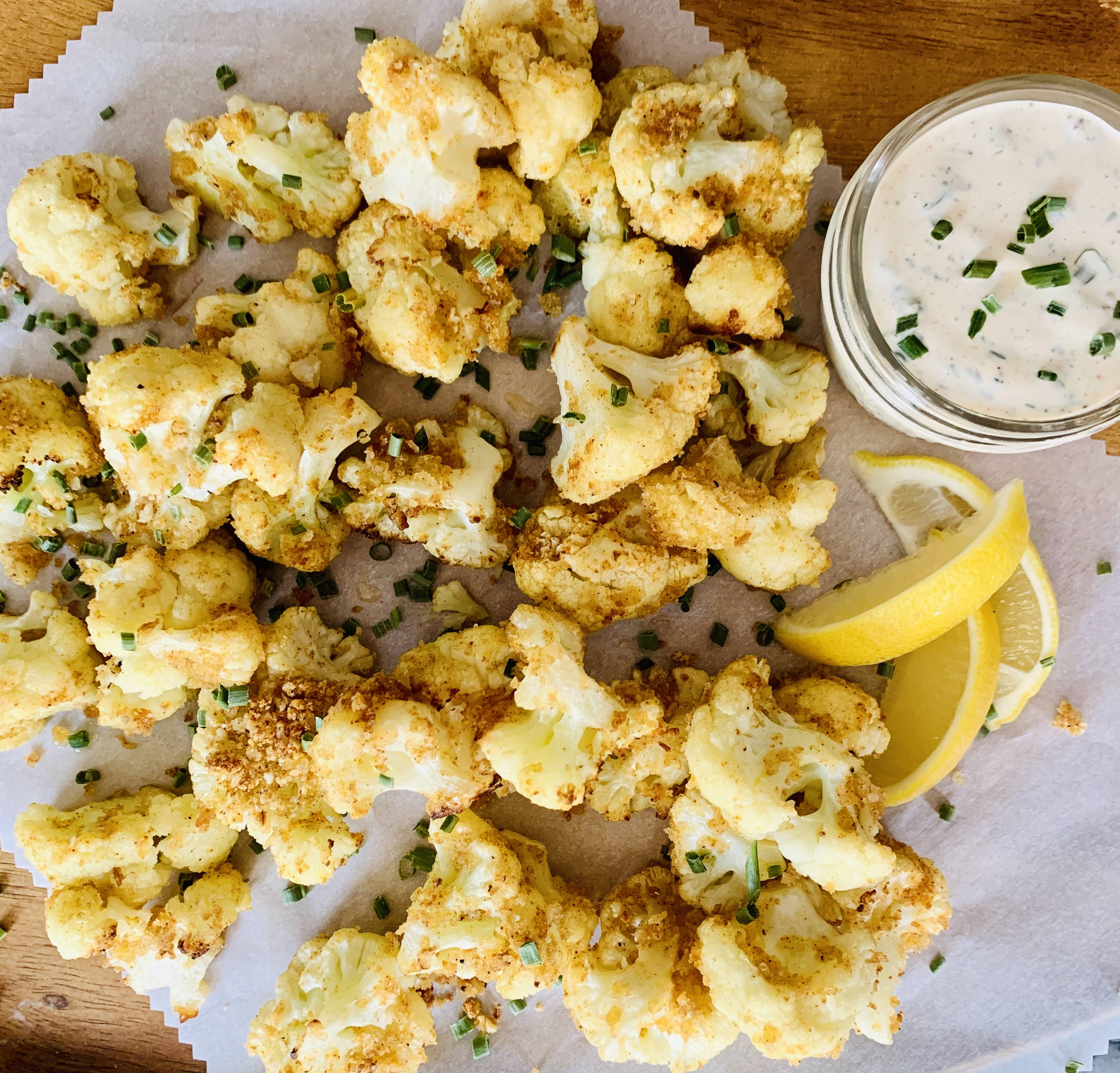 Gluten free, flavourful and just really yummy!
These Cauliflower Bites have a delicious outside crunchy coating. Add the creaminess of the Ranch Dill Dip and you will have a perfect light healthy dinner or snack.
If you make these Cauliflower Bites and Ranch Dill Dip, please tag me on social media. I will do my best to answer any questions and would love to get your comments.
For more ideas like this follow me at @urbanbakerco on #instagram or #facebook to get updates on my blog and don't forget to sign up for my personal e-mail list below. #cauliflower #cauliflowerbites #cauliflowerrecipes #glutenfree #ranch #dill #dip #ranchdilldip #fallfood #organic #organicliving #comfortfood #haltonfoodie #oakvillefoodie #burlingtonfoodie #torontofoodie #blogger #haltonblogger #burlingtonblogger #oakvilleblogger #torontoblogger #weeknightdinner #easyrecipes #healthymomrecipes #appetizer #snacks #gamenight #funfood #funfoodideas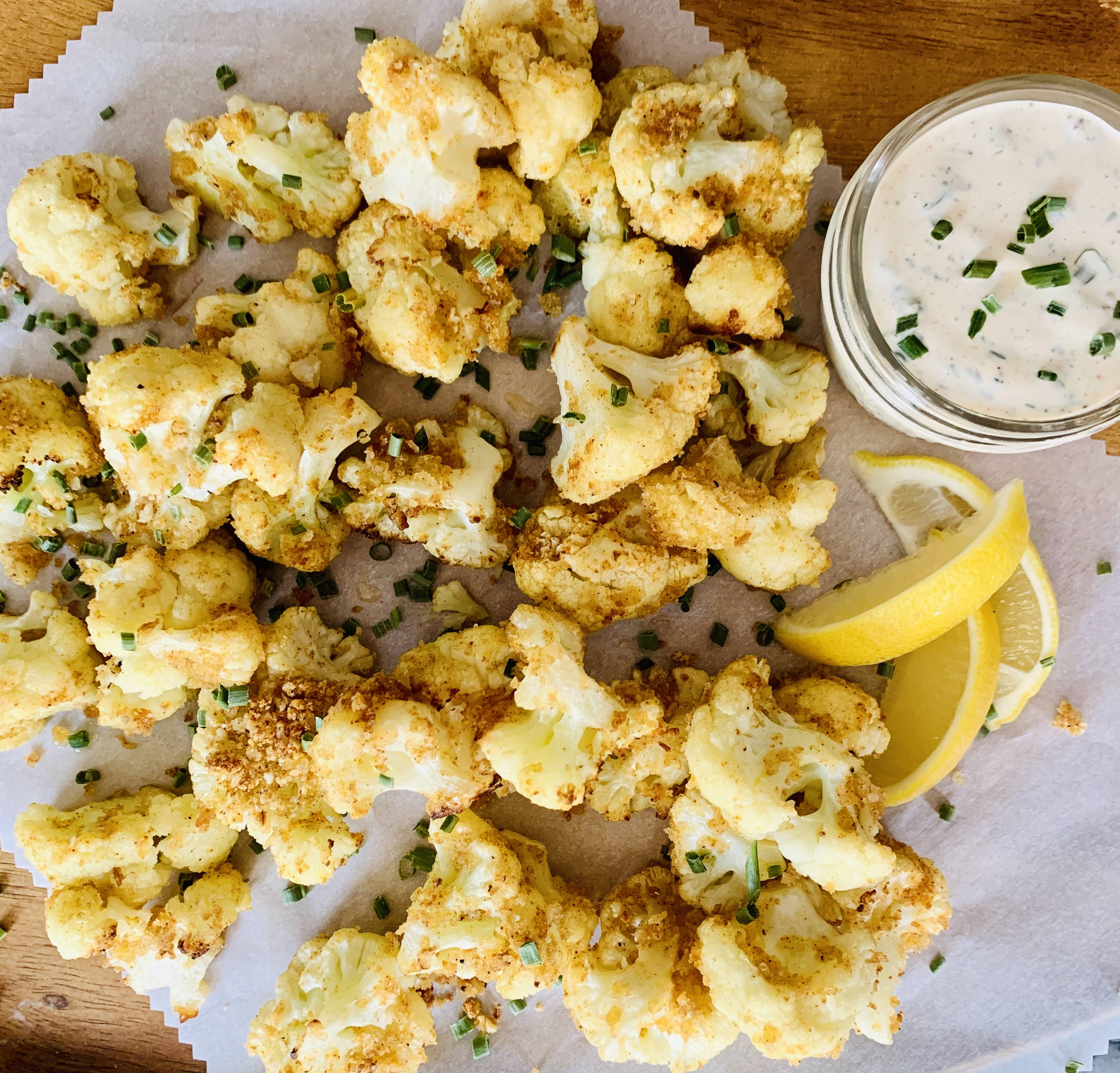 THE RECIPE | Urban Baker Co.
Cauliflower Bites With Ranch Dill Dip
Gluten free, flavourful and really yummy!
prep time | 10 minutes
total time | 20 minutes
servings | 2 people
INGREDIENTS
Cauliflower Bites:
Grape seed oil
1 head cauliflower, cut into bite size pieces
1 cup bread crumbs (make it gluten free if you wish)
1 egg
2 tsp smoked paprika
1/4 tsp chilli powder (or to taste)
1 tsp garlic powder
1/2 tsp cinnamon
1 tsp salt
pepper (to taste)
Ranch Dill Dip:
2 garlic cloves minced
1/2 cup mayo
1/2 cup plain greek yogurt
1 1/2 tsp lime juice
2 Tbsp ranch seasoning (see below)
1/4 tsp paprika
Ranch Seasoning:
2 tsp parsley
1 tsp chives
1/2 tsp salt & pepper
1/2 tsp dill
1/2 tsp onion powder
INSTRUCTIONS
1. Set oven to 425 degrees.
2. Mix seasoning ingredients for cauliflower bites in small separate bowl and set aside.
3. Place cauliflower pieces in medium size bowl and mix with 2 tbsp of grape seed oil.
4. Mix cauliflower with cajun seasoning and place on baking sheet. Heat large frying pan over medium heat with 1/4 cup of grape seed oil. In batches brown cauliflower in hot oil. Place on parchment lined baking sheet and bake in oven until crispy, approximately 10 minutes.
5. Place all ingredients for ranch seasoning and in small separate bowl, set aside.
6. Place all ranch dill dip ingredients in medium size bowl and add ranch seasoning, mix until combined. Place in fridge. This can be made a couple hours ahead. Place at room temperature for a few minutes before serving.
7. Remove cauliflower bites from oven and serve with ranch dill dip.