Grilled Cajun Shrimp Platter With Ranch Dill Dip


Get ready to relax and enjoy this long weekend! Here is a great snack platter or light lunch to help you do just that.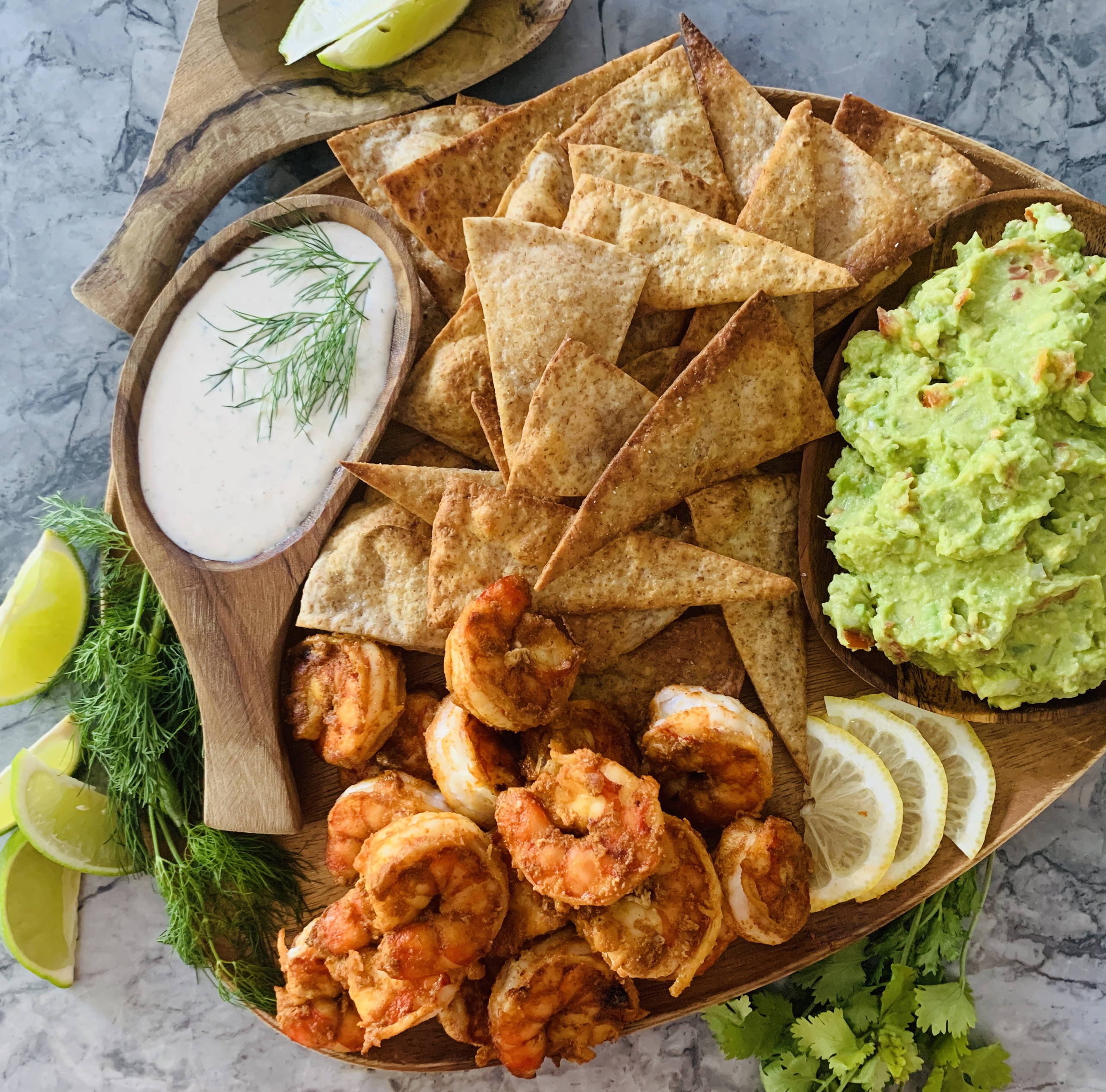 Grilled Cajun Shrimp with a Ranch Dill Dip, served with homemade whole grain nacho chips and Summer Guacamole.
These Grilled Cajun Shrimp are smoky and perfectly spiced with a nice kick of garlic and delicious with a squeeze of lime. The Ranch Dill Dip is a favourite of mine with fresh parsley, chives, and dill. It's a perfect accompaniment to bring out all the cajun spices of the shrimp. It is also a beautiful dressing for summer salads. Add the homemade whole grain chips with this Summer Guacamole, a cocktail and you are set to sit by the pool or on the deck at the cottage for an enjoyable afternoon.
If you make this Grilled Cajun Shrimp Platter with Ranch Dill Dip, please tag me on social media. I will do my best to answer any questions and would love to get your comments.
For more ideas like this follow me at @urbanbakerco on #instagram or #facebook to get updates on my blog and don't forget to sign up for my personal e-mail list below. #appetizers #appetizerideas #cajunshrimp #ranchdilldip #guacamole #summerfood #entrepreneur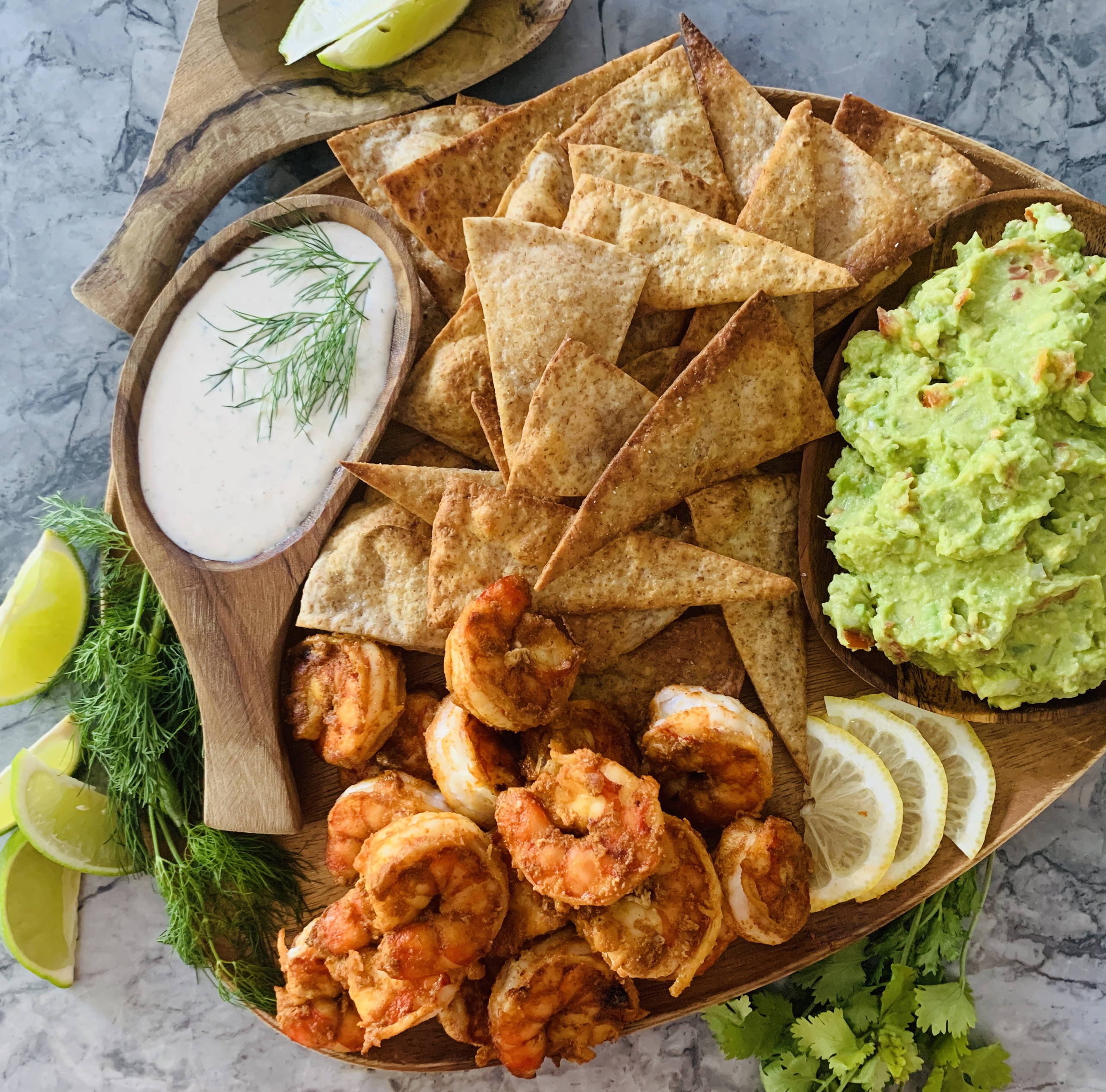 THE RECIPE | Urban Baker Co.
Grilled Cajun Shrimp Platter with Ranch Dill Dip
A beautiful summer snack platter or light lunch
prep time | 30 minutes
total time | 40 minutes
servings | 4 people
INGREDIENTS
Cajun Shrimp:
1 pound shrimp - peeled and deveined
2 Tbsp grape seed oil
1/4 to 1/2 tsp chilli powder - to taste
1 tsp smoked paprika
1 tsp ground cumin
1 tsp garlic powder
salt and pepper to taste
Homemade Nacho Chips:
Whole grain
Grape seed oil
Sea Salt
Ranch Dill Dip:
2 garlic cloves minced
1/2 cup olive oil mayo
1/2 cup plain greek yogurt
1 1/2 tsp lime juice
2 Tbsp ranch seasoning (see below)
1/4 tsp paprika
Ranch Seasoning:
2 tsp fresh parsley chopped
1 tsp fresh chives chopped
1/2 tsp fresh dill chopped
1/2 tsp onion powder
1/2 tsp salt & pepper
Guacamole:
3 large ripe avocados halved, peeled and pit removed
1 small sweet onion or 1/2 a medium size sweet onion finely chopped
1 tomato finely chopped
1/4 cup cilantro finely chopped
1 lemon juiced
1 tsp salt (or to taste)
INSTRUCTIONS
1. Heat grill to 400 degrees.
2. Mix Cajun Shrimp Spices in small bowl, set aside.
3. Peel and devein shrimp. Place in plastic bag or bowl with 2 Tbsp of grape seed oil. Mix Cajun Shrimp Spices with shrimp. Set aside to marinate while preparing other items.
4. Options to cook Homemade Nacho Chips:
a) Heat oven to 400 degrees. Brush grape seed oil on tortillas and sprinkle with sea salt. Cut tortillas into small triangles with pizza cutter. Place in oven for 10 minutes or until crispy.
OR
b) Fill large frypan with enough grape seed oil to fill pan 1/4 of the way up the side of the pan. Heat the oil over medium heat. Cut the tortillas with a pizza cutter. Place the tortillas in the oil cooking in batches. Place on paper towel lined baking sheet and sprinkle with sea salt.
5. Mix all ingredients together for the ranch seasoning and ranch dill dip in a small bowl. Place in small serving bowl and set aside.
6. Place all ingredients together for the guacamole in a bowl and mash with potato masher or in a Molcajete. Set aside.
7. Place shrimp on grill for 2 to 3 minutes per side until pink and cooked through. Set on warm platter with Homemade Nacho Chips, Guacamole and Ranch Dill Dip and serve.