Pumpkin Pie Tarts


This classic dessert at Thanksgiving is a must in our household!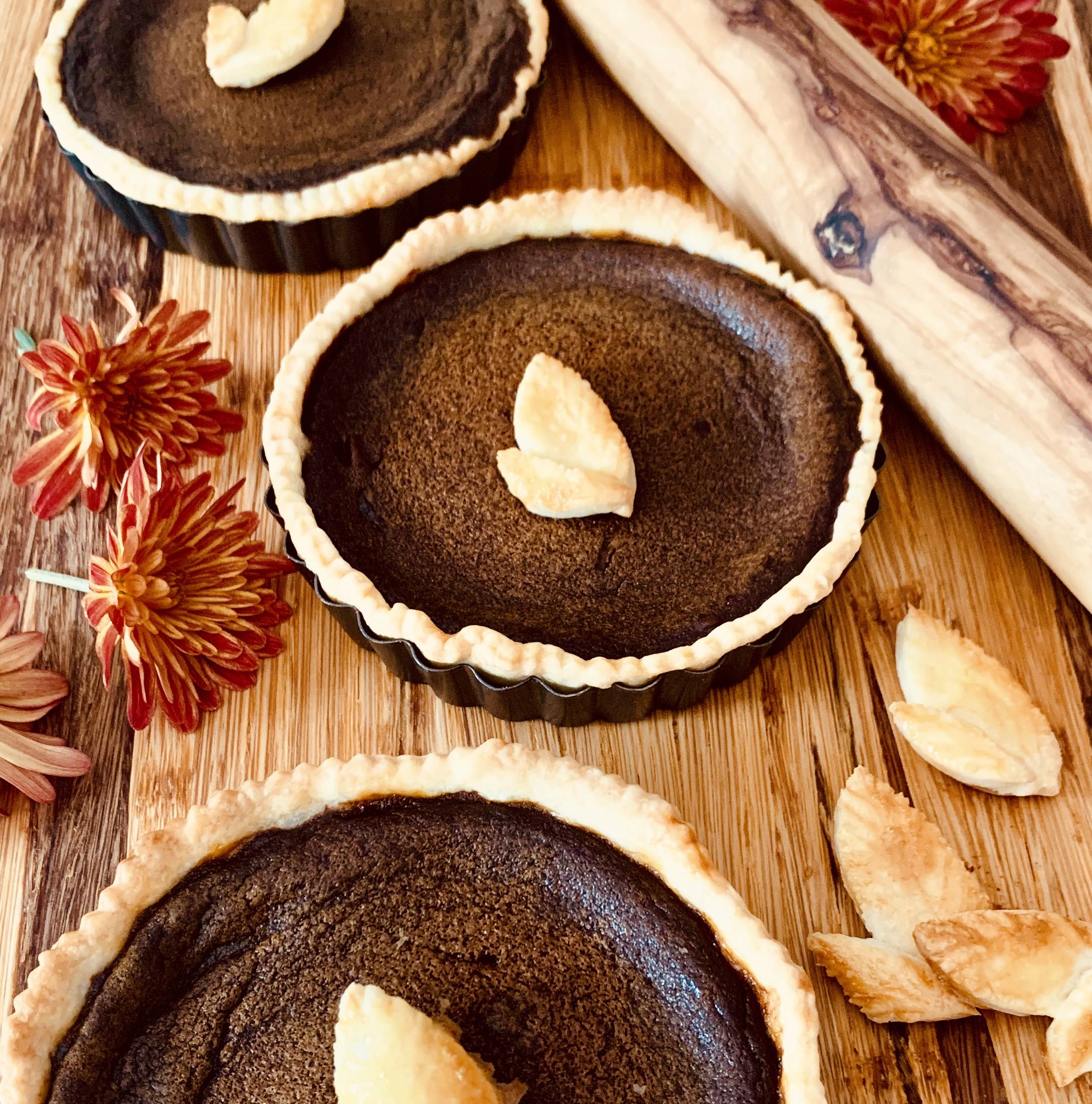 These Pumpkin Pie Tarts are made with molasses, dark brown sugar, cream, and all the fall spices of cinnamon, nutmeg, ginger and all spice.
The flakey pastry is so easy to prepare and perfect for these tart shells. If you would prefer a faster alternative then purchase a store bought pastry. However if you are up for trying this recipe its very simple and quick with the use of a food processor. You can store the pastry in the freezer for up to a month, making it easier for preparation. The key is keeping everything cold and not touching the dough as you prepare it. If you follow these two key steps, you will end up with a beautifully flakey crust.
With the richness of the dark molasses, dark brown sugar, cream and spices these pumpkin pie tarts are a wonderful fall dessert. Add some whip cream to the top before serving for a very decadent dessert.
If you make these Pumpkin Pie Tarts, please tag me on social media. I will do my best to answer any questions and would love to get your comments.
For more ideas like this follow me at @urbanbakerco on #instagram or #facebook to get updates on my blog and don't forget to sign up for my personal e-mail list below. #thanksgiving #thanksgivingrecipes #pumpkin #pumpkinpie #tarts #pumpkinpietarts #haltonfoodie #oakvillefoodie #burlingtonfoodie #torontofoodie #blogger #haltonblogger #burlingtonblogger #oakvilleblogger #torontoblogger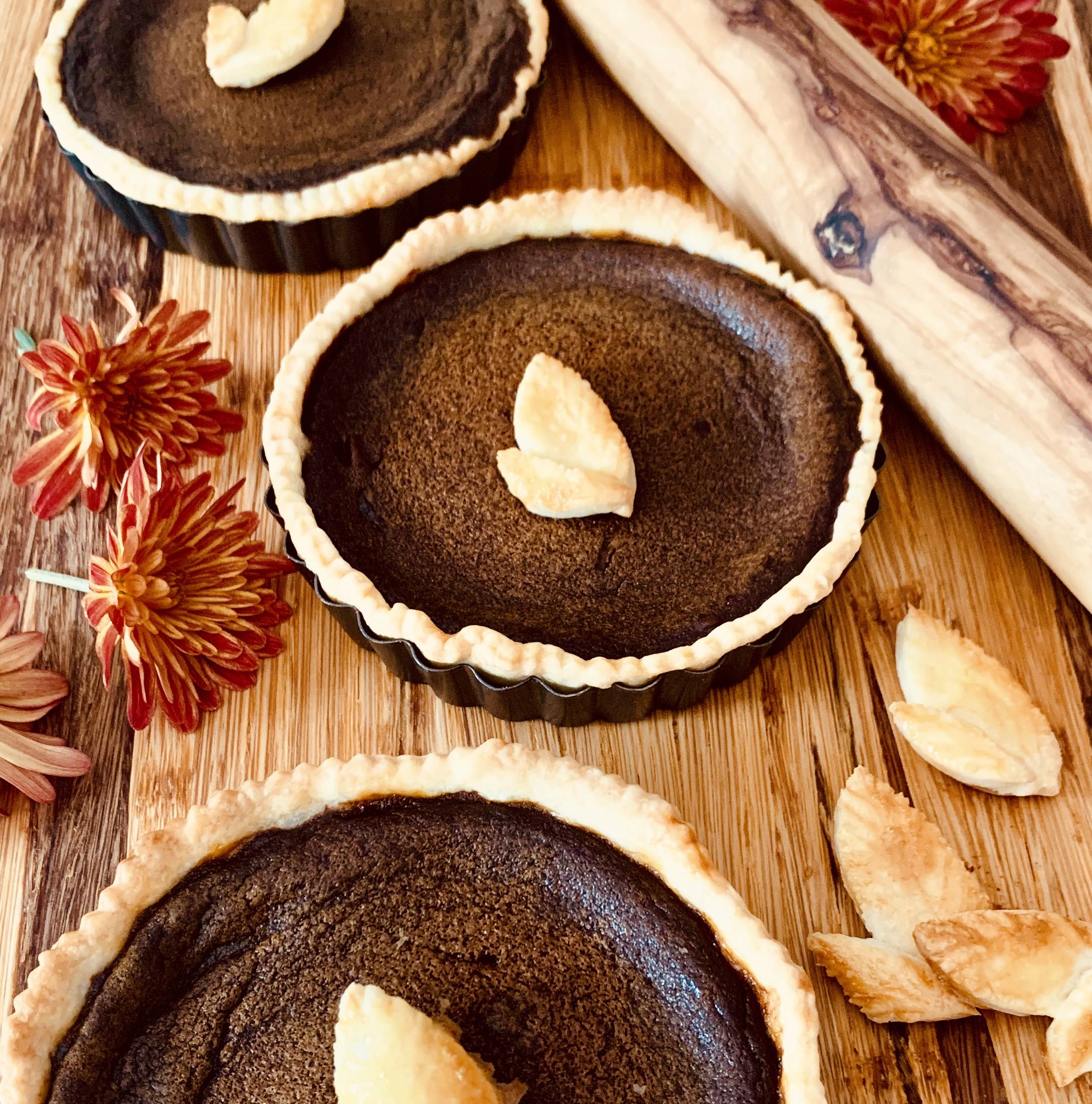 THE RECIPE | Urban Baker Co.
Pumpkin Pie Tarts
A rich decadent fall dessert!
Pumpkin Pie Tarts:
prep time | 15 minutes
total time | 45 minutes
servings | 6 medium size tarts
Pastry Dough:
prep time | 15 minutes
total time | 60 minutes
servings | 2 - 10 inch pastry doughs
INGREDIENTS
Pastry Dough:
2 1/2 cups all purpose flour
1 tsp salt
1 tsp sugar
1 cup cold unsalted butter, cut in small 1 inch cubes
1/4 cup cold water
Pumpkin Pie Tarts:
1 pastry dough, rolled out and cut to fit six tart shell pans
1 - 15 ounce can of pumpkin puree
4 eggs
1/2 cup molasses
1/4 cup dark brown sugar
1 cup heavy cream
1 tsp cinnamon
1/2 tsp ground ginger
1/4 tsp ground cloves
1 tsp salt
Pastry Dough:
INSTRUCTIONS
1. Place flour salt and sugar in a food processor. Add butter and pulse until combined. Slowly add cold water, pulsing food processor and adding just enough water until a dough forms.
2. Place dough in plastic wrap. Once wrapped, form into a two inch round. Place in fridge for 30 to 60 minutes. You can also put in a freezer bag and freeze.
3. Remove dough from plastic wrap and cut into two equal halves. Place one half in freezer to freeze for later use. Place other half on floured surface and roll out to 1/8 inch thickness. Cut out six rounds to fit six tart shells. Cut a little larger, about 1/8 of an inch then the tart pan as dough does shrink as it cooks.
4. Place in fridge for 30 minutes until ready to fill.
Pumpkin Pie Tarts:
INSTRUCTIONS
1. Set oven to 375 degrees.
2. Place all ingredients in a stand up mixer and whisk until just combined.
3. Pour the pumpkin filling into the prepared pie shells and place on a baking sheet. Place in oven and bake until the center of the filling is set. Let cool and serve at room temperature topped with whipping cream.