Spooky Ghost Brownies


This halloween may be a bit different for your little ones so why not make it extra special! These Spooky Ghost Brownies are the perfect solution.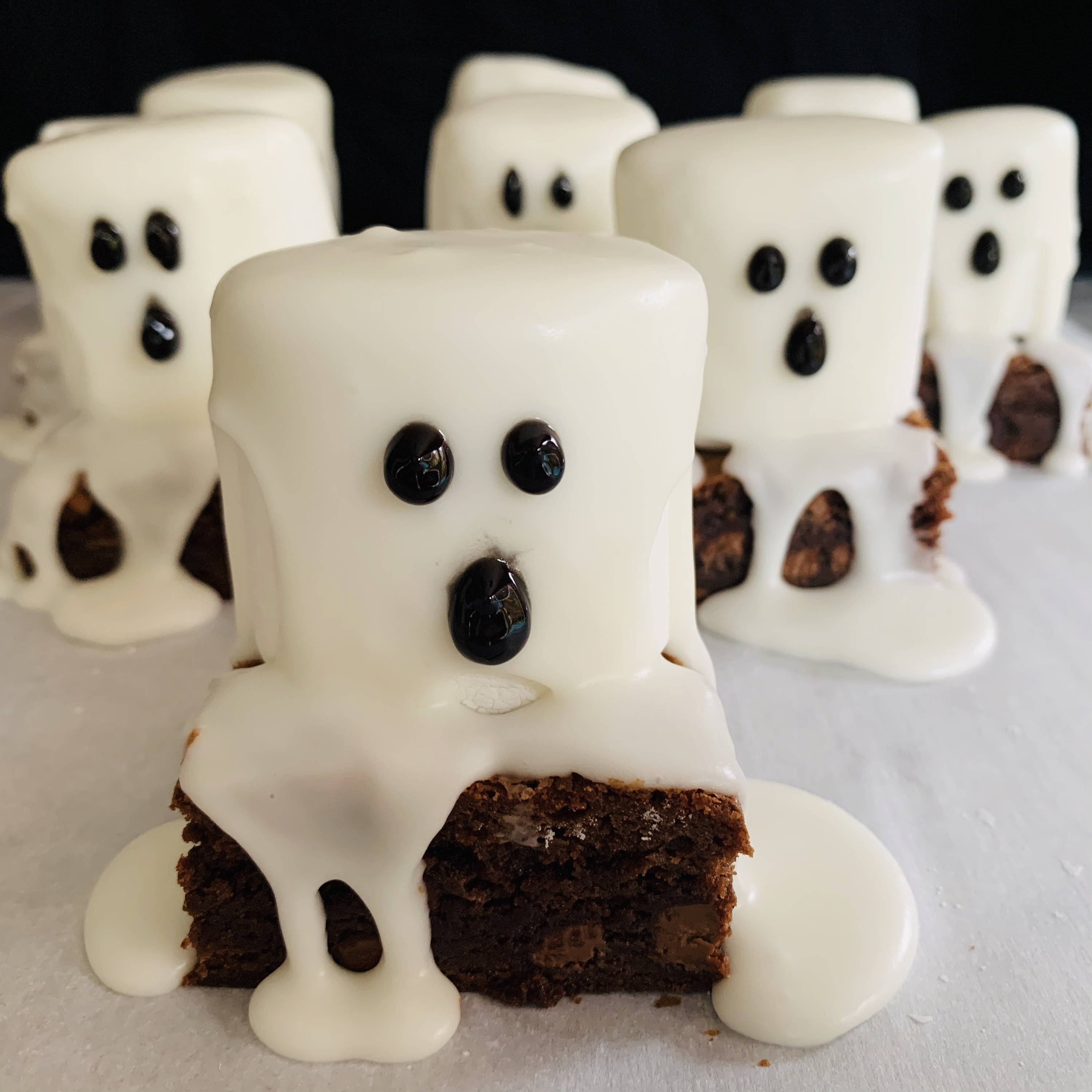 Make it a fun project that you can make with your kiddo's, they are very simple to assemble.
I have been looking for a fun way to share this brownie recipe of mine with you and I saw a picture of these ghost brownies and thought what a great way to create a fun halloween treat for the kiddo's. Once you try these brownies you will be hooked! They are chocolatey and very decadent! Probably the number one thing my kids ask me to bake for them.

If you make these Spooky Ghost Brownies, please tag me on social media. I will do my best to answer any questions and would love to get your comments.
For more ideas like this follow me at @urbanbakerco on #instagram or #facebook to get updates on my blog and don't forget to sign up for my personal e-mail list below. #halloween #halloweentreats #brownies #halloweenbrownies #haltonfoodie #oakvillefoodie #burlingtonfoodie #torontofoodie #blogger #haltonblogger #burlingtonblogger #oakvilleblogger #torontoblogger #easyrecipes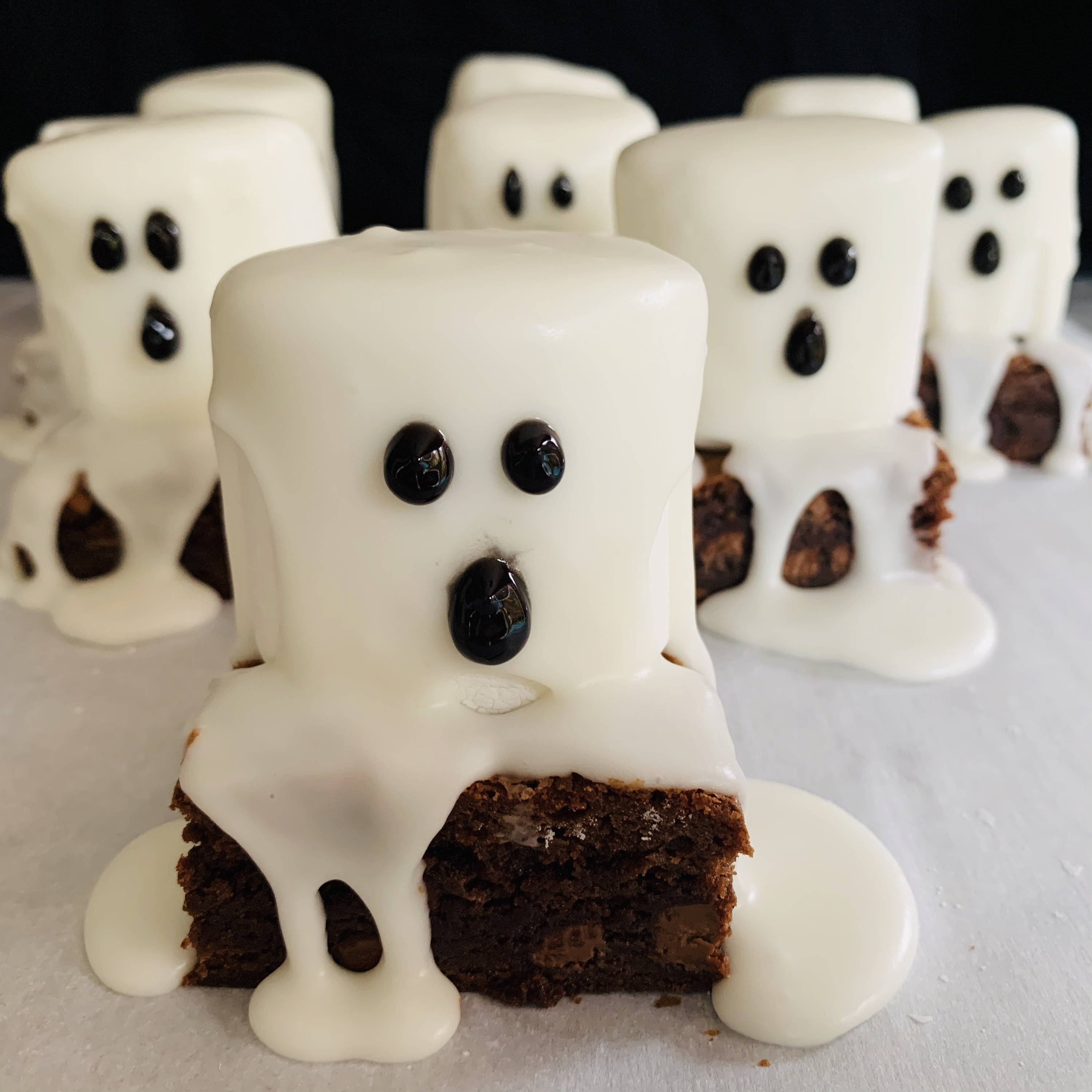 THE RECIPE | Urban Baker Co.
Spooky Ghost Brownies
Fun Chocolatey Decadent Brownies
prep time | 15 minutes
total time | 45 minutes
servings | 9 brownies
INGREDIENTS
Brownies:
1/2 cup salted butter, melted
1 cup granulated sugar
2 eggs
2 teaspoons vanilla extract
1/2 cup melted milk chocolate chips
3/4 cup all purpose flour
1/4 cup unsweetened cocoa powder
1/2 tsp sea salt
1 cup milk chocolate chips
Ghost Topping:
9 large marshmallows
Black Decorator Gel - 1 tube
1 cup powdered sugar
2 Tbsp milk
INSTRUCTIONS
1. Set oven to 350 degrees. Grease a 9 x 9 square metal pan with butter and line the bottom with parchment paper cut to size.
2. Pour melted butter into a large mixing bowl. Whisk in sugar by hand until smooth, about 30 seconds.
3. Add in the eggs and vanilla extract, whisk for 1 minute.
4. Whisk in melted chocolate until combined and smooth.
5. Use a spatula to stir in the flour, cocoa powder, and salt until combined. Stir in the whole chocolate chips.
6. Pour batter into prepared baking sheet and bake for 30 minutes. Remove from oven and let cool in pan before slicing. (These can be made ahead and stored in an airtight container or freeze until ready to use)
7. Once the brownies are cool cut into 9 medium size squares. Mix powdered sugar and milk in small bowl. Place icing in piping bag. Place a small drop of icing in the middle on top of each brownie. Add a marshmallow on top of the drop of icing to hold it in place of each brownie. Pipe the icing starting on the top of the marshmallow moving to the front and let it run down the sides of the marshmallow. Let sit for 20 minutes. Once the icing is set make eyes and a mouth with the black decorator gel on the side of each of the marshmallows and serve.